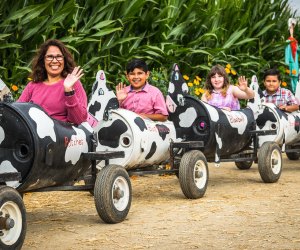 Underwood Family Farm in Moorpark: Pick-Your-Own Plus a Whole Lot More
Ever wish you owned a farm, but then found yourself relating a little too much with Eva Gabor's character in Green Acres? Why not satisfy that bucolic urge in a day trip to a local farm, then come home to a bubble bath? Moorpark's Underwood Family Farm is a mere 50 miles from downtown LA and everything you could ever ask for in a fun, outdoor, pick-your-own activity for the family. Your kids can pick fruit, pet critters, and look forward to eating fresh veggies when they get home—deliciously exhausted.
Underwood Family Farm in Ventura County is probably LA's most popular pick-your-own farm, with plenty of entertainment for all ages, an easy-to-find location, and ample parking—especially on weekdays. (Weekdays are also cheaper, so if you have a choice, aim to visit the farm during the week.) Because you have to take major freeways to get there from most of Los Angeles, it's a good idea to plan your trip around non-rush hour.
The farm is mostly divided into two sections: the fun and games area near the entrance, and the rolling fields of fruit and veggies to pick beyond. Depending on the age and activity choices of your child, your family could easily spend up to four hours taking it all in.
Photo courtesy of Underwood Family Farms
After paying admission and getting stamped (in case you need to exit and return), you'll need to consider what activities your family wants to participate in, which dictates how many entertainment tickets and tokens to buy. No tickets are needed for fruit picking, but games and activities by the entrance require tickets. For example, pony rides cost 5 tickets. Because my toddler is under three, I wasn't sure she'd be ready for the pony rides; we went into the farm, observed the pony rides and checked out the petting corral, pedal tractors, mini electric tractors, and a train ride. Even then, after saying she was excited about the ponies, when it was her turn, she cried and opted out. Maybe next time. Tickets cost $10 for a book of 11, and the tickets never expire (a great incentive to return). And kids who are ready for ponies have a great time; I saw one child ride the ponies four times in a row.
Another treat is a lovely tractor-drawn cow train trip that takes parents and children around the crops, allowing riders to whiff the seasonal fruit and spot where the different crops are growing. This can be a great way to get the lay of the land without tiring little feet. Other entertainment includes an animal show on the weekends, plenty of farm animals to feed, and plenty of free amenities such as climbing the hay pyramid, taking a peek at the sheep, chickens, goats, pigs, ducks, and bees, ascending the steps to the driver's seat of the combine harvester, and sliding back down. There's also an enjoyable playground with an overhead goat ramp, a large sandbox, and a giant play pumpkin. We enjoyed watching the small goats walk right over our heads while swinging on the swing set. And train and automobile enthusiasts can climb on a wooden truck and trains (my child's absolute favorite part of the trip).
Photo by Mommy Poppins
If all of that doesn't complete the farm experience for everyone, remember to grab a bag and go out into the fields to pick your own fruits and veggies, which you pay for on the way out. Prices are on a chart where the free bags are given out. Everything is walking distance, but bring good shoes because if you go to pick, you could be out there, on your feet, for quite a while. Pull-wagons are available free of charge to carry pickings and children. The admission covers the vast quantities of berries and other treats your kids are likely to snack on while picking! The Underwood Family Farms website has a calendar of what crops are in season at any given time; for example, for the month of September, beets, carrots and cucumbers are projected to be in season at .79 per pound. And picking is a wonderful way for kids to try new things - or learn to appreciate old ones. Produce on the farm does not carry the name organic, but the family practices a method of farming called sustainable agriculture, using integrated pest management, compost, and minimal pesticides; and the corn and cucumbers we purchased tasted great. The farmer's market by the entrance carries all of the produce from the fields, for people who want to enjoy the freshness without the work.
The farm pathways are flat, and the activity area is very contained, so Underwood is extremely stroller-friendly and an easy place to navigate. A diaper changing station is available by the playground. If you're wondering what to do about lunch, the best idea is to pack one; there is sometimes a hotdog stand and sometimes not (except during fall festival, when there is always food available for purchase), and the nearest restaurants are a mile or more out. There are plenty of fun places to sit and snack, whether it be on a bench, or on the grass, but because Moorpark runs hotter than LA in the hot months, hats, water, and sunscreen are an absolute must.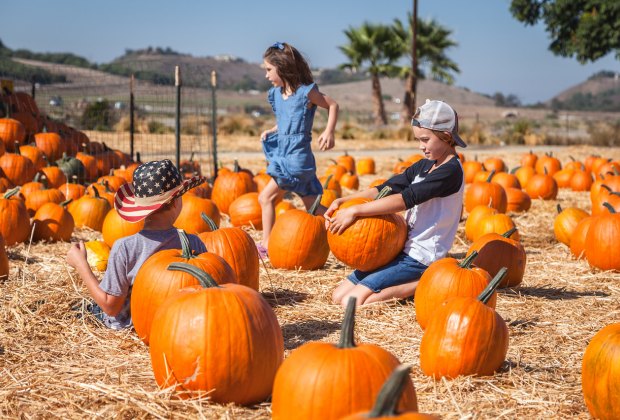 Photo by Cynthia Bullard
Underwood is a beautiful, fun farm that's not too far from home for most of us. Admission to the Farm Center costs $3 per person Monday – Friday, $6 on weekends & major holidays, and $12 on weekends during the farm's popular Fall Harvest Festival. Children under two years of age are always admitted free. Season Passes are available for frequent visitors. And birthday parties can be arranged at most times of year.
Underwood Family Farm
3370 Sunset Valley Road
Moorpark , CA 93021
(805) 529-3690
Originally published September 16, 2014