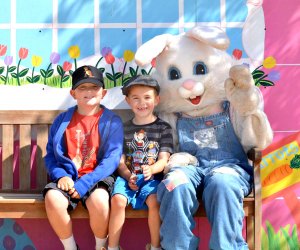 Easter Egg Hunts, Easter Bunny Pictures, and More Bunny Events for Kids in LA and OC
Easter was the first holiday families had to figure out how to celebrate pandemically last year. So it's only fitting that it's the first holiday we get to celebrate with events happening in-person in 2021! There are events of all shapes and sizes for whatever way your family feels comfortable celebrating Easter: there are Easter Egg Hunts (socially distanced or that families can do alone), trains with the Easter Bunny, places to take Easter Bunny pictures, and more. There are also Easter brunches you can enjoy on gorgeous patios or get to-go.
Planning your own backyard or neighborhood egg hunt? Get inspired by these virtual Easter egg hunts (plus a few other fun ideas). For at-home Easter fun, be sure to check out our Easter crafts and Easter egg dyeing ideas.
Editor's note: While we are trying to promote safer activities that occur outdoors or with social distancing guidelines in place, please keep your family and others safe by always wearing a mask and maintaining an appropriate distance. Be sure to click through to the listings for complete information, including locations and times. Remember, these events tend to be crowded, so make a reservation where possible.