Get Lost in Bubble World: LA's Newest Immersive Experience for All Ages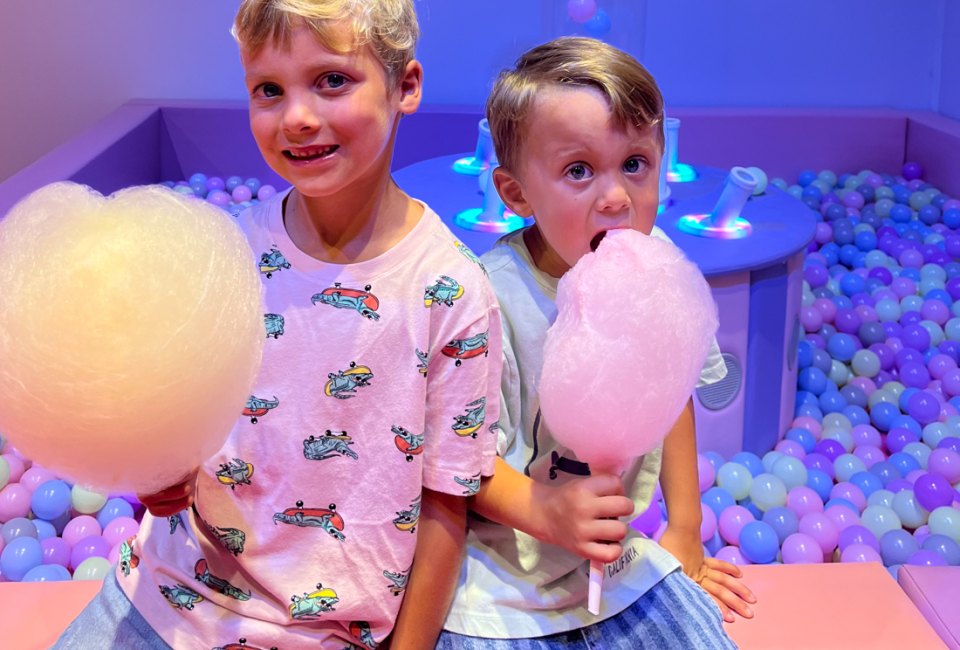 7/21/23
- By
Kylie Williams
Bubble World is the newest immersive experience in Los Angeles that is bursting with fun.
"Hop in the car. We're going to Bubble World!" These are words I never thought I'd say. Disneyland, maybe. But Bubble World?
My kids and I are always up for an adventure, so we recently checked out LA's new immersive Fever experience. To sum it up, my boys (ages seven and four) haven't stopped talking about this experience since. They ask every day when we are going back. Bubble World pops with a maze of technicolor rooms filled with dazzling lights and irresistible photo ops. Read more about our experience below.
Looking for other immersive experiences? Check out World of Barbie in Santa Monica, Van Gogh: The Immersive Experience, or one of the CAMP Store immersive exhibits on rotation at Westfield Century City.
What is an immersive experience, exactly?
Immersive experiences are all the rage these days, but what even are they? First, I'll highlight what they are not. They are not indoor play spaces. There were many rooms where running was not allowed and we had to be courteous and kind to other adults that were trying to take photos.
While we did plenty of playing, Bubble World required a lot of adult supervision. Disclosure: We may earn a small commission if you click through our link and make a purchase. This revenue helps us maintain this site, so thank you for supporting us.

Bubble World is poppin' with photo ops.
Immersive experiences are, at their core, photogenic. Every room is a photo op and transports guests to surreal places. Tweens and teens were dolled up and snapping selfies all throughout the experience, and adults were even enjoying the "bubbly" vibes.
If you want to get unique snaps of your kids or have a social media-obsessed teen who would love some pics "for the 'Gram," this is your spot. It's a lot of fun, as long as you attend with the right expectations.
Getting There
Upon pulling in, I was surprised that Bubble World is in the same building as Dinos Alive and Van Gogh: The Immersive Experience. It is a large, one-story retail building with a big parking lot, so finding a space is easy. The building is called the Exhibition Hub and hosts various immersive experiences annually. It's easy to find and only 15 minutes from downtown LA.
The bathrooms towards the back of the building and restrooms are not accessible during the tour. If you have little ones who have to go often, take them to the bathroom before you embark on your bubbly journey.
RELATED: World of Barbie is a Nostalgic, Pink Experience



Float through pink balloons.
The Best Bubble World Rooms: Balls, Bubbles, and Balloons
There are more than ten immersive rooms to enjoy inside Bubble World. Guests are encouraged to move through the rooms in the same direction, so there's no turning back after you've checked out a room. The two rooms we lingered in the longest were the balloon room and the ball pit room.
The balloon room was just that—a room filled with thousands of large pastel pink balloons. Is that not every kid's dream? Blowers kept the balloons moving, and my kids loved wading through the towering piles of "bubbles" and playing "hide and seek." If you have a latex allergy, skip this one, but otherwise, a few minutes in the balloon room is a memory for the books.
RELATED: Best Indoor Playgrounds in Los Angeles

Dive into the ball pit at Bubble World.
The other room that my kids adored held a massive "bathtub" ball pit. Arguably the crown jewel of the experience. This gigantic ball pit was full of bubbles and had a "fountain" periodically overflowing with balls. An inflatable human basks in the bath, along with some giant rubber duckies, balls, and other bath toys.
Kids must be mindful to walk (not run), and there is no diving into the shallow pit. Shoes need to be off to hop in, but once inside, it is a wonderland of fun. My kids were giggling up a storm as they tossed balls, filled the fountain, and disappeared under the ocean of clear plastic.
What else is there to do?
Every room is colorful and whimsical and has ties to bubbles. Signs posted in various rooms highlight different aspects of the bubble—you will leave this experience with a new appreciation for these soapy little orbs.
A lot of the rooms involve LED lights and flashy tech. There is a VR experience you can add to your visit where you can sit in a giant bubble and "fly" with an Oculus-style headset through a variety of different lands "as a bubble." This add-on experience is $5 per person for kids ages eight and up.
RELATED: Awesome Indoor Kids' Birthday Party Places in Los Angeles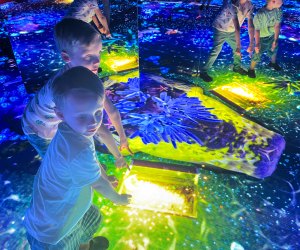 Immerse yourself in room after room at Bubble World
There is an under-the-sea room with digital sharks swaying below your feet. There is a room filled with neon "punching bags" that my kids would have punched and pummeled for an hour if I had let them. There is a room with bounce pads and digital "bubble" games.
Some rooms are more focused on photo ops—one room is entirely dedicated to selfies. Another space has actual bubbles blown by robots. Guests are also given a little tube of bubbles to take home and can stand inside a "giant" bubble as a hoop stretches soapy water over their heads. One of the last rooms takes guests on a virtual hot air balloon ride, whisking them through a colorful whirl of scenic spots.
Is Bubble World really for all ages?
I'll confess-I have four kids, and I left my younger two at home for this adventure. My boys, ages seven and four, absolutely loved it, but my two-year-old could have easily gotten lost in the sea of bubbles, and wearing my infant in a carrier would have added stress.
I saw several moms with their babies, but I would suggest a two-kids to one-adult ratio. Wandering the rooms requires close supervision, and if I had taken my little two, I would have been overwhelmed.
RELATED: Munchkins Indoor Playground is a Bright New Spot for Kids in Los Angeles



Feel light as a bubble in this fun experience.
Know Before You Go
I'd budget 60-90 minutes to complete the walkthrough of Bubble World, with considerable time spent in the ball pit.
The experience ends in a gift shop where kids and adults can pick out bubble-themed souvenirs to continue the fun.
Tickets start at $26.90 per adult and $20.90 for kids (ages four to 14). Senior rates start at (65 and up) $23.90 per person.
Family packs are available on select days, reducing the cost of each ticket by a few dollars. Kids under the age of 4 are welcome to attend for free.
VIP packages are also available and include the VR experience, a bubble tea or coffee (bubble tea at Bubble World... how cute!), and a surprise souvenir.
The venue is closed on Tuesdays. Admission is higher on the weekends and during busy entry times.
All photos taken by author Kylie Williams.
Places featured in this article:
Sign up for the Mommy Poppins Newsletter today!
i