World of Barbie is a Nostalgic, Pink Experience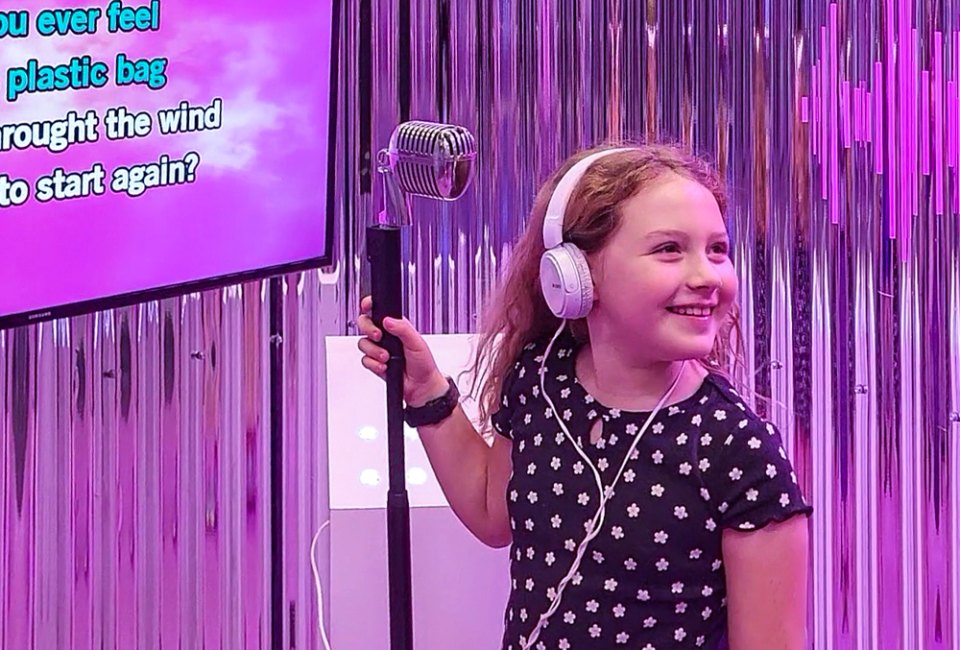 5/16/23
- By
Matt Matasci
Mattel's iconic Barbie dolls have been a childhood staple for decades. There aren't many adults alive that remember a childhood without the fashion dolls. Even today, with TV shows and an ever-expanding lineup of dolls, Barbie is as popular as ever. For anyone seeking a dose of nostalgia,
World of Barbie in Santa Monica is the place to get your fix. The experience combines an Instagram-ready walk-through with interactive activities and informative exhibits about the history of the toy. There's something for everyone at this immersive experience for tiny toddlers to Baby Boomer grandparents to enjoy the world of pink.
While you're on the westside, check out all these other fun activities for kids in Santa Monica, and if Barbie's beach house or other beaches are on the mind, browse our Beach Guide to Los Angeles and Orange County.
World of Barbie
Located inside Santa Monica Place in the heart of the beachside city, World of Barbie is on the ground floor. Unfortunately, signage in the mall is a bit lacking (since this is a pop-up event, it wasn't on the mall's wayfaring signs). Luckily it's easy to spot other people who have visited the exhibit with their glittery gift bags, so feel free to ask someone to point you in the right direction.
Tickets are timed but it didn't appear that the timed entry was strictly enforced. That being said, it's always a good idea to get there at the time of your tickets, just in case. We spent a little over an hour in World of Barbie, the amount of time recommended by the venue to see and experience everything.

Step into a world of pink. World of Barbie photo courtesy of Kilburn Experiences, LLC.
The space was never overcrowded in the way these immersive experiences tend to get—even on a Saturday afternoon. There was plenty of time to get that perfect shot, and you didn't have to spend 10 minutes waiting for other people to get their perfect picture.
At the front of the exhibit, there's plenty of stroller parking. Due to space constraints, strollers aren't allowed within the experience. It's not a ton of walking, but that's something to keep in mind if you have a baby or any mobility-limited family members. The venue also requests you don't bring oversize bags into the venue.
Did we mention that World of Barbie is two stories? The first floor includes the Barbie Dreamhouse, a beach scene, Dreamcamper, a fashion studio, and a movie theater. On the second floor was a museum of Barbie history, "Interstellar Airlines" — Barbie's astronaut world, a music production studio, a TV studio, and a science lab.
First Floor
Malibu Beach House
The first stop on the experience was a photo shoot at the Malibu beach house. With a projected beach scene, it was a great opportunity for photos, but not much beyond that. The kitchen has a fridge with play food inside, but overall, it was a simple Insta-op.
Outside the beach house was a small theater that screened the movie Dolphin Magic (and perhaps more recent Barbie shows) on a loop. It was hard to pull our five-year-old away from the screen, but there was much more to see and do.
RELATED: Iconic LA Street Art and Murals for Must-Have Angeleno Kid Photo Ops

So many Instagram-worthy photo ops. World of Barbie photo courtesy of Kilburn Experiences, LLC.
You Can Be Anything
One of the most refreshing aspects of the modern Barbie line is its theme of "You Can Be Anything." From an astronaut to a yoga instructor to a science teacher to the President of the United States, Barbie has done it all.
The next exhibit was a series of small closet areas with clothing and accessories that allowed you to be any Barbie you wanted. This experience was also mainly a place to take photos, which is fun but for smaller kids, limited in the amount of time you'll spend taking said photos.
RELATED: Best Indoor Playgrounds in Los Angeles

A Barbie pool party ball pit? Yes, please. Photo by Matt Matasci
Ball Pit
It's a bit generic, but my kids absolutely loved the pool party ball pit. There was a short wait to get into the party, but with each group limited to a five-minute play session, the waiting was limited. The pit was very shallow, maybe a foot deep, so don't do any elaborate dives into the balls. An employee did her best to play the part of the party theme, but after repeating the same lines every five minutes for an eight-hour shift, it's hard to stay enthusiastic. Props to her for keeping an energetic attitude while reciting the rules.

My kids were particularly enamored by the slide; while it was slightly crowded and required taking turns, the limited number of guests allowed into the pit at once kept it very reasonable.
One thing to note: while you are technically required to be wearing socks in the ball pit, the rule didn't appear to be strictly enforced. I'd recommend having your kids wear socks or at least bring a pair just in case the rules are more strictly enforced.
RELATED: Awesome Family Camping near Los Angeles

You could say Barbie was the pioneer of glamping. World of Barbie photo courtesy of Kilburn Experiences, LLC.
Barbie Dreamcamper
Next up, another photo op. Here, your kids can explore Barbie's camper. The hammock is fun for lounging and taking a silly selfie, while a more elaborate place to get great photos is near the front of the camper, where you can pretend to drive.
At this point, the first floor concludes. The good news is that the second floor has even more interactive opportunities to explore.
Second Floor
While the first floor was great for capturing that perfect social media photo, the second floor was more interactive. As such, it was my older daughter's favorite part of the experience.
RELATED: Awesome Indoor Kids' Birthday Party Places in Los Angeles

Go glam in the salon. Photo by Matt Matasci
Salon
The salon area allows kids to get glamorous—or just be silly. The mirrors in front of the salon chairs add Snapchat-esque filters like big pink, blue, or blonde hair, among others. There's a function to have the photos you take sent to your email, though our photos still haven't hit our inbox (and we checked spam!).
TV Station
Next up was an interactive TV station where kids broadcast the news and give the weather report. A screen displays a countdown from the commercial break, and 3-2-1, you're on! Not sure what to report on? Don't worry because there's a small computer monitor and mirror that serves as a teleprompter, so you know what to say.
Music Studios
If visual media isn't your thing, there's also a music studio. Here, kids can play the drums, pretend to play guitar, and even play as a DJ. My nine-year-old daughter spent at least 20 minutes playing with the soundboard.
The guitar was a slight letdown. Although it was plugged in, you could only pretend to be playing with the headphones on. No guitar sound came through the speakers, just the prerecorded backing tracks.
Another hit with guests was the vocal booth, where you could sing karaoke hits like "Shake It Off" and "Firework."
Barbie Museum
Here's where it's time to feel the Barbie nostalgia. The museum featured exhibits like inspiring and groundbreaking women in Barbie form, highlighting more recent inclusive characters, all the different iterations of the Barbie Dreamhouse, details about the creator of Barbie, and even an original Barbie. Slow the pace through this component of the experience.
RELATED: Kid-Friendly Always-Free Museums in Los Angeles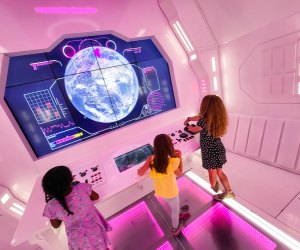 Zoom into an immersive experience. Photo by Matt Matasci
Interstellar Airways
At Interstellar Airways, you can be an astronaut, just like Barbie. You can pretend you're controlling the spaceship from the cockpit and watch informative videos about space.
Know Before You Go
Since World of Barbie tickets are timed, we highly recommend getting tickets online.
As mentioned before, strollers aren't allowed within the experience. There's plenty of space to park your stroller before entering, and it's easy to wheel a stroller around Santa Monica Place. The bathrooms are large, baby-friendly, and easily accessible on the first floor. While the primary way to get from the first to the second floor is using stairs, there are elevators for those that need ADA accessibility.
Food and drink are not for sale at World of Barbie, and outside food and beverages aren't permitted. Luckily, a wide variety of food and drink is available on the third floor of Santa Monica Place. We ended up visiting The Dudes' Brewing Company after the experience, where you can get pizza for the kids and beer for the grown-ups. There are plenty of other options available as well.
Parking is easy at Santa Monica Place, with a few separate garages available. We parked in the garage off Colorado Ave., and there's another garage on 4th Street. Parking isn't free, and World of Barbie doesn't offer validation, but we paid a very reasonable $8 for over two hours at the mall.
If you're looking to pair your visit to World of Barbie with another kid-friendly activity, consider visiting the Cayton Children's Museum or, of course, a visit to the pier. You don't need to feel limited to the downtown area, though. There are tons of great activities to do with kids all over Santa Monica.
Places featured in this article: