13 Kid-Friendly Always-Free Museums in Los Angeles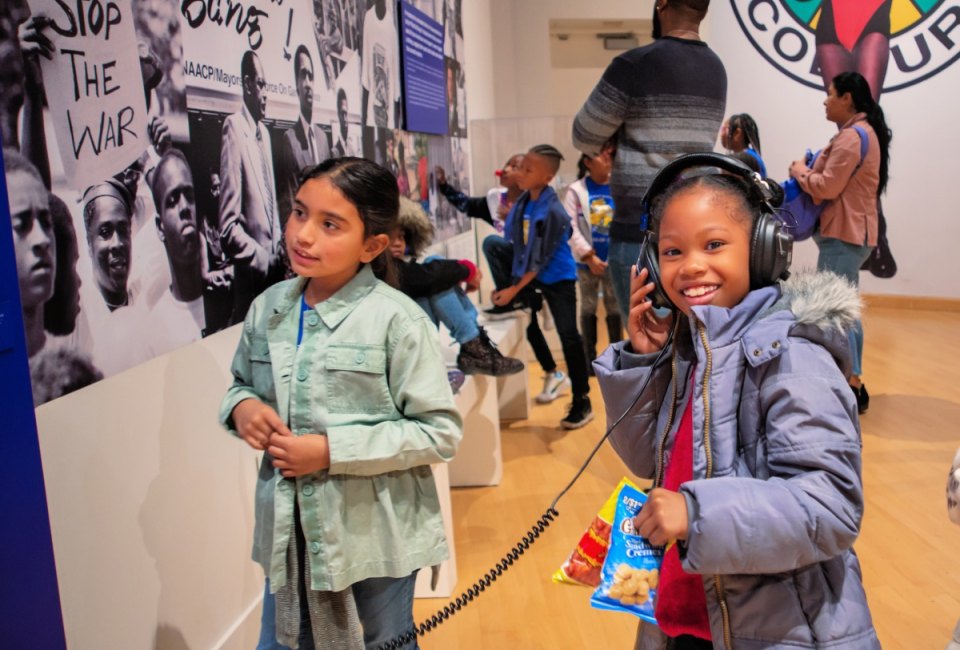 12/31/21
- By
Jackie Jones
What's better than a free day at a museum? How about a museum that's free every day? A place where you can expose your children to some of the best artwork, science, and history that Los Angeles has to offer without paying admission, ever. Several of this city's most iconic museums offer free admission every day (if you don't count parking, that is). And then of course there are the ones that just offer free admission to kids. So what are you waiting for? Take your whole crew out for some culture and creativity at one of these FREE museums.
To get more free fun at home and in your town delivered to your inbox, sign up for our newsletters—and discover all the free events and activities near you in our Los Angeles Free Things To Do with Kids Guide.
1. The Getty Center
The fun starts before you even enter the Getty Center, as most kids delight in riding the winding tram all the way up to this museum, located just off the 405 on a hilltop in the Santa Monica Mountains. Once you arrive at the Getty, you'll be greeted by gorgeous views of the city, stretching all the way out to the Pacific Ocean. My daughters always enjoy a stroll through the museum garden, which looks like a place fairies would enjoy calling home. There's also a family room that boasts a re-creation of a French aristocrat's bed (feel free to climb all over it, kids!), as well as 70 peepholes that little ones can look through to see images of artwork. The Getty hosts free family festivals every few months, with live entertainment and crafts geared specifically toward kids. There's a snack cart on campus and a restaurant, though many parents choose to bring lunch and picnic at one of the many tables throughout the Getty's courtyard. The only fee here is for parking, and it's important to reserve your spot in advance, as spots are limited.
The Getty Center is open Tuesday through Sunday from 10am to 5:30pm. The museum is closed on Mondays.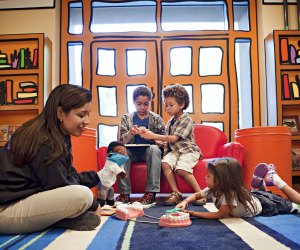 Ecosystems Discovery Room at the California Science Center. Photo by Tracie Spence Photography
2. California Science Center
This is the kind of museum where you can spend the entire day and probably still not see everything. The California Science Center is huge and packed with so much that kids of all ages love. Exhibit A: the Space Shuttle Endeavour on display (I literally saw my 5-year-old's jaw drop when she first took it in.) There's also an aquarium with tons of live sea animals, and a touch tank where kids can (gently) put their fingers on sea cucumbers, sea anemones, and starfish. Little ones with strong stomachs won't want to miss the Rot Room, where visitors can see what the decaying process really looks like. The Discovery Room, which has live scorpions and lizards, is geared toward the under 7 crowd, and there's also an area just for babies and toddlers. After all of that hands-on exploring, your family may want to end the day with a STEM-friendly IMAX show in the museum's theater (tickets cost extra, FYI.) Trimana Grill is the casual restaurant on campus and there's also a market that sells prepackaged snacks. Parking at the museum parking lots does carry a fee during the day.
The California Science Center is open every day from 10am to 5pm.
3. The Broad
Much of the modern art at this downtown museum is bright, colorful, and bound to capture the imagination of your child (who doesn't get inspired by a giant balloon dog?). The Broad is large and impressive too, encompassing 50,000 square feet of exhibit space. Not everything here is suitable for young eyes, and while admission to the museum's permanent collection is free, you will have to pay to see some of the traveling exhibits. However, this museum has a surprising amount of art that appeals to kids, especially Yayoi Kusama's Infinity Mirror Rooms which are scheduled to reopen in 2022. Through the Broad's app, visitors can download and listen to a fun audio tour, narrated by LeVar Burton. The Broad's location on Grand Avenue is very central; it's adjacent to the Walt Disney Hall and a short walk from the Grand Park splash pad. Parking is available under the museum. Advance reservations are highly recommended—free tickets are released on the first day of the month and weekend availability goes fast.
The Broad is open Wednesday to Sunday from 11am to 5pm.
Hop aboard at Travel Town. Photo by author
4. Travel Town
Got a kid who's into trains? If so, Travel Town in Griffith Park is a must-see. This outdoor railway museum features several real steam locomotives that kids can walk around, and in some cases, climb aboard. Other historic vehicles like an old milk delivery truck and a circus wagon are on display inside the museum's pavilion, which also houses a play area complete with a train set. (Insider's tip: you can borrow trains to play with from the Travel Town gift shop. You will just need to give the shopkeeper your license as collateral). A highlight of any visit to Travel Town is riding its cute miniature train that loops the museum grounds. Tickets for adults are $3.50; kids are $3 and children under 18 months ride for free. Travel Town is also a great place for a picnic (or a birthday party!). There are several communal tables as well as a large grassy area. Parking is free and plentiful.
Travel Town is open Monday through Friday from 10am to 5pm, Saturdays and Sundays from 10am to 5pm in the winter, and 10am to 6pm during the spring and summer months. Travel Town is closed on Wednesdays.
5. Griffith Observatory
Hands down, the Griffith Observatory is one of the greatest spots in LA for capturing gorgeous photos and is worth a visit for the view alone. The museum, sitting on the southern slope of Mount Hollywood, is an icon that has been featured in dozens of movies and TV shows. Catch a glimpse of the Pacific Ocean, take a selfie with the Hollywood sign, and run around on the grass out front before heading inside the observatory to learn about all things space-related. Kids can touch a piece of a real asteroid and find out how much they would weigh on other planets. Another room boasts an interactive periodic table and a great display about the sun. For an extra cost, families can catch a stunning and educational show inside the Samuel Oschin Planetarium (note to parents: kids under 5 are only admitted to the first show of the day.) The Observatory hosts regular family events including free star parties and telescope viewings, and the on-site cafe offers kid favorites like mac & cheese and hot dogs. Parking can be a bit tricky, so arrive early if possible.
The Griffith Observatory is currently open Fridays from noon to 10pm, and weekends from 10am to 10pm.
6. California African American Museum
Also located at Exposition Park is the California African American Museum, which focuses on the culture and heritage of our state's African American population. There are rotating exhibits that examine a wide range of art and culture. Older kids and teens will be drawn to CAAM's civil rights history, as well as the museum's special exhibitions. Currently on display is Cross Colours: Black Fashion in the 20th Century, an interesting look at the apparel brand that became a household name in the '90s. On weekends, CAAM hosts family workshops where young visitors can make art projects inspired by what's on display. There is no cafe or restaurant within the museum, and just like at the California Science Center, you will have to pay for parking in the lot.
The CAAM is open Tuesday through Saturday from 10am to 5pm, and on Sundays from 11am to 5pm. The museum is closed on Mondays.​
7. Fowler Museum at UCLA
The Fowler Museum at UCLA explores global arts and cultures, with an emphasis on works from Africa, Asia, the Pacific, and the Americas. Family programs include Story Time, Kids in the Courtyard (hands-on art projects inspired by an artwork on view), and Family Jam, an interactive series featuring musicians, artists, storytellers, and other performers from around the world. Admission is always free.
The Fowler Museum is open Wednesdays from noon to 8pm and Thursday through Sunday from noon to 5pm.
8. MOCA Museums
Parents rejoice: the Museum of Contemporary Art offers free general admission at both of its DTLA locations. That means you can bring your family to see modern works of art including paintings by Jackson Pollock (most kids seem to relate to his splatter paint style!) There are plenty of multimedia installations on display too that are thought-provoking and bound to get your child talking. Again, not everything will be suitable for little ones, so use your discretion. Every few months, MOCA hosts its Sunday Studio, an event that features family-friendly tours of the museum, live music, craft activities, and a 'toddler town' area. Parking at the Walt Disney Concert Hall is reduced with MOCA validation.
MOCA is open Thursday through Sunday from 11am to 5pm.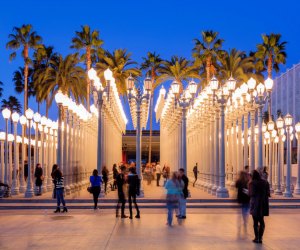 Photo courtesy of LACMA
9. LACMA
If your kids are locals, they can visit the Los Angeles County Museum of Art for free any time, and you get to come along for the ride. Through LACMA's NextGen program, LA children under 17 get free admission for themselves and one caretaker who accompanies them. That means your kids get to see cool exhibits like Levitating Mass, the giant floating rock, and Metropolis II, a kinetic sculpture that looks like a fast-paced city complete with traffic and skyscrapers. While the museum is under construction, that's about all the art you can find on site, except for the rotating exhibits, which are often kid-friendly and fascinating. The on-site restaurant, Ray's + Stark Bar, serves up great pizza and salads, among other noshes. There is a parking garage at LACMA that charges a flat rate— but I always go early and look for a 4-hour metered spot on 6th Avenue.
LACMA is open Mondays, Tuesdays, and Thursdays from 11am to 6pm, Fridays from 11am to 8pm, and weekends from 10am to 7pm. The museum is closed on Wednesdays.
10. The Hammer Museum
This UCLA art museum in Westwood regularly hosts pop-up art activities and movie screenings that will appeal to kids. On an everyday visit to the Hammer Museum, young art history buffs can take in works by Van Gogh and Titian on display in the museum's permanent collection. (Beware of some of the edgy contemporary exhibits which are not appropriate for young audiences.) Be sure to ask the front desk for a discovery guide so your kid can write about what they saw and draw their own portraits. Need to get some wiggles out? Head to the museum's courtyard where kids can go for a whirl on one of the Hammer's spinning chairs. There is a new and amazing restaurant on campus, Lulu, but it may be a bit fancy for little ones. Parking at the museum is $7 for three hours with validation.
The Hammer Museum is open Tuesday through Sunday from 11am to 6pm. It is closed on Mondays.
11. The Nethercutt Museum
If you have a profound love for exotic vintage cars, this is the place to go. The Nethercutt has a collection of over 250 classic automobiles dating from the 1890s to the 1960s. Dive into the past by witnessing the evolution of automobile history. It's completely free to everyone, and it also offers free ample parking. Buckle up and enjoy the ride.
The Nethercutt Museum is open for self-guided tours from 9am-4:30pm, Thursday through Saturday.
12. FIDM
The Fashion Institute of Design and Merchandising in downtown LA has a fantastic museum that's always free. The hidden gem is a favorite of both budding fashionistas and kids who love movies—the annual Oscar Exhibit often showcases costumes not only from your favorite costume drama, but also costumes from your kid's favorite sci-fi or fantasy flick.
The museum is open Tuesday through Saturday from 10am-5pm, but only when an exhibit is showing, so check the website before visiting.
13. Forest Lawn Museum
While you might not expect a cemetery to be a great spot to take kids, the Forest Lawn Museum in Glendale not only has a small but lovely permanent collection, the traveling exhibits often include things that fascinate kids—The Art of the Brick Lego tour made a stop here, with pieces you don't usually get to see!
The Forest Lawn Museum is open Wednesday through Sunday from 10am to 5pm.
Additional reporting by Ana Belibasis
Sign up for the Mommy Poppins Newsletter today!