KidStock
Pretend City Children's Museum

Artificial Intelligence with Scratch Online Camp
Young Gates - Kids Online Personalized Classes

Online Robotics Camp
Young Gates - Kids Online Personalized Classes
Sign up for our free newsletters.
Iconic LA Street Art and Murals for Must-Have Angeleno Kid Photo Ops
6/12/20
- By
Jackie Jones
Here in Los Angeles, art is everywhere—and you can enjoy it even when our fabulous museums are closed. LA has plenty of beautiful and inspiring street art, from giant wall murals to painted utility boxes. Seemingly everywhere you look, there's a street display that's colorful and thought-provoking, not to mention Instagram-worthy. And in this time of so much uncertainty, the messages street art conveys can be uplifting. In fact, in the aftermath of some of the damage that occurred when looters hijacked recent protests and demonstrations, street art has helped communities heal.
Here are some of our favorite photo op street murals for LA families.

Photo by Roberta Brown
1. Eye of the Tiger
The giant tiger in artist Chris Saunders' "Eye of the Tiger" mural (2202 Pico Blvd.) is totally impressive and captures the imaginations of kids and teens alike.

2. Art at One Santa Fe
This Arts District apartment and shopping complex (300 S. Santa Fe Ave.) is a one-stop shop for seeing some awesome street art. That includes "Untitled" by Ruben Rojas, which is a wall full of the word 'love' written in rainbow-hued cursive, and Sand's "Wolfy the Vegan Werewolf," which is a cute, cartoon-style lady posing with animals. Our favorite at the complex, though, is definitely "Kiss" by WRDSMTH. The message may strike an especially poignant tone in challenging times: "Kiss the one you love every chance you get."

3. Bloom
Covering an entire wall in the DTLA neigborhood known as Joel Bloom Square is a beautiful mural by artist Hueman called "Bloom" (701 E. 3rd St.). The painting shows a hand clutching a colorful bouquet of flowers. My daughters say it just gives them good vibes.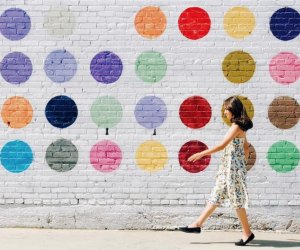 Photo by @kershamine/Instagram
4. The Polka Dot Wall
LA's famous Polka Dot Wall is by The Most Famous Artist (608 Mateo St.). Families also like the quirkiness, and Instagrammers can't resist walking in front of it.

Photo by Laura Esposito
5. Three Flowers Wings
You can check out a ton of street art just driving up and down Melrose in West Hollywood. Snap a pic of your little angel with a pair of wings! "Three Flowers Wings" by Colette Miller can be found on a wall right across from Fairfax High, on Melrose between Genesee and Ogden. You can find another pair of Miller's angel wings on the deck of DTLA's Oue Skyspace.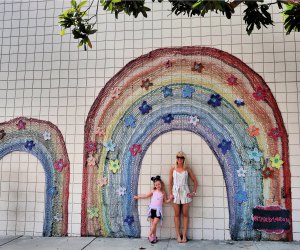 6. Rainbows Wall
How about getting your child to pose under a pint-size rainbow alongside other happy little things? The "Rainbows Wall" (8050 Melrose Ave) features two crochet rainbows—one big and one small—as well as a peace sign and a patch of flowers.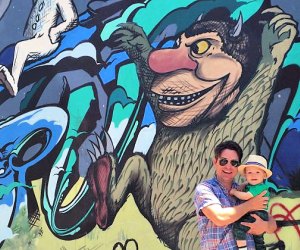 Photo by Laura Esposito
7. Where the Wild Things Are
We know where those wild things are. Classic children's book "Where the Wild Things Are" is the inspiration behind street art found at the intersection of Melrose and Stanley (7629 Melrose Ave.).

Photo by Ilan Meyer
8. Pink Wall
And there's always the "Pink Wall" on the outside of the Paul Smith store (8221 Melrose Ave). For years, tourists and locals have been coming here to take photos; the wall itself has become somewhat of an LA landmark. It might not seem like a big deal, but that particular shade of pink is apparently hard to reproduce.

8. Our Pico Neighborhood
Another strip that's rife with street art is Pico Boulevard in Santa Monica. Blanketing a massive wall at Virginia Avenue Park is "Our Pico Neighborhood" (2115 Pico Blvd.) The colorful mural depicting a diverse group of people from various walks of life was completed in 2005 (which is like the equivalent of 100 years in street art time).

10. Kobe and his daughter Gianna
While there are dozens of murals throughout greater LA that pay tribute to Lakers' legend Kobe Bryant, I think one of the most moving pieces is the simple, black and white display of Kobe and his daughter Gianna on the wall at Erba Market (12320 Pico Blvd.).

11. Love Yourself
My family is totally feeling the love, and the empowering message, of Ruben Rojas' "Love Yourself" mural at the corner of Ventura and Hazeltine (14060 Ventura Blvd.).

12. Stay Gold
Fans of '80s movies might enjoy the "Stay Gold" wall at the intersection of Ventura and Ventura Canyon (13601 Ventura Blvd). It's a nod to the 1983 coming-of-age flick "The Outsiders."

13. Fudge Pop Fun
iIt doesn't get more fun than the "Fudge Pop Fun" mural at the intersection of Ventura and Noble (15111 Ventura Blvd). Every time I drive by that giant chocolate popsicle, I always smile.
14. Sherman Oaks Utility Boxes​
Who knew this San Fernando Valley suburb was so flush with amazing street art? The Sherman Oaks Chamber of Commerce even commissioned local artists to paint all of the city's LADOT utility boxes (making a drive down Ventura Boulevard even more eye-catching.)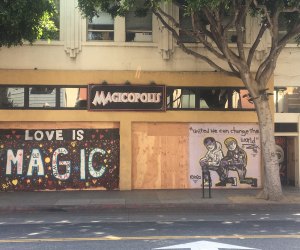 Love is magic, and united we can change the world... Photo by Roberta Brown
15. Love Is Magic
It's hard to know how long the artwork will be up in front of the boarded up businesses of Santa Monica's looted 4th Street, but the one in front of Magicopolis (the theater that runs all magic shows all the time at 1418 4th Street) is worth seeking out for a photo to remember the historic demonstrations of May and June 2020—and the love that helps to heal all.
Like the city itself, the LA street art scene is always evolving, which means many murals are here today and gone tomorrow. Try to to catch these standouts while you can!
Photos by Jackie Jones, unless otherwise noted