The Children's Museum at La Habra: Orange County's Small Museum with Big Ideas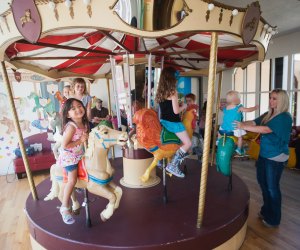 Ask the parents of any pre-schooler, and they'll tell you that bigger doesn't always mean better. Take, for example, the plethora of children's museums located throughout Southern California. Although there are obvious benefits to having so many world-renowned museums nearby, chasing a rambunctious toddler through a prehistoric dinosaur hall isn't many people's idea of a good time. Sometimes a museum you can't get lost in is just the ticket.
And that's exactly why I was so impressed by The Children's Museum at La Habra, a quaint little gallery located just off the 57 freeway in a renovated train depot. Not only does this local Orange County museum boast many of the same offerings as bigger, more expensive museums; it also has plenty of hands-on exhibits geared specifically to the preschool set.
My three-year-old daughter couldn't get enough of the miniature carousel which ran several times during our two-hour visit (unlimited rides included with admission!), while I loved the educational value of the garden area, where she was encouraged to learn about water conservation by pushing buttons to grow a pretend carrot patch.
Another hot spot for us was the dino scavenger hunt, a prehistoric dig site where my aspiring paleontologist was able to uncover dinosaur bones. She was so enamored with excavating T-Rex and Stegosaurus "fossils" that I literally had to drag her away to play with two of her best friends, primping in the dress-up area a few rooms over.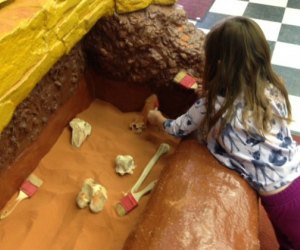 Playing paleontologist in the Jurassic sandbox (photo by the author)
We also loved the Nature Room, where kids can get up-close-and-personal with stuffed birds, lions, and bears, as well as fish swimming inside a tank housed in a make-believe cave. Despite all of the taxidermy – which initially creeped me out – I found myself just as enthralled as my daughter when it came to exploring the lifelike displays.
In addition to learning about wildlife, we also enjoyed the pretend grocery store, interactive bus exhibit, and miniature tot-sized playground. Other highlights are Nannie's Travels, which is a room full of cultural mementos, an impressive model train display and full-sized caboose to explore, and a family art center with daily art activities.
All in all, this little museum is a great way to spend a few hours entertaining a toddler without breaking the bank...or breaking falls caused by big kids. There's plenty to do and see—especially during the holiday months, with special events like Breakfast with Santa, Cookies with Mrs. Claus, and the annual New Year's Noon Party.
Street parking is plentiful, and there's even a park located next door where you can have a picnic or hit the playground if you want to make an entire day of your visit. The Children's Museum at La Habra is open every day except Mondays and is closed major holidays (like Christmas Eve, Christmas Day, and New Year's Day).
Other great programming at the museum includes birthday parties (the kind great for inviting the whole class), drop-in classes (usually included with admission), girl scout programs, and school field trips. The museum offers free admission on the first Sunday of the month.
Admission for everyone over 2 years old is $8 ($7 for La Habra residents).
Top photo courtesy of The Children's Museum at La Habra