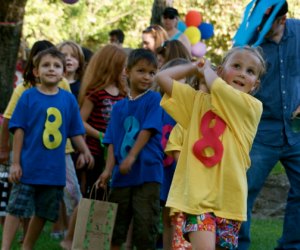 Birthday Parties for a Crowd: 10 Budget Party Ideas for the Whole Class
When it comes to birthday parties, I am all for the spirit of inviting the whole class. There is no worse feeling than being excluded or not making the A list, and encouraging our kids to be inclusive is surely the right thing to do. However, public school class sizes being what they are, this can sometimes be an unmanageable proposition. And most of our kids have lots of other friends from other places, too, like pre-school or extracurricular activities. If you approach your child's party with the good intention of inviting everybody, the guest list is likely to have at least 20-30 kids on it. So, if you don't have an acre of rolling lawn behind your family estate, how is this remotely feasible on a budget? We've got 10 great ideas that don't cost a bundle.
A simple picnic in one of your favorite parks is the easiest and most affordable solution, of course. If simple isn't your style, throw in a bounce house or a piñata. If money is no object, there are plenty of places that do all of the planning, from invites to cakes to activities to party favors. From the Carousel in Santa Monica to bowling in the Valley, many venues are willing to accommodate a birthday crowd. It can get expensive, though. Like $500-$1000 plus expensive. Some families skip town and opt for a playdate in San Diego or Disneyland to avoid the whole dilemma. But if what you really want is that big blowout, here are a few ideas that all ring up well below $500; some require little more than imagination, creativity, and elbow grease from the host.
1. Castle Park Miniature Golf in Sherman Oaks
This offers the best bang for your buck by far at $10.95 per person for eighteen holes of miniature golf. Price includes pizza, ice cream, and a $2.50 game card for each child. Add-ons include a private party room for $30 and, of course, more games.
2. LEGO Play Date
This is one you can do from home or any other space available to you. If your kids have a lot of LEGOs, bring 'em out, put 'em in the middle of the floor, and let the kids get busy building. Make a brick shaped cake, and do a generous LEGO-themed party favor. Everyone will go home happy, and no one will have something better to do that day. Don't fill the piñata with LEGO, though; my son's friends were devastated when they didn't get any candy.
3. Santa Ana Zoo at Prentice Park
A bit far afield, but well worth the trip, this is a small, charming animal park with a train and petting zoo. Party packages are surprisingly affordable. For $250 you can bring up to 25 guests (children or adults), and this includes 1 ½ hours at a picnic area and tickets for the train. Members of the zoo pay $195, and each additional guest is $6. For $400 ($320 for members) you can invite up to 50 guests, and have the picnic area for 2 ½ hours. Food and supplies are not included.
4. Home-made Treasure Hunt
The best party I ever hosted was when my son was in first grade. It was a TON of work, but well worth the effort. My husband and I got up early in the morning and hid clues all around a park that is walking distance from our home. The kids worked in groups with a map and had to find the treasure, which ended up buried in our backyard. We bought a little wood treasure chest at a craft store and filled it with quarters and dollar bills. The kids dug up our back yard and were thrilled with the loot. Give a first grader a dollar bill, and he or she thinks the lottery has just been won! (Parents without a yard to dig up can still do a treasure hunt by setting up a geocaching outing.)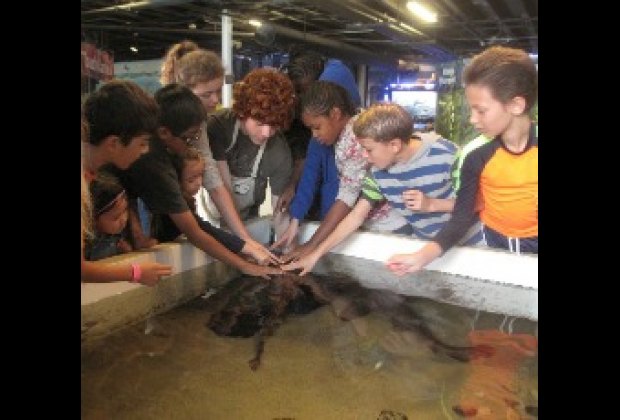 Petting the sharks at Santa Monica Pier Aquarium
5. Santa Monica Pier Aquarium
Located on the beach level of the Santa Monica Pier, this aquarium offers three party packages ranging in price from $350-$550. Each package accommodates up to 25 families. Operated by Heal the Bay, the nice thing about a party here is that it's educational as well as fun. Kids can touch sea life and learn about protecting our aquatic environment. While the party is just two hours, you'll be right there on the beach and pier, and most people will want to stay to enjoy the day.
6. Beach Day
Speaking of the beach, there's nothing quite like getting a group of kids and their parents down to the shore. Soak up some rays; make some sand castles, and splash in the surf. Everybody will thank you for it. Be sure to bring plenty of water, sunscreen, and shade. Pick up some sand toys at the 99¢ store. It's a bit of work getting food and cake down to the water, but well worth the effort. My friend Christine does this every year for her daughter, and it is an awesome start to our summer.
7. Moorpark Teaching Zoo
Granted, to most of the LA area Moorpark sounds pretty far away for a birthday party, but if you can wrap your mind around driving a little farther for a great time and a great deal, this is one heck of a place to throw a party. Minutes away from Underwood Farms (another popular place for birthday parties), the small, friendly zoo can accommodate up to 40 kids (the whole class and then some!) for only $200. This is a bring-your-own food location, with picnic tables available for cake and such. The memorable parts will be the animal shows, carnivore feedings, and chances to see all sorts of critters at closer range than bigger zoos allow.
8. Teddy Bear Picnic
If you go down to the woods today, you're sure of a big surprise! Another home-made party that works in the back yard or at a park is a teddy bear picnic. Head downtown to the toy district to stock up on some inexpensive stuffed Teddy bears. Set them up on a picnic blanket. Maybe have some craft activities. We made paper crowns for the kids and bears, and individual picnic blankets for them out of felt. My daughter's preschool friends were enchanted by this one.
9. Travel Town
Admission to Travel Town in Griffith Park is free. Kids are welcome to climb in and out of the historic rail cars and check out the model railroad. It is possible to rent an empty train car for a party. The cost is $200 for three hours, with $50 returned as a deposit. Tickets to ride the train that circles the park are $2.25 each when you are buying 20 or more. It is not necessary to purchase them in advance. If you have a Thomas the Tank Engine aficionado in the house, it is possible to add a Thomas play date (tracks and trains) to your event, starting at $75 for one hour of play. Playdate is arranged through the gift shop; party car is arranged via the main number.
10. Farrell's Ice Cream Parlor at Mountasia Fun Center
Native Angelenos of a certain age remember that THE party to have in the 70s was at Farrell's Old Fashioned Ice Cream Parlor, where the sundaes were plentiful and the staff wore straw hats and made loud noises. Long a distant memory, Farrell's has been revived at Mountasia Fun Center in Santa Clarita, where the ice cream masters are offering several party packages starting at $99 for 8 children. There are multiple arcade games and other activities, including miniature golf and laser tag. This one could get expensive fast, but can you put a price on nostalgia? The food is well prepared and the ice cream is yummy.
Top photo credit: ND Strupler via flickr