American Ninja Warrior Kids Learn Parkour at this Freerunning Orange County Gym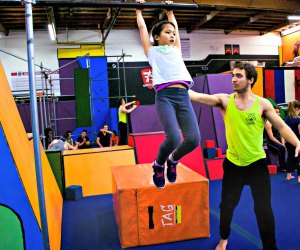 If your kid bounces off the walls even after a full day of activities, you might be raising a little ninja warrior, and a candidate for Orange County's hip and hopping gym, Firestorm Freerunning & Acrobatics. This Santa Ana gym is owned and operated by local fitness guru Justin Taylor (who appeared on the reality TV show American Ninja Warrior). It's also a premier training site for parkour, the latest fitness craze to capture the imagination of active kids.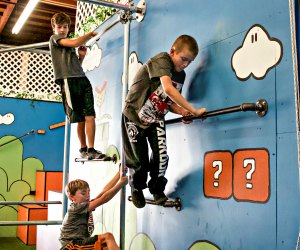 How high can you climb?
For the uninitiated, parkour is a French discipline developed from military obstacle course training. It combines running, climbing, swinging, vaulting, and martial arts to create a tough-as-nails workout that will test the stamina of even the highest-energy kids.
I recently visited Firestorm Freerunning with my two munchkins in tow for a fun-filled afternoon of somersaults, climbing, and trampoline jumping. Upon arrival, the kids were split into two different classes based on their ages. My daughter took Little Heroes, a combination of parkour, gymnastics, and trampoline for four- to six-year-olds. Meanwhile, my son had a blast in the Parkour & Freerunning class for kids ages seven and up.
There were three or four classes taking place while we were there, but the staff was surprisingly well-organized, with several coaches on the floor at the same time. There were also a few floaters walking around in case kids needed extra attention or help during the hour-long lesson.
RELATED: Flying under the Big Top—Circus Classes for LA Kids

Future gymnast at work!
While the kids practiced climbing walls and vaulting off mats, I climbed up the stairs to the loft area where parents can sit and access WiFi, chat with friends, or simply watch the coaches boost their kids' confidence as they teach them to run and jump high into the air—with close attention to safety precautions.
Because the gym is essentially one large padded room, it was easy to sit back and relax while my son and daughter flew through the air, even if at times they seemed slightly intimidated. I could see my son working up a sweat as he flew up the wall from the trampoline to the second level where his coach was waiting for him. My daughter's little legs couldn't reach quite as high, but she did manage to run and jump up a wall with almost no assistance from her coach, which left her smiling from ear to ear.
RELATED: Find More Classes in Our Classes & Enrichment Guide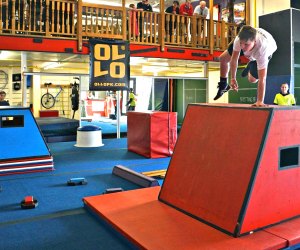 This obstacle course will test your stamina. Photo by Rex Odvina
Another added bonus at this dynamic gym is the wide array of classes available. In addition to Little Heroes and parkour, there' are classes in breakdancing, tumbling, aerial silks, martial arts tricking, and, of course, American Ninja Warrior (this one is only for ages 13 and up). Kids can switch back and forth between these on a weekly basis, but students always have a spot reserved in their first-choice class time.
The price of the first class can be applied toward enrollment. Have a packed sports schedule this fall? No problem. Simply sign up after soccer ends and your account balance will still be valid. There are also several payment plans, including drop-in rates, open gym passes, monthly, and annual memberships. The longer you sign on, the less you pay. An hour-long open gym session is also available to members for just $1 per session.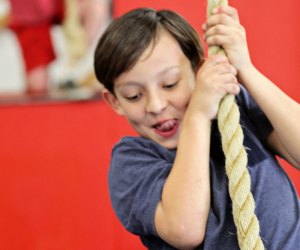 Is this the next American Ninja Warrior?

If your kids still can't get enough, Firestorm offers a Parent's Night Out (currently 6:30pm-10:30pm every second Friday of the month). Parents can indulge in a date night while their kiddos play Legos, NERF, jump on the trampoline, practice parkour, and compete in American Ninja Warrior-themed obstacle courses. The action-packed night also includes pizza and a movie. Siblings discounts are available.
Full and half-day summer camp is offered, too, and the facility is available for private birthday parties upon request. American Ninja Warrior bragging rights sold separately.
Top photo by Rex Odvina. All others courtesy of Firestorm Freerunning & Acrobatics unless otherwise noted