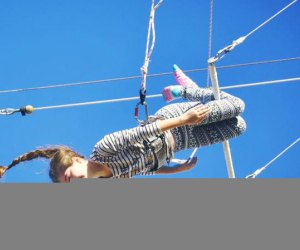 Flying Under the Big Top: Circus Classes for LA Kids
Acrobatic Angelenos no longer have to run away to join the circus. Classes offering big fun under the big top are available for all ages and abilities in many neighborhoods in and around town. The lithe and limber and even the physically challenged have multiple options for learning and practicing the circus arts. Classes in clowning, contortion, tight rope walking, high wire flying, and Wushu, can be found in multiple locations.
1. Kinetic Theory, located in a warehouse on the border of Culver City, has multi level classes for circus performers of all ages. Kids and adults, beginners and advanced can practice the art of trapeze and acrobatics in a state-of-the-art location that has 10,000 square feet of training space. In addition to the regular class schedule, summer camps and intensive training programs are available for kids from ages 6 to 16. There is also a 99-seat theater where students can perform. Among the class offerings are: Trapeze, Clowning, Pilates, and Chinese Acrobatics.
2. The Academy of Movement Arts and Sciences on the border of Mar Vista and Culver City, offers instruction in many of the martial arts, among them aikido, Brazilian Jujitsu, Kix, and Taiji, but the school's specialty is the ancient Chinese acrobatic and performance form of Wushu. Students learn the high flying kung fu moves of Hong Kong action hero Jet Li from a team of instructors whose other job is performing stunts in movies. Periodic workshops also cover wire work for stunts, and a full circus arts program for kids and adults is planned in the coming months (currently marked on the schedule as "TBA.")
3. FOCUSFish, a non-profit mobile program "where art meets physical education," offers children ages 5-14 who are living with obesity, diabetes, autism, down syndrome and other issues, an opportunity to soar. Spirits and bodies are lifted as participants fly in FOCUSFish's aerial arts program. Circus camp, circus therapy, and a big top tent for rent are among the offerings. While instruction is mobile, there is a summer camp at Big Rock Ranch in Topanga Canyon.
Photo courtesy of Fly Studios
4. Fly Studios Kidz in Redondo Beach even accommodates Big Top Babies! Former Cirque Du Soleil performer Michelle Bolong's mission is to "teach kids to fly towards their dreams," and she starts them early. Kids from 1.5 to 15 can sign up for classes, camps, and parties specializing in the aerial arts.
5. Tempest Academy in Chatsworth and Hawthorne teaches students to interact acrobatically with their environment in a facility designed by an X-Games course designer. For these practitioners of Parkour and Freerunning, anywhere in the world becomes a three ring circus.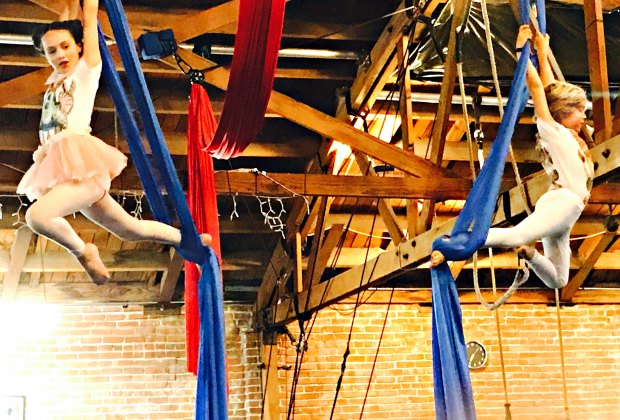 Photo courtesy of Cirque School LA
6. At Cirque School LA "anybody with any body" is invited to join. Ages 8-14 can learn the arts of wire walking, high flying, and contortion in a 6,000 square foot studio in Hollywood, where guest coaches specializing in specific disciplines offer precise training in the circus arts.
7. Trapeze School of New York Los Angeles is housed on the Santa Monica Pier. Talk about a high wire with a great view. Flying trapeze, static trapeze, Lyra, and trampoline are offered for kids from ages 6-14. And the flying rings on the sand are just a few feet away at Muscle Beach.
8. Le PeTiT CiRqUe is North America's only all kid professional circus troupe. Performers from 6-13 wow audiences with their acrobatic skills. The troupe even includes one performer who is paralyzed and in a wheelchair but flies high in a motorized harness. A summer program offers pre-professional training for acrobats who are ready to fly to new and higher heights.
Top photo courtesy of the Trapeze School New York on the Santa Monica Pier