Visit SeaWorld Orlando Like a Local with These Insider Secrets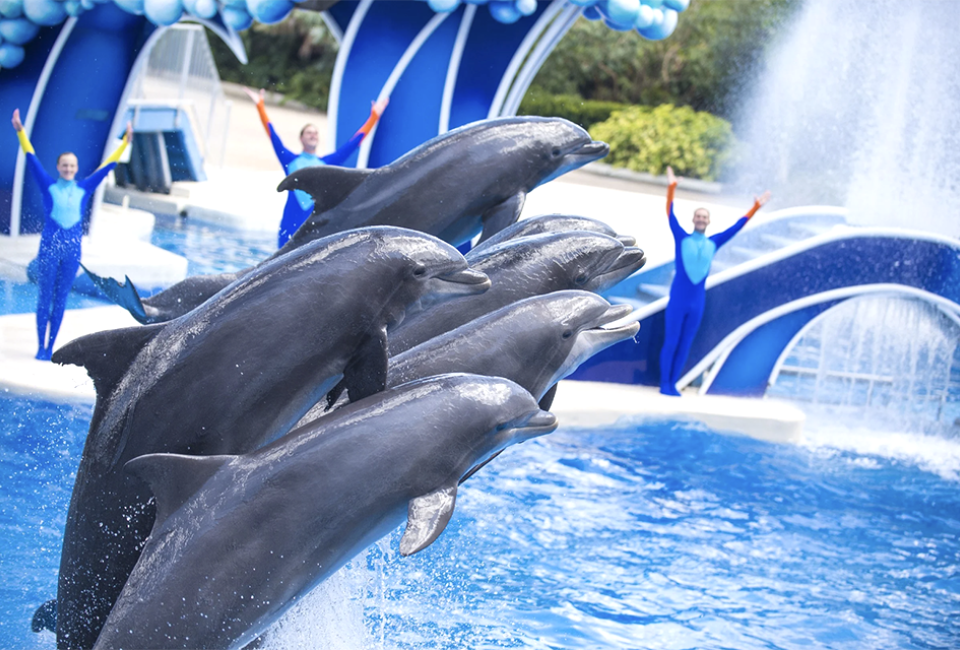 3/12/23
- By
Charlotte B
SeaWorld Orlando is one of the best theme parks in Central Florida for families of all ages and interests —from amazing animal exhibits and shows, to roller coasters and kiddie rides, SeaWorld Orlando has it all!
As an Orlando native, our family has had SeaWorld passes for many years now, and my kids (ranging in age from 4-12) have loved visiting SeaWorld Orlando at every age. And to top it off, we learn something new about the incredible resident marine animals at each visit! Read on for everything you need to know about visiting SeaWorld Orlando with kids.
Plan your Orlando vacation with the help of our Orlando Theme Park and Water Park Guide. Be sure to also bookmark our Florida Family Travel Guide for more fun ideas around the Sunshine State.

Ride the ultimate roller coaster on SeaWorld's Ice Breaker.
SeaWorld Orlando: Awesome Rides
Looking for coaster thrills? You're in luck! SeaWorld is the coaster capital of Orlando, featuring four extreme roller coasters, plus another one opening this spring.
Try out Kraken, Orlando's only floorless coaster.
Soar over the park face down, like a giant ray, on the Manta coaster.
Dare to hop on board Mako, Orlando's tallest and fastest coaster.
Brave a thrilling, vertical drop on the Ice Breaker coaster.
And coming soon, be one of the first to ride Pipeline, a surf coaster complete with an innovative harness system providing freedom of movement.
For each of these awesome roller coasters, guests must be 54 inches or taller to ride. Bonus: Animal exhibits are located near each of the coasters, so you can bring young kids to visit the animals, while older kids or adults enjoy the rides.
SeaWorld Orlando is also home to two, splash-tastic water rides. Journey to Atlantis is a family-friendly ride that combines the thrills of a roller coaster with a water flume drop where guests are guaranteed to get soaked. At Infinity Falls, board a raft to experience the rush of the rapids and plunge down a waterfall. Minimum height for both rides is 42 inches.

A must-see attraction is the Shark Encounter.
SeaWorld Orlando: Animal Exhibits & Shows
SeaWorld Orlando is home to so many amazing sea animals from all around the world, including bottlenose dolphins, penguins, sea lions, harbor seals, beluga whales, walruses, sharks galore, and of course, the famous orcas.
Interactive Encounters
One of our favorite animal exhibits is the Stingray Lagoon, where guests can "pet" stingrays as they swim by. For a small fee, guests can also feed stingrays, sharks, and sea lions. We also love to visit the underwater viewing areas for both the orcas and dolphins. And of course, a must-do attraction is Shark Encounter, where guests travel through an underwater tunnel surrounded by several species of sharks. Other amazing exhibits include a manatee rehabilitation area, a Manta aquarium, Pacific Point Preserve (meet the sea lions), and Wild Arctic (a frozen wonderland with Arctic sealife).
RELATED: Visting Every Park at Walt Disney World with Kids: A Five Day Itinerary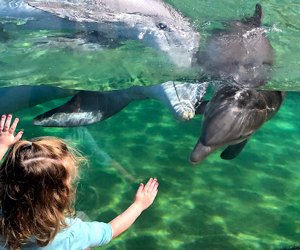 Make friends with the very clever and adorable dolphins.
Be sure to check the daily schedule and carve out time to visit the Orca Encounter show, a stadium presentation highlighting this powerful ocean predator and how SeaWorld cares for its resident orcas. The Sea Lion & Otter Spotlight show is another favorite of ours—guests can check out these amazing animals in action through an educational and entertaining presentation. And of course, don't miss seeing the playful bottlenose dolphins at Dolphin Adventures. Note: Shows fill up fast, especially during busy days, so plan to arrive early!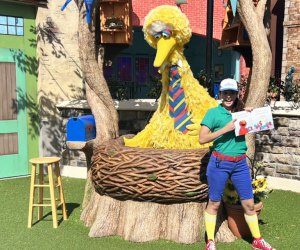 Listen to a sweet story at Sesame Street storytime with Big Bird.
SeaWorld Orlando: Welcome to Sesame Street Land
"Can you tell me how to get, how to get to Sesame Street?" Just visit SeaWorld Orlando! Little ones are sure to love visiting everyone's favorite lovable red monster, Elmo, and all his friends at SeaWorld's Sesame Street Land! Take a stroll down Sesame Street, enjoy story time at Big Bird's nest, explore Hooper's Store, and so much more.
Sesame Street is home to seven kid-friendly rides! There is also a small shaded play area and a Rubber Ducky water play area. Bring a swimsuit for little ones to splash around— a perfect way to cool off from the Florida heat! The Sesame Street party parade takes place once per weekday, and 2-3 times daily on Saturday and Sunday, so check the schedule on the day of your visit.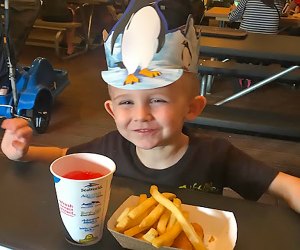 From quick bites to specialty dining, SeaWorld Orlando has something for everyone!
SeaWorld Orlando: Dining & Snacks
Several dining establishments are located throughout the park, with options like burgers, hot dogs, barbecue, paninis, and more. Plus, most offer mobile food ordering through the SeaWorld app. Quick bites and treat shops are also scattered around the park, serving pretzels, ice cream, coffee, and pastries.
An all-day dining deal is available and offered at many of the restaurants around SeaWorld. This is a great add-on for anyone planning on spending a full day at the park!
For a truly memorable experience, consider reserving one of the sit-down specialty dining options: Dine with Orcas or Sharks Underwater Grill.
RELATED: Bite Into Orlando Fun by Visiting Gatorland with Kids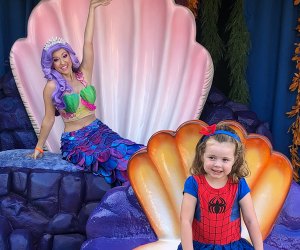 Enjoy special seasonal events at SeaWorld like the Halloween Spooktacular.
SeaWorld Orlando: Know Before You Go
Save money by purchasing tickets in advance online.
SeaWorld is close to both Walt Disney World Resort and Universal Orlando, which makes it a great addition to an Orlando theme park vacation!
If driving to SeaWorld, budget for parking. General parking is $30, and cash is not accepted. If staying at a nearby hotel or resort, see if they offer a shuttle to save on parking costs.
Download the SeaWorld Orlando mobile app prior to your visit for daily schedules, maps, upgrades, and more.
Single and double strollers are available for rent at the park.
No outside food or beverages are allowed into the park.
SeaWorld Orlando is a Certified Autism Center. There are quiet rooms and low-sensory areas located around the park, and staff has been trained on autism awareness and sensitivity.
A Quick Queue add-on is available, which includes unlimited front-of-the-line access to most rides, as well as one-time reserved seating at select shows.
Since you may get wet on some of the rides, I recommend wearing quick-dry clothing.
SeaWorld Orlando has a Sunny Day Guarantee, so that if inclement weather hinders your visit, you can request a complimentary ticket for a return visit.
SeaWorld Orlando offers amazing summer day camps, including half-day preschool camps for ages 3-4, and full day camps for grades K-12 with themes such as Marine Biology, Secrets of the Sea, Feeding Frenzy, and more.
At the beginning of each year, SeaWorld Orlando offers a FREE preschool card for kids ages 5 and under for Florida residents!
SeaWorld Orlando has a packed calendar of fun events throughout the year, such as the Halloween Spooktacular, Christmas Celebration, and more.
Unless noted, photos by the author
Places featured in this article:
Enter to Win!