NEW American Girl Store Opens in Los Angeles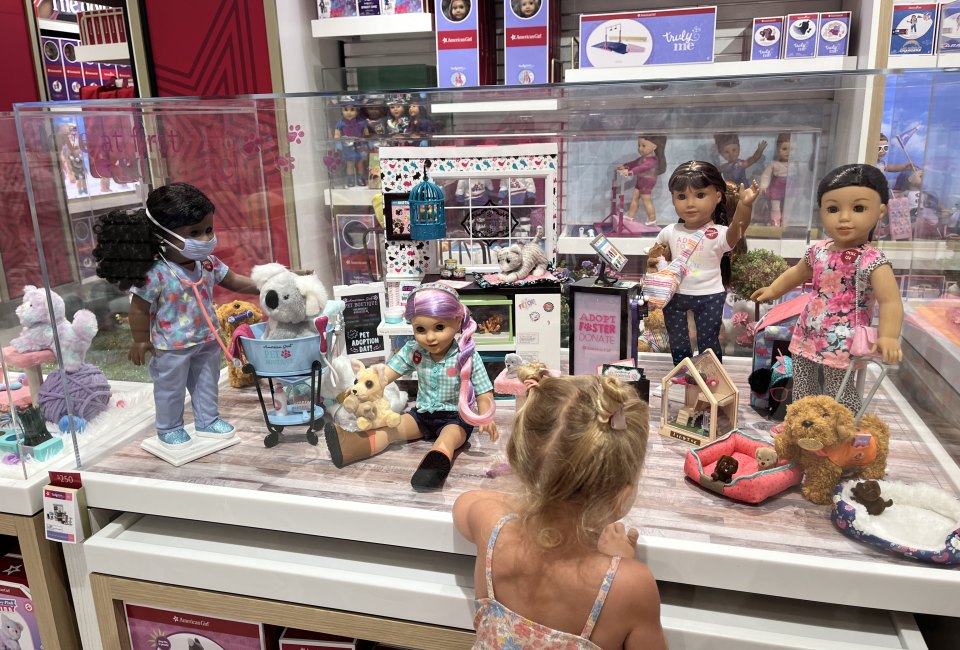 9/22/23
- By
Kylie Williams
American Girl dolls bring back fond memories, and the new American Girl Store in Westfield Century City resurfaces those memories even more. The difference was that I got to create new memories with my two-year-old daughter as we had the sweetest day getting dolled up at the American Girl store.
As a millennial mom, I remember adjusting Molly's glasses on her face, and dressing her in her finest plaid outfit. I remember cozying up in our red living room chair with an American Girl book in one hand and Molly in the other. From manicures to books, keep reading below for what you can expect at the new two-level American Girl Store in Los Angeles.
The American Girl Store is just the start of the fun at the Westfield Century Mall. Check out why the Westfield Century City is the best mall for kids in LA.
Exploring the American Girl Store

There's so much to see and do at the American Girl Store!
Naturally, dolls are the focus at the American Girl Store, and whether you already own an American Girl doll or are shopping for a new doll, there are aisles full of dolls, accessories, and outfits to choose from. Shoppers can opt for character dolls (such as the Girl of the Year, Kavi Sharma) or create their own dolls from a wide selection of different hairstyles, face shapes, eye colors, outfits, and extras.
There is no shortage of accessory options, from a football-based clothing collection in collaboration with the NFL to an entire display dedicated to Harry Potter Hogwarts' uniforms and accessories. Pets for the American Girl dolls are even available. Cats, dogs, and horses are ready to be adopted, along with everything your dolls need to take care of them.
If your daughter is on the younger side (like mine is), the store also has an entire section devoted to Bitty Babies. We haven't ventured into the "big dolls" yet, but my two-and-a-half-year-old loved picking out a new, sparkly pink outfit for her Bitty Baby doll and pushing her around the store in a bassinet.
RELATED: LEGO, American Girl, and CAMP Stores Make Westfield Century City Best LA Mall for Kids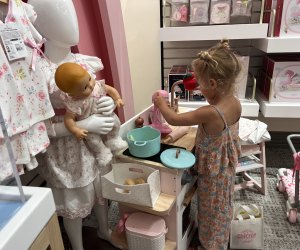 Dolls and interactive toys are available for kids of all ages.
Next to the Bitty Baby section is another small room dedicated to WellieWishers, which are smaller-scale (and less expensive) friendship dolls with their own line of clothes and accessories.
Everywhere you look, there is something to admire and touch in this interactive doll's world. Everything is bright, colorful, fun, and pink, with LED screens displaying various dolls and plenty of elaborately styled display cases all over the store.
Experiences for Kids at The American Girl Store
The American Girl Salon
Browsing the dolls and all their accouterments is fun, but nothing compares to an afternoon of getting pampered at the American Girl Salon. Parents can book appointments in the salon online or at the counter when they arrive. Depending on the store traffic, you may have to wait for a stylist.
RELATED: Kid-Friendly Nail Salons in Orange County To Pamper Your Little Princess

Take a seat in the salon for manicures and hairstyles.
We were fortunate to visit on a slow morning and had no problem getting my daughter in for a manicure. She felt so special picking her color and enjoying her first-ever manicure with the very friendly and patient manicurist. Even dolls can get their nails painted with coordinating colors.
We didn't opt for a hair package, but one of the cutest options at the salon is hairstyling, where girls can choose from several darling braid and curl styles. They can also have their doll's hair done the same way. While we were visiting, a birthday princess was outfitted with a tiara, and her doll received a tiny tiara, too.
Brave girls ages six and up can bring their dolls in for a first ear piercing and get their ears pierced, too. It's the perfect way to ease nerves during this big milestone.
The Reading Room
RELATED: The Last Bookstore is LA's Reading Playground for Kids Who Love Books

Thumb through the pages of a new American Girl book.
The second level of the American Girl store is home to the bookstore. It is a reading room with cozy couches, a bench made out of an oversized copy of Samantha, and plenty of new books in displays all over the walls.
Admire the posters of the original American Girl dolls and their book covers that line the back wall leading to the (very cute and pink) restroom. I felt a wave of nostalgia as I saw the oversized book covers for Josefina, Molly, Samantha, Felicity, and the other girls who made American Girl the company it is today. For any 90s mom who lived in the original era of American Girl, make sure to pop upstairs and check out this homage to the past. It will give you all the feels.
Doll Hospital
In case your doll has sustained an accidental injury, the American Girl Store has a doll hospital. When dolls are admitted for treatment and recovery, they receive a hospital gown, socks, a certificate of good health, and even a get-well card.
Food at the American Girl Cafe
Another attraction on the second level of the American Girl Store is the American Girl Cafe. This "pretty in pink" dining establishment is a sit-down restaurant with a pre-fixe menu. Guests can enjoy a full menu with everything from appetizers to desserts.
RELATED: Restaurants Guide for Los Angeles and Orange County Families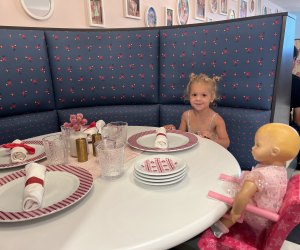 Dine at the restaurant or enjoy teatime with your doll at your side.
The menu includes soft drinks and lemonade, cinnamon buns, fruit skewers, meatballs, and cucumber bites, and a choice of entrees: chicken tenders, mac and cheese, personal pizza, burrata and tomato caprese, or an American Girl burger. Dessert comes with the meal- a chocolate mousse flowerpot that is almost too cute to eat.
Kids can also order a Kavis' Glittery Fizz drink with a fizzy drink bomb that will transform the beverage color, while moms can choose from a variety of wines.
In addition to the dining option, guests can book a teatime for $40 per person for two to eight guests. Teatime includes finger sandwiches, sweet treats, a pot of tea, and craft activities for the table. It's the picture-perfect option for a little girl's birthday party. Dolls can dine along with their girls. Each table includes several "doll chairs," so they have a place to sit.
Events at American Girl
The American Girl Store often has in-store events that include seasonal cookie decorating, special salon events, holiday teatime, and even a Santa brunch!
American Girl Birthday Parties
There are endless places to host a memorable birthday party in LA, and the American Girl Store just provided another dazzling birthday party option. Deluxe party packages are available, varying in price, duration, and the activities and components included with the cost.
RELATED: Birthday Party Ideas Guide for Los Angeles Kids

Spend a sweet day at the American Girl Store.
The Only American Girl Store in California
American Girl was once a hot spot at The Grove and Original Farmers Market in Mid-City but closed its' doors in April of 2022 to prepare for the move to the Westfield Century City location. Now, the shop occupies two floors at the Westfield Century City Mall.
The American Girl Store joins the LEGO Store and CAMP, further solidifying the Westfield Century City Mall as the best mall for kids in Los Angeles. The immersive and whimsical world of American Girl gives one more reason to run to this incredible shopping and dining space.
Getting To the American Girl Store & Parking
Paid parking is available in various parking garages surrounding and connected to the Westfield Century City. The closest lot to the American Girl store is the "gray" parking spaces on P1. Take the elevator or escalator straight up near the food court, and you'll see the bright banner signs signaling that you've made it to the store.
Guests must enter from the 2nd floor, between LEGO and Tender Greens. My insider tip for parking is that Gelson's is the only place in Westfield Century City that validates parking with a $10 purchase.
RELATED: Indie Toy Stores: LA's Best Spots To Shop for Toys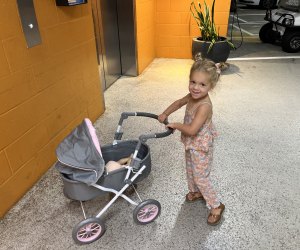 Bringing a doll along on your American Girl Store adventure is a must.
Know Before You Go
If you don't have an American Girl doll yet, one walk around the store will have you wanting to buy them all. Bringing a doll along (or buying one there) will significantly enhance your experience. We brought our Bitty Baby, "Jaqueline," along for the trip, and even though she is "too young" for the salon, my daughter still had a blast toting her around with us and putting her in the doll chairs at the restaurant.
Our afternoon at the American Girl store made for the sweetest memory, and we hope to head back soon for more "girly" mom-and-daughter fun.
If you have little girls between the ages of two and 12, I highly recommend putting this experience on your list.
To guarantee a table at the cafe and availability at the salon, make sure to book your experiences in advance online.
Complimentary personal shopping is available by appointment.
The American Girl Store is right next door to the LEGO Store.
Store hours vary each day—visit the Westfield Century City website to check the store hours.
Check the American Girl Store website for cafe hours and days of operation.
All photos taken by the author.
Places featured in this article:
Sign up for the Mommy Poppins Newsletter today!