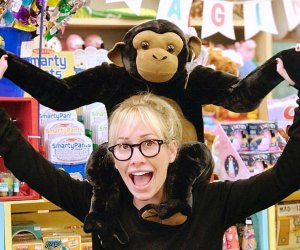 Indie Toy Stores: LA's Best Spots To Shop for Toys
Toys. Kids love 'em; parents wish they would put them away. But in this the age of electronics, we can all agree that a good old-fashioned manipulative beats a device with a screen any day. With even big toy store chains like FAO Schwartz and Toys 'R' Us closing shop, it's time for us to rally and support the local toy stores we love if we want them to be here next year—particularly the ones where you find an unusual gift just when you need it.
Kip's in the Farmer's Market is Los Angeles' oldest toy store and is still operated by the original owner. Kip carries many nostalgic items and things that are hard to find elsewhere. Pasadena has a store dedicated entirely to dinosaurs. My kids' Aunt Janet usually heads to WACKO! in Hollywood for edgier novelty items, and Small Wonders is a fixture of the Palos Verdes Mall I love because of the indoor ice rink. And then there's Evett's model shop in Santa Monica; Evett recently passed away but his shop is 65 years young and continues to sell models, remote control vehicles, and all sorts of supplies for young engineers. Check out all of our favorites:
Dinosaur Farm
1510 Mission Street
South Pasadena, CA 91030
626.441.2767
Come here for prehistoric playthings and some other stuff, too.
Tom's Toys
437 N. Beverly Drive
Beverly Hills, CA 90210
310. 247.9822
Fantastic service and the gift wrap is always free at Tom's.
Kip's Toyland
6333 West 3rd Street (in the Farmer's Market)
Los Angeles, CA 90036
323.939.8334
Kip's still carries the retro classics -- and new hits, too.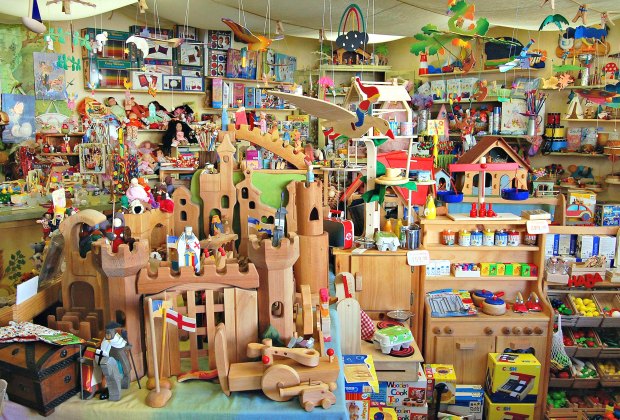 Photo courtesy of The Acorn Store
The Acorn Store
1220 5th Street
Santa Monica, CA 90401
310.451.5845
Across the street from the Waldorf School, almost all the toys here are wood, and the dolls are made of natural fiber.
A Magic Forest
12512 West Washington Blvd.
Culver City, CA 90066
310.397.9400
Like the Acorn store, Magic Forest's toys are Waldorf-inspired. There are also classes and a play space.
Toy Crazy
Malibu Country Mart
23410 Civic Center Way
Malibu, CA 90265
310.456.5696
and
Brentwood Country Mart
225 26th Street
Santa Monica, CA 90402
310.899.5696
Toy Crazy is located in both Malibu Country Mart and Brentwood Country Mart (already great places for kids to hang out), and doll lovers will appreciate the store's collectible and personalized dollies.
RELATED: Making room before shopping? Drop off gently used toys at toy donation facilities.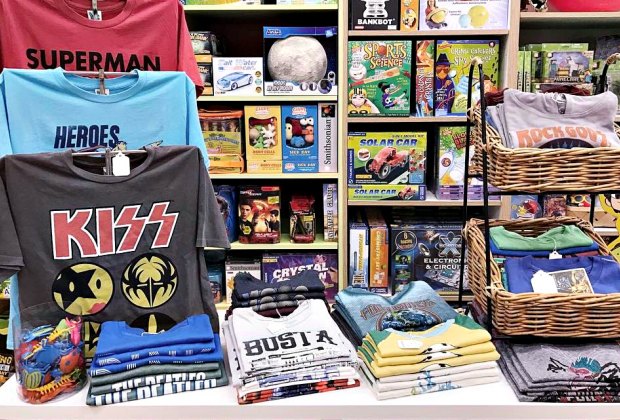 Photo courtesy of Jenny Bec's
Jenny Becs
11710 San Vicente Blvd.
Brentwood, CA 90049
310.820.0500
Brentwood's indie shop is under new ownership and offers free parking and high-end toys for newborns to tweens.
Puzzle Zoo
1411 Third Street Promenade
Santa Monica, CA 90401
310.393.9201
and
7553 Melrose Avenue
Los Angeles, CA 90046
323.782.1020
This place is so good that it has a smaller version on Santa Monica's Main Street, too. In addition to all of the classics like Calico Critters and Thomas, it has a fantastic selection of Star Wars and other action figures, plus the puzzles promised in the name.
Huzzah!
2010 Lincoln Blvd.
Venice, CA 90291
310.452.2900
Best name ever, and you have to love the fact that the web site has a section for grown-ups. Why should kids have all the fun?
WACKO!
4633 Hollywood Blvd.
Los Angeles, CA 90027
323.663.0122
Hipsters need toys, too. Here is where you can pick up a Breaking Bad Bobble head. This emporium of novelty also includes The Soap Plant and art gallery La Luz de Jesus for one-stop shopping.
RELATED: Exploring Downtown LA's Toy District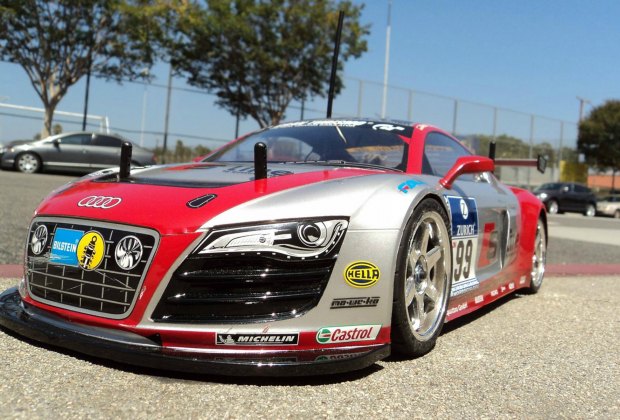 These models look real! Photo courtesy of Evett's Model Shop
Evett's Model Shop
1636 Ocean Park Blvd.
Santa Monica, CA 90405
310.452.2720
It doesn't get more old school than this hobby shop that specializes in models and the supplies for making them. It's a neighborhood fixture.
Giant Robot
2015 Sawtelle Blvd.
Los Angeles, CA 90025
310.478.1819
and
GR2​
2062 Sawtelle Blvd.
Los Angeles, CA 90025
424.246.7626
Asian toy aficionados will appreciate the selection of Murakami Stuffies, Ugly Dolls, and unusual figurines.
Train Shack
1030 N. Hollywood Way
Burbank, CA 91505
818.842.3330
The Shack has Brio and Thomas for the kiddies, but also lots of model railroad stuff for grown-ups who still like playing conductor.
Toy District
300 S. Los Angeles Street
Los Angeles, CA 90013
This isn't an indie store but a collection of small shops selling mass-produced stuff at rock-bottom prices—not quite the same as the other venues on the list, but still worth a stop for stocking stuffers and other kid treasures at internet prices without waiting for the UPS man.
Originally published December 8, 2015