Downtown LA's Toy District: A Treasure Hunt for Birthday Supplies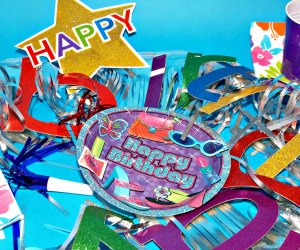 It just so happens my child's birthday is coming up soon. I had heard interesting things about the Toy District and deals one can get there on birthday supplies, so I decided to take advantage of living near Downtown and go for a stroll through LA's well known Toy District -- located just east of S. Los Angeles Street, between 3rd St and 4th St. in downtown Los Angeles. Is it a must-stop for party shopping? And is it worth the effort?
The Toy District is unlike typical retail shops in air conditioned shopping malls; rather it's many items still in their right-out-of-the-delivery-box, bulk packages. Many items are sold by the dozen. Not all stores have names, and a few sell wholesale only. But if you're shopping for a party and need to fill goody bags, these nameless shops can most likely set you up without spending a lot.
I was able to purchase single items from most stores as well if I asked. I did manage to find everything I needed for a children's party. The caveat is that many items that one would hope to find are only sold with some kind of trademarked animated character on them. For example, I was looking for plain beach balls but kept finding Dora and Disney beach balls.
Perseverance is the key. The last store I walked inside had a dozen plain beach balls for 4 dollars. I also found a dozen paper lanterns for 12 dollars, all you could want flower leis, and balloons galore. If one shop doesn't have what you're hunting for, the next one probably will.
Many places only take cash, and some take credit cards if you purchase a minimum of, for example, 40 dollars worth of items. I tried once to make a deal with personnel but the price was pretty fixed, so I am uncertain how easy it is to bargain.
Don't let the name Toy District fool you; there's more than just toys and birthday supplies and cake toppers to satisfy the party planner in all of us. The area also offers an abundant supply of baby shower, wedding shower, and luau supplies to last a lifetime. Holidays get their due, too. The Toy District is worth a visit when planning any kind of party.
Remember that not all stores have facades that open onto the street. Some shops are tucked away inside buildings, almost like a shopping center. But that adds to the adventure. Not everything is high quality, and it did make me wonder about humanitarian issues at the factories where the items were made.
Stores start closing before 5pm on weekends. I would suggest going on an early afternoon on a weekday to avoid big crowds and to have an easier time finding parking.
Parking: There are pubic parking structures and street parking ($3 per hour).
A couple of things to note are that the Toy District is not a super tidy district and it is one block away from Skid Row. Other than that, there are definitely deals to be had if you're up for a treasure hunt. If you feel inclined to celebrate your savings by treating yourselves to a meal Downtown, check out these 10 kid-friendly restaurants in the neighborhood. You could even treat yourself to a bunch of flowers from the Flower District before getting back on the freeway.
Photo via Bigstock