Black-Owned Restaurants, Shops, and Landmarks to Discover in Los Angeles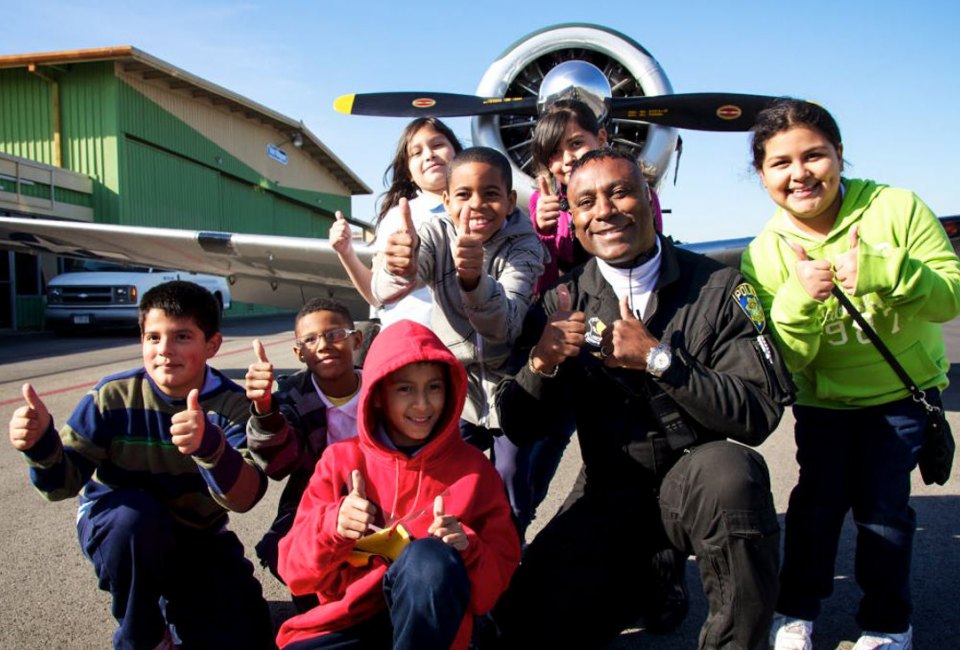 2/4/22
- By
Matt Matasci
February is Black History Month, but it's important to celebrate and support the dynamic Black-owned businesses in Los Angeles not just in February, but all 365 days of the year. Our list below highlights Black-owned restaurants and Black-owned shops where you'll find some of the best eats, treats, and shopping in Los Angeles, as well as museums and historical sites that offer opportunities for important discussions about civil rights and local Black history.
For more great kid-friendly activities and events to celebrate Black History month, browse our Los Angeles events calendar— and don't miss our list of Children's Books to Celebrate Black History Month.
If you'd like more stories like this sent straight to your inbox, sign up for newsletters.
Black-Owned Restaurants in Los Angeles
It'll be hard to find another cafe as unique as Nimbus Coffee. The whimsical shop has a Harry Potter-inspired ambiance and serves up specialty caffeinated elixirs like the Notorious Black (charcoal rosemary latte) and the Orange is the New Hex (orange blossom creamsicle latte).
Do you have small children you don't want to caffeinate? There are also fruit-based drinks like the Dragon's Breath (dark cherry vanilla compote base) and Sorcerer's Tears (pineapple with raspberry compote base). Of course, if you're a "Basic Witch" you can get coffeehouse classics like a cappuccino or mocha.

The Cajun fried lobster with buttered grits and waffles is astounding. Photo courtesy of Watts Coffee House
More than just a great place to get a cup of coffee and a soul-food-inspired breakfast, Watts Coffee House is steeped in Black history. The restaurant is located in the Mafundi Building and Robert Pitts Westminster Neighborhood Center. It was founded in 1965 in an abandoned building on 103rd Street and became a place for activists, residents, and artists to gather. Today it's owned by Desiree Edwards and serves up staples like country biscuits, waffles, sandwiches, and more.
Obet & Del's Coffee in Thai Town takes you back to the '70s with its vintage decor. You can order standard coffee house fare like cold brew, espresso, and lattes, but don't miss the Golden Milk Cappuccino, which is made with turmeric, milk, honey, and coconut sugar.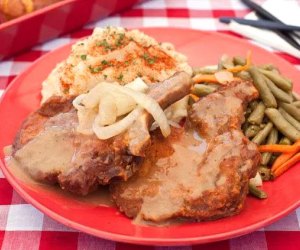 Remember Aunt Kizzy's? Dulan's is just the next iteration. Photo courtesy of Dulan's Soul Food Kitchen
Dulan's was founded by its namesake Adolf Dulan, the self-proclaimed "King of Soul Food." It all started when he left his job as a social worker for LA County and opened a franchise of Orange Julius in South LA. Over the years he transitioned to a burger joint that became a successful local chain, then a soul food place called Aunt Kizzy's Back Porch, and finally Dulan's Soul Food Kitchen. There are two locations, one on Crenshaw and the other in Inglewood. Both are outstanding.
Based smack dab in the center of Inglewood's downtown (and less than a block from Dulan's) is Sip & Sonder. It's a Black woman-owned coffee shop that was established in 2017 as a place where "coffee, community, and culture truly connect."
At this family-owned cafe and retail shop that's run by florist Maurice Harris, you can grab a latte or cold brew while perusing the great selection of mugs, accessories, art, and apparel.

Texas or NC has nothing on Bludso's. Photo courtesy of Bludso's BBQ
7. Bludso's BBQ — Hollywood and Compton
Though it first opened in Compton as a takeout BBQ stand, Kevin Bludso's BBQ joint already feels like an LA classic. The Hollywood location on LaBrea is the flagship but you can also find Bludo's at the LAFC Soccer Stadium and LAX. There's even an international expansion with a restaurant and bar called San Antone in Melbourne, Australia. Bottom line: You don't see this kind of success if the BBQ isn't top-notch. Which this is.
Earle's on Crenshaw was founded by two Brooklynites who built a hot dog stand on the Venice Boardwalk. In 1992 they opened Earle's Weiners on Crenshaw before relocating a bit further north to Exposition and Crenshaw as Earle's Grill. Now they're at Crenshaw Square and the restaurant is called Earle's on Crenshaw. Throughout these changes, one thing has remained constant: great hot dogs, burgers, and sides. There are vegan offerings, as well.
9. Honey's Kettle — Culver City and Downtown
Honey's Kettle is another great place for soul food, with locations in Culver City and DTLA. The specialty is fried chicken and biscuits, though both locations also offer sandwiches, salads, and more. The restaurant was founded by Vincent Williams, aka Chef Vinny, who has almost 50 years of experience kettle cooking fried chicken.

Roscoe's in Hollywood is a can't miss LA dining experience. Photo courtesy of @jennilovesfood, via Tripadvisor
10. Roscoe's Chicken and Waffles — Hollywood, Pasadena, West LA, South LA, Long Beach, Anaheim
Roscoe's Chicken and Waffles is the restaurant that really put this unique meal on the map. It all started in Hollywood, though the company's success has seen it branch out with locations in Pasadena, South LA, West LA, Long Beach, and Orange County. If you head to the Hollywood outpost keep your eye out for celebrities that frequent the legendary establishment!

Black Star Collectibles is the city's first black-owned toy store. Photo courtesy of Black Star Collectibles
Black-Owned Shops in Los Angeles
In 2020 Feon Cooper and Kareem Burton opened the city's first black-owned toy store under the name of Black Star Collectibles. It's different from most toy stores because it focuses its inventory on Black toys, comic books, and merchandise.
MIniBop Music is one of the only black-owned kids companies in LA. With a roster of incredible, talented teachers, MiniBop brings music into children's lives through group classes, private lessons, birthday parties and more. You can even sign up for a class in our activity calendar.
James Fungate's independent book store Eso Won Books was founded in Leimert Park in 2014. The store specializes in books that chronicle the Black experience.
Malik Books is located in the Baldwin Hills Crenshaw Mall and has a wide inventory of new and used books, gifts, calendars, and more. You can also check out the shop's podcast, Malik's Bookshelf.

This is one of the best bookstores in town. Photo courtesy of Reparations Club
Reparations Club brands itself as a "concept bookstore & creative space curated by Blackness in Los Angeles." The shop bills itself as California's premier queer Black-woman-owned bookshop, and boasts a spectacularly curated selection of gifts, cards, games, and more.
A little bit different than the other entries in this section, Jeanetta Gonzalez operates as an e-business. There's no brick-and-mortar store to peruse, but her website is full of fun, eye-catching graphic designs. Her specialties include hand-lettering, calligraphy, graphic design, and coaching/teaching/speaking for aspiring designers.

Even your too-cool tween or teen will be impressed when you take them shopping at Union LA. Photo courtesy Union LA
17. Union LA — Hancock Park
If you're looking for a gift for a guy in your life (or for yourself!) then look no further than Union Los Angeles on La Brea in Hancock Park. Originally from New York City, this fashion-forward boutique has a great selection in-store but an even greater amount of items in its webstore. A gift from here will definitely impress your fashion-conscious teen.
Lula Washington Dance Theatre is a great place for aspiring dancers to hone their chops. At the Theatre School, the aim is to inspire and educate local children in dance. The school provides instruction in many forms of dance, including modern, jazz, ballet, African dance, tap, and other dance styles.

You got big dreams? This is the place to start dancing. Photo courtesy of Debbie Allen Dance Academy
Another place for up-and-coming dancers is the Debbie Allen Dance Academy in Baldwin Hills. At this school, classes are available in-person and virtually with a summer program for children over eight. The academy offers classes for children of all ages!

Gary Jones, founder of Blackstreet USA Puppet Theatre, with several of his creations. Photo courtesy of the theatre
Everyone in LA is familiar with the Bob Baker Marionette Theatre, and Blackstreet USA Puppet Theatre deserves similar recognition. Founded by Gary Jones, a designer with roots in Chicago, the theatre got started in the '70s. His shows feature the Yuppets (Young Urban Professional Puppets), an army of over 100 puppets that he's designed over the years.
Founded by Joel Stallworth, The Small Shop features unique fashion and accessories. Find locally sourced glasses, graphic Ts, hats, and more at this Spring Street boutique. If you can't make it Downtown to the brick-and-mortar store, the website is always open!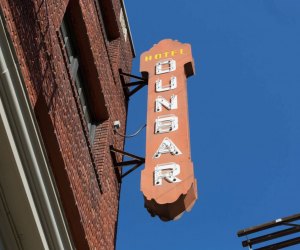 The iconic Hotel Dunbar sign, photo courtesy of angelswalkla.org
African American Historical Sites in Los Angeles
For most people outside of Los Angeles, the term "South Central" refers to South LA at large. But the truth is that Historic South Central is a much smaller area, just south of DTLA, and is the original heart of the city's Black community. The Dunbar opened a nightclub in the 1930s and it quickly became the center of the city's jazz scene. Today it's been converted into a residential building, but you can still get a feel for what this neighborhood was like so long ago.
The Watts Towers were built by an Italian-American, but right next door is a Youth Arts Center dedicated to the famous jazz musician Charles Mingus. The youth center hosts classes for students and teachers and is truly a symbol of Los Angeles' multiculturalism.
Located between Spring and Broadway in DTLA is the Biddy Mason Memorial Park, a tribute to one of the first settlers of a little pueblo called Los Angeles. Freed from slavery after traveling as a captive with the Smith family, she set up her homestead at this exact location. Learn a little history about an early pioneer of the city and afterward, grab a bite at a Black-owned restaurant; the Jamaican eatery abeautifullife, which is located just a few blocks north of Biddy Mason Memorial Park on Spring Street.

The views from this room are stunning. Photo courtesy lisc.org
Named for former Mayor Tom Bradley (the first, and to date, only Black person to serve as mayor of LA), this room in City Hall provides incredible views of the Civic Center and the rest of Downtown.
Paul R. Williams isn't an important figure just because he designed some of LA County's most iconic buildings. As a Black architect, he overcame racism to become a leader in the field and an inspiration for future generations. There are many buildings built by Williams, including the 28th Street YMCA Building, Second Baptist Church, Golden State Mutual Life Insurance Building, and the Paul Revere Williams Residence. The LA Conservancy has a self-guided driving tour for $10-$15 available online.

Installation view at Art + Practice on Leimert Boulevard. Photo courtesy of the gallery
Leimert Park is one of several hubs of African American culture in LA and is one of the city's most vibrant and historic neighborhoods. Take a walk around the center of the district, Leimert Park Village which is lined with shops and galleries on 43rd Street and Degnan Boulevard. Visit exhibitions at Art + Practice on 43rd, multimedia art exhibits at KAOS Network on Leimert Blvd., peruse books at Eso Won Books, catch a performance at The World Stage on Degnan Blvd., and check out the gear at Ride On! Bike Shop. Then, for a bite to eat, there's Ackee Bamboo serving up Jamaican cuisine and Azla Ethiopian Eatery.
28. Barack Obama Boulevard — South LA
Barack Obama Boulevard is one of the newest landmarks of African American history in Los Angeles. In May 2019, Rodeo Road was renamed in honor of the 44th president (and of course, the first Black president). Obama has some ties to the LA area; as a young man he spent a year attending Occidental College in Eagle Rock and lived in Pasadena.

Jackie Robinson Stadium, photo courtesy of Wikipedia
Jackie Robinson, who was raised in Pasadena, played baseball, football, basketball, and track at UCLA. He became a legend and national icon when he broke pro baseball's color barrier playing for the Brooklyn Dodgers. UCLA honored his incredible legacy by naming its baseball field Jackie Robinson Stadium.
30. Mack and Jackie Robinson Memorial — Pasadena
Jackie Robinson's hometown also honored the athlete with a small memorial to him and his brother. Located in the Civic Center area of Pasadena, the memorial features two large sculptures of Jackie and his older brother Mack, who was also a pioneering Black athlete. There's also a statue of Jackie Robinson at Dodger Stadium, though he never played there...
Black History and Art Museums
Also known as CAAM, the California African American is located in Exposition Park right next to the California Science Center. The museum features permanent and rotating exhibits, plus workshops, classes, and performances.
UCLA's Fowler Museum is dedicated to modern and classic art from Africa, Asia and the Pacific, and the Americas. The African art exhibits are particularly noteworthy, and there are often excellent special exhibits by African artists.

Making art accessible for everyone. Photo courtesy of The Underground Museum
The Underground Museum has a mission of changing the way people view, make, and buy art, making it accessible to not just Black people but those of every culture. The museum was co-founded by Noah and Karon Davis in 2012, bringing art that is normally seen only in major institutions right into the neighborhood.

This hidden gem will fascinate your kids and enlighten you! Photo courtesy of the African American Firefighter Museum
Though it's a bit off the beaten path, the African American Firefighter Museum is well worth the visit. Located in the Warehouse District (catty-corner from a sprawling Coca-Cola plant), this free museum is open Tuesdays and Thursdays from 10am-2pm and Sunday from 1pm-4pm. It's a fascinating museum dedicated to promoting diversity and standing up for inequality against all races and genders.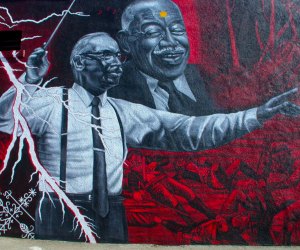 Noni Olabisi's mural depiction of William Grant Still. Photo courtesy of the center
Just south of the 10 is William Grant Still Art Center. This gallery was founded in the late '70s and features workshops and classes for aspiring artists of all ages. For kids ages 3-12, check out the Art & Jazz Summer Art Camp.
Tomorrow's Aeronautical Museum is located at the Compton/Woodley Airport and its mission is to teach inner-city youth about aviation. The museum features interactive exhibits and educational programming.
While the Battleship Iowa itself isn't a Black cultural monument, every February it hosts an annual celebration in honor of Vice Admiral Samuel L. Gravely, who was the first African American to command a warship, the first to be promoted to a flag rank, and the first to command a naval fleet.
Sign up for the Mommy Poppins Newsletter today!
i