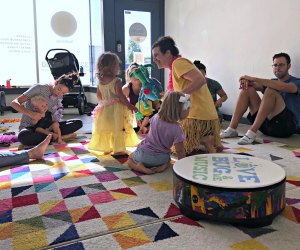 Mommy and Me Classes That Dads Can Love, Too
While Los Angeles is home to lots of fun (and even unexpected) Mommy and Me classes for toddlers and babies, sometimes Daddy wants to go to spend time with his duckling. Here are some of the classes that made me feel most welcome as a dad.
1. Lovebug and Me
Locations in Los Angeles, Burbank, Atwater Village, Los Feliz, Sherman Oaks, Woodland Hills, West Hollywood, Topanga Canyon, Monrovia, Santa Monica, Pasadena, San Marino, and Downtown LA
310.356.8363
We've been taking Lovebug and Me classes since my daughter could barely hold her head up. Now that she's a toddler, she even brings home many of the songs she learns (she spontaneously bursts into the "Ready to Go" song before bed many nights). Thanks to the intimate class size, it feels like we have a personal relationship with her teacher, Miss Alana, who has posts her kid song videos online. Lovebug classes are usually a small circle of moms and sometimes a couple dads, and in addition to Miss Alana there are lots of other awesome instructors, some of them male. I've always appreciated that the class never makes a big deal of anyone's gender (including that of the parents), and when the boys and girls wear butterfly wings, so do the dads and moms. Each class is structured as a mix of repeat or new songs, and there are always a couple fun classroom instruments like claves, xylophones, tambourines, maracas, and more. Then there's usually a physical dance portion (in the Hawaiian classes this summer we learned to hula) or playing with a big parachute. Each group of classes have themes that have ranged from Hawaiian to Broadway Musicals, and this fall is "I Am Me." Lovebug and me has classes all over town, and demo classes are free.
The Little Gym
2. The Little Gym
Locations in La Canada, Lakewood, Torrance, Riverside, Tustin, and Thousand Oaks
If you're looking for a toddler-level physical challenge, try Little Gym. A friend referred to it as "corporate," which is pretty accurate. There are locations all over, and they have tons of safe and fun gymnastics equipment from balance beams to rings. The gym has well-trained, professional staff and a curriculum that was clearly developed by some child development geniuses. It also means that class size can get pretty big, which can be a little overwhelming and occasionally feel impersonal. Still, the instructors try to carve out one-on-one time with each kid and push their limits in a gentle way. The large class size also means the class we attended had the biggest mix of male and female caregivers. Between the equipment, the kids, and the challenges, my daughter left exhausted every time, which meant a good nap. Sign up for a free demo class.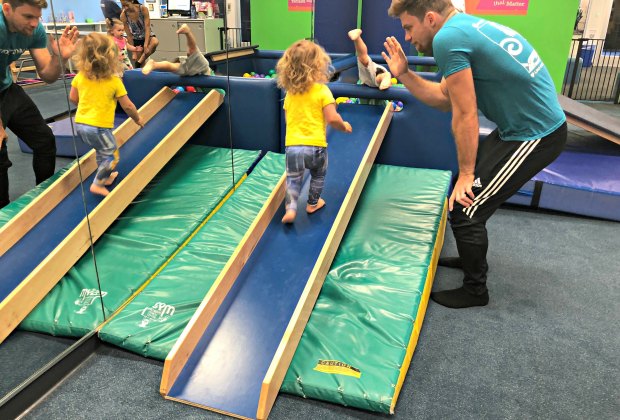 My Gym
3. My Gym
Locations in Los Angeles, Koreatown, North Hollywood, Northridge, Encino, Atwater Village, and Sherman Oaks
My Gym might be more "for fun" than Little Gym. The equipment seems more like playground equipment and less gymnastics-focused. My Gym has tons of wild, brightly colored play equipment for kids, ranging from trampolines and ball pits to stuff that I can't quite describe. My daughter was obsessed with climbing inside what I can only refer to as a plush barrel that she would roll around in like she was about to go off Niagara Falls. Another big hit was when the instructors brought out about ten different types of swings. It was a lot of fun, and like at Little Gym she left wiped. You can check out a free demo classnear you.
4. Club Champion Gymnastics
Locations in Pasadena, Monrovia, and La Canada
If your child is a bit older and looking for a serious challenge, this is a great option. Their toddler class asked a lot of the kids in terms of focus and my little minion of chaos wasn't quite ready for it. However, I saw a little girl taking a private lesson who was doing some pretty impressive moves for her age. The coach of our trial class was high energy, fun, and definitely tried to gently push both of our limits to achieve more than we thought possible. It felt like a place to train a young athlete, so if you want to nurture a little gymnastics champion, tryout a class here.
5. LA County Pools
Public pools located throughout Los Angeles County
If you can get to the sign up window in time, the LA county pools classes were $20 for a full ten classes over two weeks (I happened to be in the park during sign-up, so I lucked out). For the price, it's a great way to stay cool and play during the summer. Our instructor was wonderfully understanding of the limits of toddlers in a pool. He was extremely patient and willing to let them go play with toys instead of pushing too hard. I did see the older kids getting more serious as well, and my daughter left able to blow bubbles and more comfortable in the water than when we came. One tip for LA County pools is that the "locker rooms" don't actually have lockers, and they are very strict on what can come into the swimming area, so come already in swimsuits.
5. Rose Bowl Aquatics
Located in Pasadena
The Rose Bowl Aquatics center is a gorgeous facility, and the price for the classes reflects that. But it was a very fun, silly class with lots of toys to encourage kids to have fun in the water. Class was on a Saturday, so it was a pretty even mix of Moms and Dads during our visit.
Tutu School
6. Tutu School
Locations in Pasadena and Sherman Oaks
When I signed up my daughter for a trial ballet class, I had no idea if she would be able to listen to dance instructors or if she'd burn the place down in a blaze of toddlerdom. But she loved it, and all the two-year-olds impressed me by being able to sit and stretch on their pastel-colored dots on the floor. During the "dance" period, many of them mimicked the teachers moves as well. The instructors offered a great balance of structure and letting the kids be kids and dance how they wanna dance. There was lots of praise when they did what they were supposed to be doing, and gentle guidance when they didn't. At the end of class, they all got to color and hear the story of Cinderella. The class we attended was all girls and moms, and it felt the most gendered of any of the classes we attended, but the website makes it clear that boys are very welcome and that every effort is made to make them feel included.
7. One Down Dog Yoga
Locations in Eagle Rock and Echo Park
Lots of yoga studios offer toddler and me classes, but none I found offer free trials. However, after trying the toddler and me class at One Down Dog, I went ahead and signed up for the rest of the month of classes. To be honest, this one was less about parent-child bonding and more for the parents to have a chance to breathe and center themselves while the tots have a safe place to play with yoga blocks. The expectation is not that the kids will learn an entire vinyasa flow, but there were several moves my daughter tried out herself. The instructor also encouraged us to incorporate the kids into some of the poses. Overall, it was a fantastic opportunity tor a bunch of parents to take a moment for themselves while still connecting with their kids.
8. Purple Twig
Located in Los Angeles
323. 254.8944
This fall I'm looking forward to taking art classes with my little girl at Purple Twig in Eagle Rock. They offer a variety of parent and me visual art classes, utilizing everything from recycled materials for sculptures to watercolors, glue, and, of course finger paints. It looks like a blast.
Photos by author