Along Came a Spider Pavilion: Big Spiders Are Back at the Natural History Museum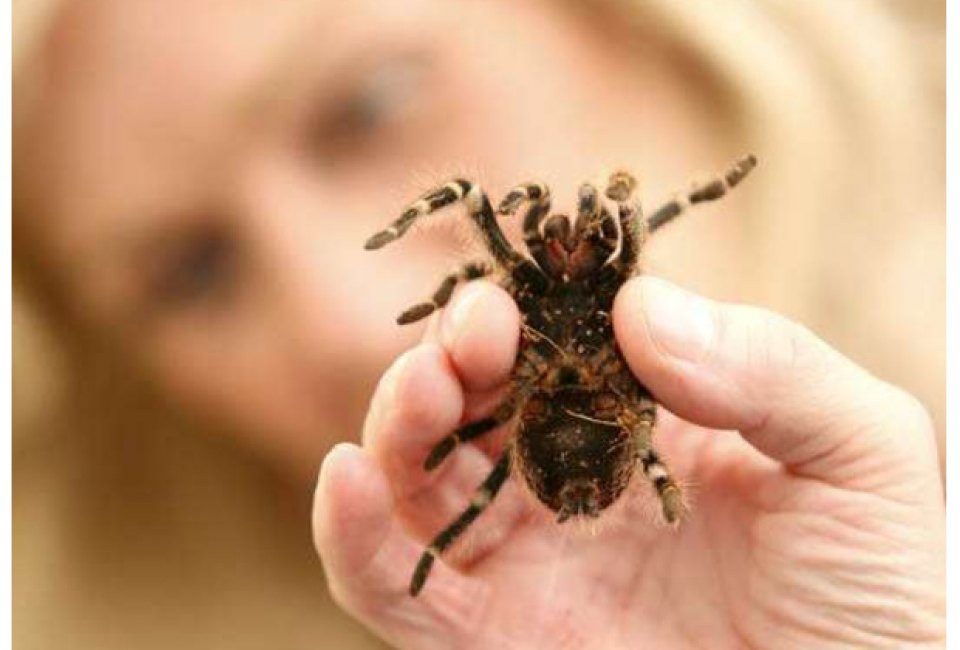 9/15/22
- By
Roberta B
The spiders are back! It's time to say buh-bye to the beautiful butterflies of the Butterfly Pavilion to make room for their slightly spookier friends. Every fall, the Spider Pavilion takes over the space on the Natural History Museum's South Lawn and turns it into the seasonal home to more free-range, eight-legged tenants than anyone in his right mind could want. The Spider Pavilion is an arachnophobe's worst nightmare and an eight-year-old boy's version of heaven.
The Spider Pavilion is the perfect fall outing, if you're looking to branch out beyond the typical pumpkin patch or corn maze. For even more spooky, creepy, crawlie fun, visit our Halloween Fun and Activities Guide for Los Angeles Kids.
If you've ever visited the museum's annual Butterfly Pavilion, you're familiar with the throngs of smiling families that pass through oohing, ahhing, and extending fingers. The fall Spider Pavilion crowd behaves quite differently – more along the lines of gasping, shuddering, and shrinking away. I've never seen a single spider house visitor needing a reminder not to touch.
Enormous creatures (on the scale of what you don't want to find in your bathtub) perch in the center of doubly enormous webs, hanging out and waiting for museum staff to toss a few worms and grasshoppers their way.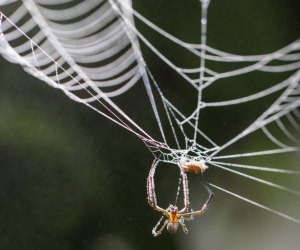 Time for a tasty meal!
The dramatic-looking spiders journey here from as far away as the swamps of Louisiana, though local varieties are also represented. Breeds inclined to sit in their webs are chosen for the exhibit, and we learned that only females are selected because the she-spiders are so much bigger than the he-spiders. The Spider Den houses those spiders that are best viewed while safely contained behind glass, including tarantulas, wolf spiders, and jumping spiders; none of the spiders spinning free are considered dangerous to humans.
An up-close look at these amazing creatures might make your kids fans of these little 8-leggers.
Daytime visits are great for photo ops, though as darkness creeps in the creepy crawlies become more active; if a knock-down, drag-out spider brawl sounds like a good time, plan your visit for late in the afternoon; some years flashlight tours are added to the schedule, though none are currently scheduled for 2023. Nighttime is also when spiders gobble up their own webs and rebuild them someplace else (TMI?) in case anyone was wondering.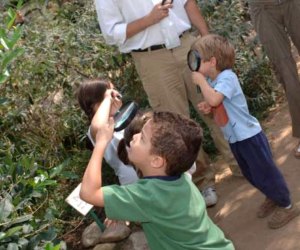 Magnifying glasses are fun, but you won't need them. The spiders in this exhibit are plenty big!
In a season pinned between Halloween and Christmas, slipping in an outing that has a big educational element feels good—in spite of all those icky, hairy legs.
Spider Pavilion 2023 dates are September 17 - Novmeber 26. (The museum is closed Thanksgiving Day.)
Member Preview Days for the Spider Pavilion are September 15 & 16
Tickets are on sale now
Spider Pavilion admission: Free for NHM members, $8 for non-members for timed tickets; the tickets do not include museum admission
All photos courtesy of the Natural History Museum of LA County (NHM)
Originally published October 13, 2011
Places featured in this article:
Sign up for the Mommy Poppins Newsletter today!