Easter Bunny Photo Ops and Events: Where To Find the Bunny in LA & OC
This post is currently getting its 2020 update.
Hippity hoppity, hippity hoppity: your kids might not want to sit still, but at least the Easter Bunny will! There are plenty of spots to set up the perfect Easter photo in LA and Orange County in the weeks leading up to Easter Sunday. We've lined up a whole Bunny Trail to hop down, ranging from mall photo ops to trains and spring festivals. Have fun catching up to Peter Cottontail in one of the following Southland locations.
Local Malls - Daily Photos with the Easter Bunny
The Easter Bunny puts in daily appearances at several local malls. Meet and greet is always free; sometimes photos require the purchase of a photo package, and sometimes not. Click through to the mall's websites for specific times and details:
The Americana at Brand, Glendale (March 28-April 21, 2019)
Buena Park Downtown: Buena Park (April 5-20, 2019)
Burbank Town Center Burbank (April 6-20, 2019)
Del Amo Fashion Center, Torrance (starts March 29, 2019)
Fashion Island, Newport Beach (March 29-April 20, 2019)
The Grove at Farmers Market, Hollywood (March 28-April 21, 2019)
Promenade at Westlake, Westlake Village (March 28-April 21, 2019)
The Shops at Montebello Montebello (March 23-April 20, 2019)
Northridge Fashion Center Northridge (March 29-April 20, 2019)
Palisades Village, Pacific Palisades (March 28-April 21, 2019)
Westfield Culver City Culver City (March 22-April 20, 2019)
Westfield Topanga Woodland Hills (April 12-20, 2019)
---
Zoos, Parks, and Outdoor Spaces
You'll also find the Easter Bunny hopping down the bunny trail at area zoos, parks, and other outdoor spaces:
Easter Eggstravaganza - Orange
Daily March 30-April 20, 2019
There's so much to do at Irvine Park Railroad's annual Easter celebration that you really would need to go daily to do it all (no doubt why the Easter Bunny spends so much time there). Of course, if you were to do it all, you could then start on the OC Zoo, the pony rides, the paddle boats - there's just a lot to do!
Spring Hoppening - Malibu
April 5, 2019
Another annual bunny treat for beachside families, Malibu's "hoppening" has a $5 event fee and features the Easter Bunny, egg hunts, a bounce hunt, and lots of activities. BYOB and C (that's camera) for collecting biodegradable eggs.
Shadow Hills Springfest - West Hills
April 6, 2019
The annual free egg hunt and community fair offer several egg hunts with a few golden egg opportunities, stage entertainment, a big bunny visit, and a car show in the park.
Related: Where To Pet Bunnies in LA and Orange County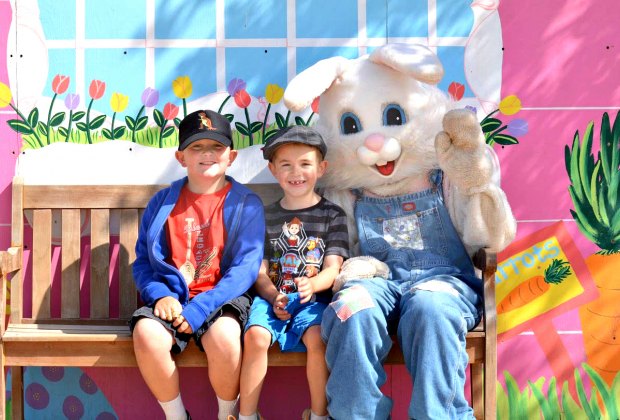 Photo courtesy of Underwood Family Farms
Easter on the Farm - Moorpark
March 30-April 22, 2019
This isn't Easter on any old farm; it's Underwood Farms. And if there's one place the Easter Bunny is likely to want to spend the holiday weekend, it's bound to be here.
Big Bunny's Spring Fling - Los Angeles Zoo
April 13, 14, 19, 20, 21, 2019
The Zoo's annual extravaganza has been expanded from one day to over two weekends and features photogenic bunnies from great to small and plenty of activities for kids.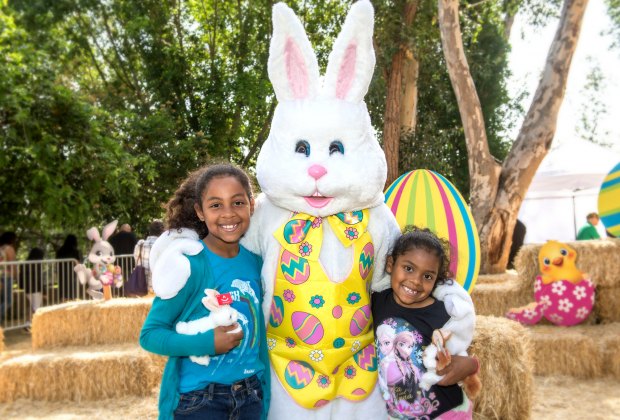 Getting chummy at the Los Angeles Zoo's Big Bunny Spring Fling. Photo by Jamie Pham/Los Angeles Zoo
Los Encinos Living History Egg Hunt - Encino
April 20, 2019
This park's most popular annual event sets egg hunts among historical re-enactors, old-time music, and tours of the historic adobe. BYOB (that's Basket!)
Peter Rabbit Day - Santa Monica
TBA
The Santa Monica Jaycees present the beach city's annual bunny event at Douglas Park, with egg hunts, egg painting, and photo ops. (Another BYOB event)
Easter Lunch Train - Fillmore
April 12, 2020
When it comes to Easter Bunny sightings, it doesn't get much better than riding a train with the big guy on Easter Sunday.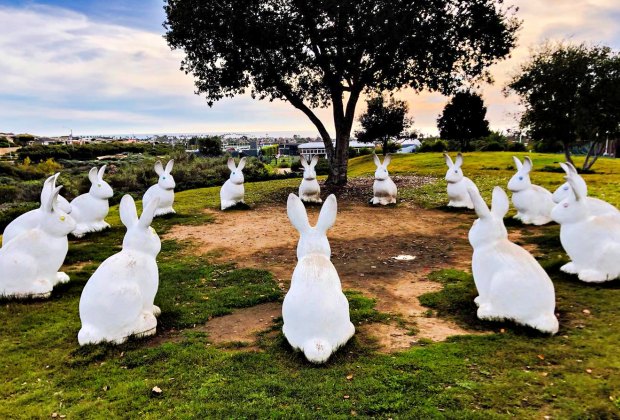 Photo courtesy of Bunnyhenge/Facebook
Bunnyhenge - Newport Beach
Always open
At Newport Beach's City Hall, 14 massive white bunnies are arranged in a circle with two 8-foot-tall bunnies nearby. While not an actual Easter-themed sculpture (the bunnies look a little too serious for that), kids love the sculptures and it's free to visit. Park at City Hall and you're right there — plus there are other sculptures to see if you want to expand your visit beyond bunnies.
Bunny Museum - Altadena
Open Mon.-Sat. 12 p.m.-6 p.m., Sun. 12 p.m.-5 p.m. weekly
Looking for something a little off the beaten bunny path? There might not be a guy in an Easter Bunny costume here, but that would be the only kind of bunny you wouldn't find. This place has been spreading hoppiness for 20 years.
There are more bunny appearances at the many Easter weekend egg hunts around the Southland. If you have a favorite place to see the Easter Bunny in the LA area, please let us know, either by email or in the comments section, below.
Originally published March 30, 2012