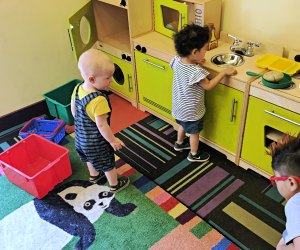 10 LA Libraries with Great Play Spaces You Have To Try
The Southland's rainy season may be short lived, but even if we're thrust into blazing heat again next week, either way having fun, free, indoor options for the kiddos is a must. You probably already know some local storytimes at LA libraries. Maybe you've checked out a few of our drive-worthy special libraries or any number of the awesome free perks your library card offers. But do you know the libraries where you can get a great book and engage your little one in some good old-fashioned indoor fun? You're in luck; here are our picks for LA's 10 best libraries with play spaces where you can do just that.
1. Central Library, Downtown LA
630 West 5th Street
Los Angeles, CA 90071

If we're talking indoor library play spaces (hint: we are) then this would be the holy grail. A huge dedicated children's wing leads into a giant play space with a puppet theater, play kitchen (with all the fixings), huge floor books, cushions, soft blocks for tumbling and building, plus a giant colorful animal rug. We love how the play space is separate from the kids' library and reading areas. Check out the theater created specifically for children's story time, puppet shows, and the like. Paid parking is available in an adjacent lot at 524 Flower Street, and only $1 if you enter after 3pm.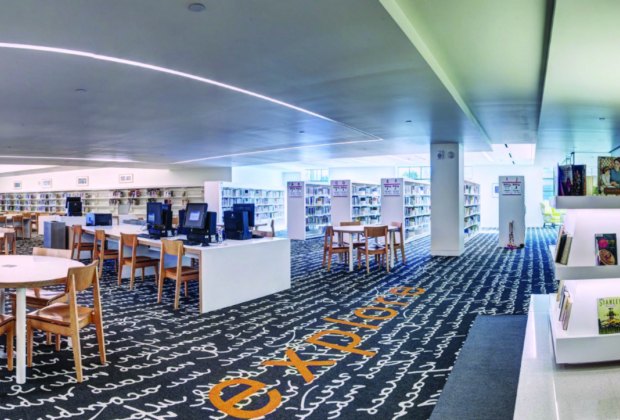 Children's Library at the Beverly Hills Public Library. Photo courtesy of the Friends of Beverly Hills Public Library
2. Beverly Hills Public Library
444 N Rexford Drive
Beverly Hills, CA 90210

Recent renovations have made this spotless and architecturally beautiful library one not-to-be-missed. I love the on-site cafe, and my son loves the big wooden truck at the entrance to the children's wing. The library boasts a separate play area with a toy kitchen, cars, building blocks, and more. The mini-auditorium is the perfect spot for kids to enjoy story time without bothering other library-goers. Two hour free parking is available on site, or street parking on Burton Way if you want to stay longer (which you might!).
3. West Hollywood Library
625 N San Vicente Blvd.
West Hollywood, CA 90069

The West Hollywood branch library is a huge space across from the Pacific Design Center. The play space is filled with baskets of toys, soft building blocks, puzzles, plus a spectacular view. Kiddie computers are set up with fun programs like ABC Mouse. Stop and ogle the wonderful murals and art exhibits. Bonus: this library is right next to two (yes two!) outdoor playgrounds. And though technically that has nothing to do with the library, it's a nice bonus, especially with older kids in tow. Parking is free in an adjacent structure.
4. Glendale Central Library
222 E Harvard Street
Glendale, CA 91205

This is a recent favorite of ours with a large, open, California mod feel. The second floor play space is wonderful with plenty of room and plenty of toys, plus it's located away from the quieter sections, which is nice when kids get vocal. Try going in the morning to miss the after school rush. One hour of free parking is available outside the building, or three hours of free parking (with validation) across the street. Bonus: this library is open every day, even on Sundays.
La Crescenta's awesome playspace and computers for tots
5. La Crescenta Library
2809 Foothill Blvd.
La Crescenta, CA 91214

This library is on the smaller side, but that doesn't really matter because the children's wing is large, with an excellent open play space. There's a large armchair for storytime, lots of great toys, puzzles, and a few computers perfect for toddlers and up. The branch offers normal children's programming including storytime for different ages, but a bigger draw is special parent/child programming, including events like Mother Daughter Tea or Adult Coloring and Spa Day. All events are free and include food, beverages, supplies, and sometimes even a goodie bag.
6. Pasadena Central Library
285 E. Walnut Street
Pasadena, CA 91101

The architecture of this beautiful library feels like a step back in time. The newly minted Children's Wing on the second floor has games, puzzles, computers for kiddos, and designated children's bathrooms. Beyond story time, this branch also offers creative programming such as baby gym and baby playtime. Free parking is available on site for three hours. With many great restaurants and cafes in the area, it's easy to make a whole day out of a visit here.
7. South Pasadena Library
1100 Oxley Street
South Pasadena, CA 91030

This local branch is located in a lovely, very family-oriented area of LA, where it's no surprise to find a nice space for kids, stocked with puzzles, toys, floor books, and the like. On the smaller side, South Pas is also less crowded than other branches and offers some beautiful walking paths outside. Couple this with a stroll along the adjacent Mission Street to hit the shops and restaurants for a great afternoon. Three hour street parking is available adjacent to the library.
8. Silverlake​ Library
2411 Glendale Blvd
Los Angeles, CA 90039

Cute, cozy, and in arguably the hippest neighborhood in LA, Silverlake Library has a second floor kids space stocked with wooden puzzles, lounge chairs, stuffed animals, coloring supplies, and a flannel board. The popular morning storytime here can get crowded but with good reason: there are bubbles at the end! La Leche League and other parenting meet-ups also make good use of the space. Why not couple this with a stroll around the Silverlake Reservoir and a visit to one of the many kid-friendly restaurants nearby? As a bonus, the branch has a dedicated, free parking garage.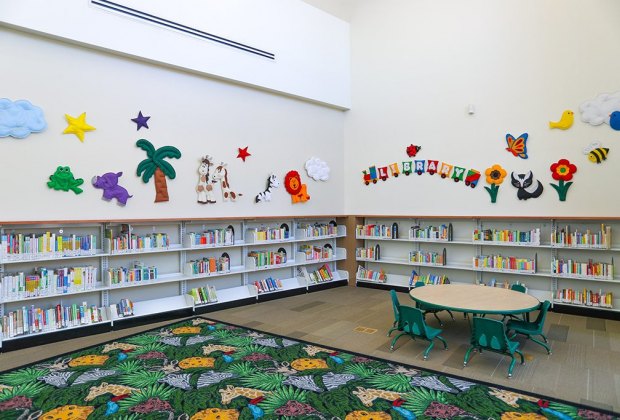 The children's section at Pico Rivera Library. Photo courtesy of LA County Libraries
9. Pico Rivera Library
9001 Mines Ave
Pico Rivera, CA 90660

Pico Rivera is a beautiful library inside and out with a dedicated children's wing filled with play sets, trucks, toys, reading areas, and more. Families love the creative programming like pj story time, mini painters, and baby band. The family coloring hour alone sold me on this place. The branch is closed on Thursdays, Fridays, and Sundays, but with four other days in the week, there's plenty of time for fun.

10. Platt Library, Woodland Hills
23600 Victory Blvd.
Woodland Hills, CA 91367

This homey branch library has a lot to offer little ones. You can't go wrong with Platt's adorable open area stocked with a large game board/learning carpet, tumbling mats, a play kitchen, baskets of toys, reading tables, and plenty of great story time events. It's a less crowded option than other, larger branch libraries—which, let's be honest, is often just what you need. Don't miss the used bookstore near the entrance, and score some finds for yourself and kids alike.
Photos by author, unless otherwise noted