12 Free Perks That Come with Your LA Public Library Card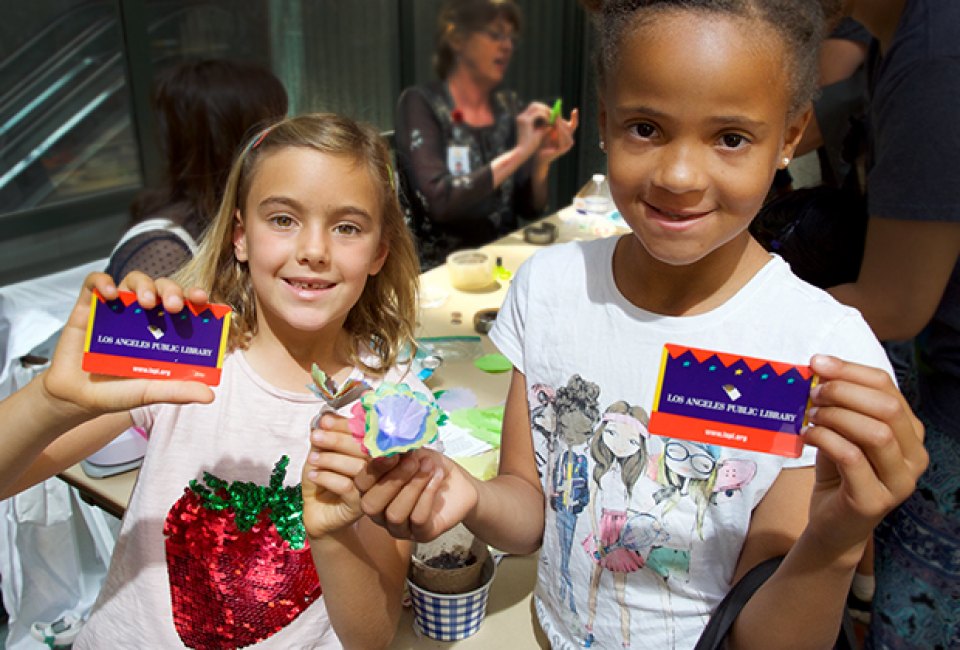 1/12/20
- By
Stephanie C
Your Los Angeles Public Library card may be small and plastic and may be hiding in your wallet, but did you know it comes packed with free surprises for the whole family? You may think your card is all about books you can check out from one of LA's fabulous public libraries—and that's certainly one of its charms—but it also contains some little-known perks that can save you money and entertain a few restless kiddos. Bonus: Many of these freebies can be enjoyed 24/7, from the comfort of your own couch.
Read on to discover the extras an LAPL card unlocks:

1. Tutoring
Having trouble helping junior with algebra or AP English? Can't afford to shell out for a private tutor? Your library card provides access to free, one-on-one online homework help by expert tutors from 11am-11pm daily through tutor.com. Assistance in a variety of subjects is offered in English and Spanish for students in grades K-12, as well as adult learners, in addition to 24/7 access to test prep and study resources for standardized exams.
2. Free museum passes
Discover & Go, a new partnership between LAPL and local cultural institutions, offers free and low-cost passes for museums, science centers, zoos, theaters, and other destinations. Library cardholders must be 18+ to make a reservation (two active reservations per library card are permitted), and some zip code restrictions may apply.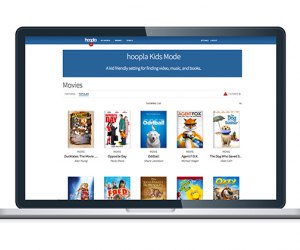 Borrow movies, music, and ebooks with LAPL + hoopla; keep it safe with hoopla's Kids Mode setting.
3. Free unlimited access to thousands of audiobooks
The Magic School Bus? Check. The Lion, the Witch and the Wardrobe? Done. Despicable Me? Narrated by the one-and-only Tim Curry. Road trips just got a lot more fun. Link your library card to the Overdrive app to listen to even more books.
4. Free access to thousands of ebooks and digital comics
There's something for every member of the family, from the Little Golden Books set to teens and adults. Note that some titles might already be "checked out," as in a brick-and-mortar library, so you may have to place a hold on the more popular ebooks.

5. Free streaming movies
From retro favorites like Bedknobs and Broomsticks and Follow That Bird to modern releases like Trollz and Dear Dumb Diary, the library offers access to hundreds of movies through several online services, such as hoopla and Kanopy. Have a young autodidact? Kanopy also features more than 1,300 "K-12 Lessons" titles, such as Maya Angelou and Weather and Climate. And after the kids are tucked in for the night, you can enjoy classics from the Criterion Collection or a few of those indie titles you missed on the big screen.

They'll love getting lost in a favorite magazine. Photo by Mommy Poppins
6. Free digital access to magazines and newspapers
Options include kid favorites like Cricket, Highlights, Ladybug, and Ask, and adult picks such as The New York Times, Vogue, The New Yorker, and O, The Oprah Magazine. The curious will enjoy diving in to PressReader, which offers instant access to more than 2,000 newspapers from 100 countries in 60 languages.
7. Free music
Need a change of tempo? Stream and download songs and albums from a medley of categories such as Disney Music, Broadway Musicals, Teen Choice Awards Nominees, Summer Road Trip Music, and many more the family can harmonize with.
Kids and adults can study an impressive variety of online courses through lynda.com (more than 3,000 courses and 150,000 video tutorials), Gale Courses (six-week interactive online courses for learners over 13 years of age), and an array of language, software, business, enrichment, and career-related courses and online providers.

Did you know that a number of LAPL branches offer free, nutritious lunches for kids during the summer?

Last but not least, a few perks at your local branch:

9. Summer Reading Program + Tote Bag
Kids can sign up for this classic summer tradition at their local branch and score a cute LAPL tote bag to hold their books. Once they've completed ten hours of reading and four activities, they can earn a prize and qualify for the grand prize drawing.
Coinciding with the summer reading program, the LAPL offers free, nutritious meals for kids ages 5-18 at a number of locations. That's food for thought.

This story must be a real tongue-wagger.
Are those reading skills a little, er, ruff around the edges? Through LAPL's Bark reading program, kids can practice their reading skills with a gentle service dog that will offer lots of positive feedback and help boost self-confidence. If they like, kids can bring a favorite book to read to the dogs.
Many local libraries offer in-person seminars on college prep, college financial aid, and career fairs. Experts in the field donate their time to pass on information to teens and their parents as they face the SATs, choosing colleges, and how to navigate scholarships, grants, and loans.

All this, and FREE BOOKS to borrow?! If you haven't used your LAPL card lately, it might be time to start a new chapter.
Unless otherwise noted, photos courtesy Los Angeles Public Library
Originally published July 24, 2017
Sign up for the Mommy Poppins Newsletter today!