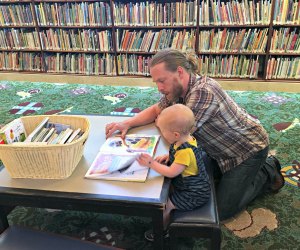 How To Navigate DTLA's Central Library with Kids
Built in 1926, Downtown's Central Library is an LA landmark famous for its remarkable art, architecture, children and family programming, dedicated librarians, and extensive collections for any avid learner. It can be a remarkable place to visit with kids—with an important caveat.
A journey to the Central Library is different from a jaunt to your local branch. Over the last year or two, the homeless population has taken refuge here at an unprecedented rate, and this has noticeably changed the experience. That said, we still found there are many ways for a family to enjoy this historic and delightful facility with a few key pointers.
Tip #1: Traveling to Central Library with younger kids? Head to the second floor. The specialized children and teen libraries and art-filled atrium offer a peaceful respite with plenty to do.
Tip #2: Take a guided or self-guided tour of the grounds, inside and out, in lieu of specific collections or the gardens.
Tip #3: Skip the upstairs cafe. Try instead one of the many kid-friendly places to eat nearby.
Tip #4: Check the library's schedule and attend an event or program. Wheel a sleeping baby into a meditation class, or visit a book club with a teen.
Here are a few great ways to explore:
Making crafts after storytime. Photo by Brian Johnson
The Children's Room
If you have yet to venture past your own neighborhood library for story time, this would be the place. Story time is held in a small theater with raised seating, a stage for puppet or music shows, and full lighting. Saturday morning story times often include fun crafts. Monday morning story time for babies is also very popular.
Explore the collection of children's books in all sorts of languages and themes. Does your kid love trains? Check out the adorable "Transportation" themed section. For playtime, a large, well-kept play area with soft carpeting, a play kitchen, puppet theater, large floor books, mats, and plenty of seating will certainly keep the kiddos happy.
Check out the ever-changing themes, such as "The Mad Hatter Tea Party" from Alice in Wonderland, featured throughout the children's section with displays and decorations. Coinciding events for the themes are often scheduled and worth seeking out.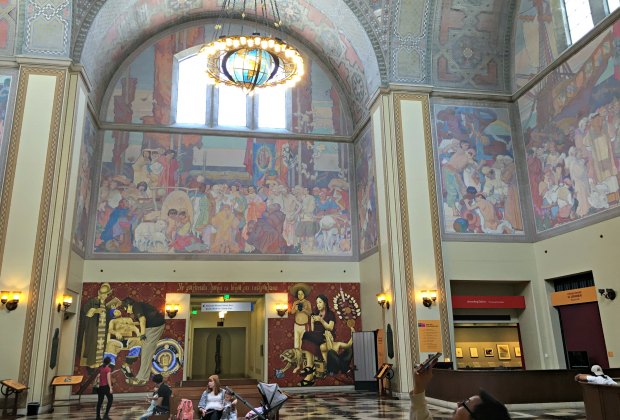 Second floor atrium at Central Library. Photo by Lindsay Halladay
The Art and Architecture
Central Library's building is a gorgeous example of Beaux Arts architecture and deserving of a leisurely stroll around the facilities. The long quiet passageway to the right of the entrance is lovely. Stick to circling back around along the sidewalks for additional breathtaking views.
There are many art highlights inside the building. Start by going to the second floor and peruse the murals depicting California history in four parts juxtaposed with modern art about life as an Angeleno. These make for great pieces to discuss with older children and teens. Travel back down to the main lobby with its colorful overhead mural and then enjoy it's corridors for special art exhibits. Don't forget to ogle the hanging displays above the Mark Taper Auditorium.
Finish your visit with a trip to the library's gift shop. It's filled with adorable literary-themed gifts, puzzles, notebooks, mugs, and more.
A recent article by the New York Times highlights LA's public libraries as being particularly fraught with the heartbreaking rise in homelessness. There are ways to help. If you feel inclined to get involved, you can start by going to United Way's Everyone In campaign, searching Volunteer Match's database, or even donating goods to one of many downtown institutions. Despite the difficulties LA faces in addressing these complicated problems, public spaces are still here for us all and still ready for a good time.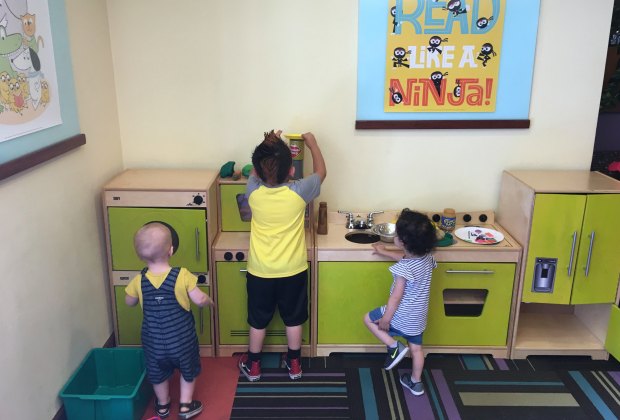 Playtime at Central Library's play kitchen. Photo by Lindsay Halladay