20 Free Things To Do in Los Angeles On Rainy or Hot Days: Indoor Places To Play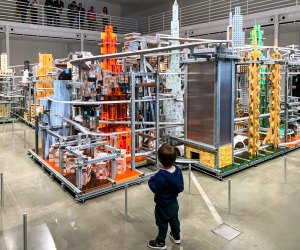 1/8/23
- By
Roberta B
Sometimes, even in Los Angeles, you need some free things to do and places to play indoors. There is no limit to what a family can do outdoors in Los Angeles, and our clichéd weather makes enjoying outdoor activities possible most days of the year. But on the occasional day when the mercury drops below 50 degrees or soars above 100 degrees—or when water perplexingly falls from the sky—we need a backup plan. From free museums to indoor playgrounds and even places to meet adorable animals, we've got your lousy weather play days planned.
Indoor activities are sprinkled throughout our bucket list of 100 Things To Do with LA Kids Before They Grow Up and you'll find dozens more ideas in our LA Guide to Indoor Fun and Play Spaces but wouldn't it be handy to have one list of totally free things to do with kids indoors? We thought so, too!
To get more free fun at home and in your town delivered to your inbox sign up for our newsletters and discover all the free events and activities near you in our Los Angeles Free Things To Do with Kids Guide.
Not only is the museum free, but the tours are also free and totally worth it! Or you can download the app and get a free audio tour from your own phone narrated by LeVar Burton. If it's a rainy or sweltering weekend, the museum also offers Saturday and Sunday family art workshops. All visitors must reserve tickets, you can do it online, (most exhibitions are free, but some events might have a separate charge).
Okay, it may not be the very last bookstore, but close. Wander the aisles and check out the new and used books, as well as the huge collection of vinyl records. In addition to picking up a book (the books aren't free, but the used books come close!), check out the "book sculptures" and cool book art. Have books you don't want anymore? Bring them along and donate or sell them to the store.
In case you haven't yet heard, all LA County residents get free admission any weekday after 3pm. Best of all, LA County kids ages 2-17 are always free, and with a NexGen membership, they can even bring along an adult. NexGen is the nation's only free youth membership program, offering free admission to anyone 17 and under along with one accompanying adult. To join, print an enrollment form and bring it to the museum with you. Granted, the main museum buildings have been torn down as new construction is underway, but there's always the kid-pleasing Metropolis II in the still-open BCAM building, and rotating exhibitions at the Reznick Pavilion. Plus, you can explore the Tar Pits and Hancock Park while you're here.
RELATED: Free Museum Days in Los Angeles for Kids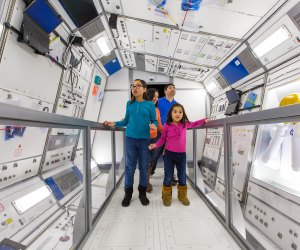 Journey to space at the Science Center. Photo courtesy of California Science Center
There is so much to do at the Science Center it's just crazy—allow us to start you off with our 10 favorite picks for preschoolers and tweens and teens. Naturally, the Science Center greatly appreciates contributions at the door when you can afford to make them, but when you can't you're just as welcome, with no questions asked; the "admission" price is a suggestion only. Special exhibits often carry a ticket price.
The key to either Getty museum is that the seemingly hefty price is only for parking. This means that if you can get a ride, carpool, or take the bus, a day at the Getty can be totally free—and there are so many things going on at both locations that it's easy to fill a lot more than a day.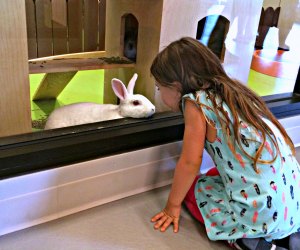 You can never go wrong with bunnies! Photo courtesy of Annenberg PetSpace
Playa Vista has a place for animal lovers to hang out and get furry cuddles while learning about animal care and maybe getting sorely tempted to bring home a rescue kitten or puppy (you've been warned). Adoption is not necessary, however, to enjoy the wonderful facility; reading to the bunnies and exercising the pooches is also much appreciated by all involved. Admission is always free; some special programs or activities may have an associated program fee.
Although there is a cost to attend the films offered at the Observatory (and they are worth every penny), there is plenty to do at Griffith Observatory without spending a cent. The many interesting interactive exhibits, the epic views, and even the remarkable building itself make the trip a Los Angeles must-do.
8. Watch hockey or figure skating at the Toyota Sports Center
The Toyota Sports Center has three different ice rinks with constant action, and two of them are observable from a heated cafe area above the rinks. Check the schedule; if you time it right, one rink could have an action-packed hockey game going on while the other has top-level figure skaters in a freestyle practice session. You can watch both for free, or spend a few coins on hot chocolate and arcade games while you watch. There is even a full cafe and bar, in case anyone gets peckish or thirsty.
RELATED: 13 Kid-Friendly, Always Free Museums in Los Angeles

Visit the LA area's coolest indoor playground that's free every single day. Photo courtesy of Santa Monica Place
Speaking of animals, Santa Monica Place has a free play area called SAMO's Clubhouse, designed by the same team that brought us the Skirball's Noah's Ark. The enormous play-on, play-in, play-around whale is built to scale, created using recycled materials, and keeps kids up to age 8 or so entertained for a surprisingly long time. The whale is on the top floor, in the food court, with plenty of natural light and plenty of seating for parents.
Admission is always free for families to check out the historical garments and costumes at the Fashion Institute of Design and Merchandising Museum. Expect to see thousands of threads worn in movies through the ages. The yearly exhibitions of The Art of Costume Design in Film and The Art of Costume Design in Television show off the nominated costumes from the past year, and are favorites of fashion-forward and film & TV-loving kids.
A small museum covering the history of the bowl and other music artifacts, the two-story museum is just steps from the Bowl itself. This can be a quick daytime stop to take when Highland traffic seems insurmountable. A new coffee shop is opening up that the Bowl this year, and you can also explore the grounds (including the picnic area at the top of the Bowl with sweeping city views) while you're there. Check the website for hours as they vary from summer to the offseason.
RELATED: Family-Friendly Bowling Alleys in Los Angeles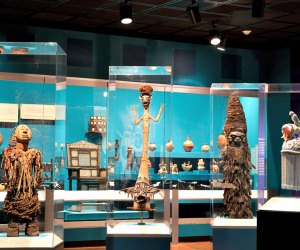 The Fowler Museum's permanent collection is entrancing. Photo by Rajat Ghosh/Fowler Museum
Located on the UCLA campus, this free museum emphasizes cultures from Africa, Asia, and the Americas—making it a great spot to open pint-sized minds.
Want to introduce your kids to contemporary and modern artwork for free? This lovely little spot is the perfect place.
Located in the heart of Westwood, the Hammer Museum has a remarkable collection of modern art for free—but be prepared to pay a few bucks for the first three hours of parking under the building if you can't find street parking. No need to make a reservation.
Downtown's Central Library is an LA landmark famous for its remarkable art, architecture, children and family programming, dedicated librarians, and extensive collections. It's a great free spot to visit for so many reasons. The library has also become a haven for the downtown community's homeless population, and can feel a bit crowded. When you visit, consider using our tips on how best to enjoy a visit with kids.
This cozy aquarium is worth a visit rain or shine (especially when the grunion are running). After checking out the simulated tide pool touch tank, enjoy the aquatic babies exhibit and the giant whale skeleton hanging above. The aquarium does suggest a donation of $7 for adults and $3 for kids and seniors, but no one will be turned away.
Introduce your children to a wonderful collection of traditional and contemporary art that showcases contributions from African American artists from the United States and other African ancestry countries. Admission is free and reservations are not required. Bonus: from this museum, you can walk to the also free California Science Museum (#4 on our list) for a full day of free fun.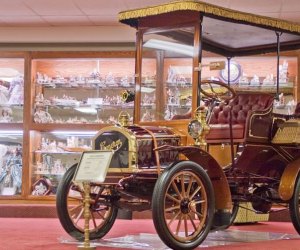 The lower salon at the Nethercutt Museum is a microcosm of the entire collection. Photo courtesy of nethercuttcollection.org
If you're a fan of vintage cars, this is the place to go. With a collection of over 250 classic automobiles dating from the 1890s to the 1960s, you can dive into the past by witnessing the evolution of automobile history. It's free to the public, and it also offers free ample parking. So buckle up and enjoy the (free) ride!
Everyone knows about the Ferris wheel on top of the Pier, but what about the aquarium underneath it? The touch tanks are always fun, the sharks are often frisky, and the octopus is occasionally planning his great escape. All kids up to age 12 get free admission all the time and they have to be accompanied by an adult (tickets are $10 for adults and kids 13 and up; $2 off tickets for students and seniors showing ID). EBT cardholders and military personnel are always free.
Want to meet for lunch with your parent/kid friends but everyone wants to eat something different? Grand Central Market is the perfect place to meet. It's open 8am to 9pm, 7 days a week, and offers a huge array of food vendors from burgers to tacos to ramen (and killer grilled cheese). Ok, the food isn't free, but you can wander, smell, and explore for free—and come away with some very inexpensive treats at the candy and fruit stands. While you're downtown, head over to the Broad (#1) or the Last Bookstore (#2). Or take a $1 ride on Angels Flight across the street.
Additional reporting by Ana Belibasis