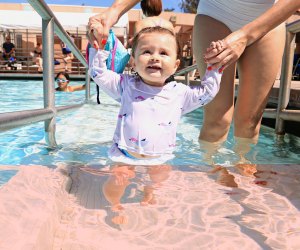 16 Parent and Me Swim Classes for Water Babies and Toddlers in LA & the OC
Kids dig water, and the younger we start them in it, the earlier they build the skills needed to swim confidently and safely. Mommy and Me – or Daddy and Me – classes are a fun and bonding introduction to a lifelong love of swimming. We know some great private swim classes for LA kids, but the group lessons below are all about getting in the pool alongside your baby or toddler. Dive into our extensive list of area Mommy or Daddy and Me classes.
Oh, but before you begin, we just want to clarify: There are many swim classes out there that intend to actually teach your baby to "swim," as in how to roll on their backs and float and do any other necessary function to stay safe if they were to, say, fall into a pool unattended. Babies from a young age can learn this. There are also classes that introduce babies and toddlers to the water, get them comfortable feeling the chill and the splash, and to maybe start to reach with their arms or kick their feet while supported, while teaching parents how to hold them safely and comfortably. Unless otherwise noted, we focus here primarily on these Parent and Me water acclimation classes (that of course help the baby or toddler develop pre-swimming skills, and may include the introduction of survival skills).

1. YMCA
Founded in the 1800s as the Young Men's Christian Association, today's Y is open to all, regardless of religion, age, or social class. Locations throughout the Southland provide, among other things, safe and affordable recreation spaces, often with swimming pools. There are so many in the greater LA area, we can't list them all. But we recommend locating the one nearest you and inquiring. Here are a few we know of that have pools and Swim Starters classes: Hollywood YMCA, East Valley Family YMCA in North Hollywood, Torrance South Bay YMCA, Santa Monica YMCA, West Los Angeles YMCA and five OC YMCAs in Diamond Bar, Fullerton, Mission Viejo, Newport-Mesa, and Santa Ana.
Westside Baby Swim Classes
2. Culver City Plunge
4175 Overland Blvd.
Culver City
310.253.6680
Seasonally, in two-week sessions, five days a week (total of 10 classes) for 30 minutes each; See schedule for more details.
$
Ages 6 months to 3 years
Emphasizing both fun and safety, the classes at the Plunge help babies and toddlers become acclimated to the water, learn breath control, and become swim-ready.

3. KidSwim
Locations in Mar Vista, Cheviot Hills, and Hancock Park
888.579.SWIM (7946)
$$
Ages 5 to 30 months
Choose from many arranged class offerings, or gather a group of your favorite moms or dads and their babies, and create a class in your backyard pool or a friend's. The instructor comes to you. Maximum eight babies and their parents, though six babies maximum is the preferred number. As it takes two or three classes for babies and toddlers to start feeling comfortable in the water, KidSwim hopes you'll try at least six consecutive classes. Read the school's KidSwim Method description for more information.

4. Lenny Krayzelburg Swim Right Academy
Westside JCC
5870 Olympic Blvd.
Los Angeles, CA 90036
323.525.0323
Swim Right WLA Location
1914 S. Bundy Dr.
Los Angeles, CA 90025
$$
Ages newborn to 2 years
Ever have dreams of your child being in the Olympics? Maybe not yet. But take lessons here and you'll be that much closer to a four-time gold medal winner. Lenny Krayzelburg won medals in backstroke in the 2000 and 2004 Olympics, and now he runs an amazing swim school, with locations in Los Angeles and West Hills (see entry in "Valleys" below). Instructors teach "Parent-Tot" classes that help babies and kids become water safe by fostering a sense of confidence and independence. Sign up for a free initial evaluation lesson; sessions are then scheduled based on demand. The "Parent-Tot" classes are so popular that they are offered almost every day. Babies begin to learn the back float survival skill here.

5. Santa Monica Swim Center
2225 16th St.
Santa Monica
310.458.8700
Morning and afternoon classes offered Mondays-Thursdays and on weekends (schedule may vary in the summer).
$ (Residents are given priority and a discounted rate)
Ages 6 months to 3 years
Both pools are large and gorgeous and easily accessible from the Westside. Classes hope to make your tot love the water by teaching through games and songs -- and bubble blowing, of course.

6. West Los Angeles College – Westside Extension
9000 Overland Ave.
Culver City
310.287.4475
30-minute classes offered on Saturdays or Sundays for five-week sessions throughout the summer; see catalog.
$
Ages 6 months to 5 years
Whether your child is an infant or a competent toddler, West LA College has parent and me swimming classes to fit your needs. Take a dip with your baby or toddler, and share the joys of the water.
South Bay Baby Swim Classes
7. City of Manhattan Beach – Parks and Recreation
Begg Pool
1402 North Peck Ave.
Manhattan Beach
310.802.5448
$ (Discounted rate for residents)
Ages 1-3 years
This class is not intended to teach your child to swim. Instead, it's all about safety and comfort in the water. And having fun, too. Sometimes the town pool is the perfect way to go.

8. South Bay Aquatics
Two locations:
2012 Artesia Blvd.
Redondo Beach
310.937.SWIM (7946)
and
2433 Moreton St.
Torrance
310.325.SWIM (7946)
Perpetual enrollment
$
Ages 6 months to 3 years
Ongoing classes during the week and on weekends. Heated, indoor pools with a climate controlled dehumidification system to keep surrounding air comfortable and not too damp. What more could your baby ask for? That, and top-notch instruction. Your babies and toddlers will learn to feel at home in the water while they're held and guided by you.
9. Deep Blue Swim School
Two locations:
11 39th Place
Long Beach (Belmont Shore)
562.434.1644
and:
3640 Atlantic Ave.
Long Beach (Bixby Knolls)
562.988.SWIM (7946)
$
Ages 5 to 18 months (with free Baby Love classes for parents with babies ages 3 to 5 months)
30-minute classes Tuesdays-Saturdays at Belmont Shore location and Mondays, Tuesdays, Fridays, Saturdays at Bixby Knolls location
Instructors work with parents to help their child's natural instincts in the water and the primary skills of breath control and buoyancy. There are group activities and interactive water games appealing to a child's sense of curiosity, wonder, and play. Double diaper (reusable Happy Nappy diaper cover over water disposable) required.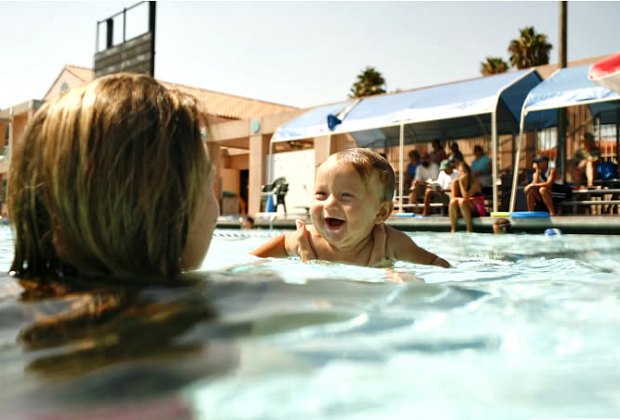 Baby learns to swim in Pasadena. Photo courtesy of the Rose Bowl Aquatics Center
Orange County Baby Swim Classes
10. Waterworks Aquatics
25 Waterworks Way
Irvine
949.450.0777
Other locations include: Carlsbad, Huntington Beach, Pasadena, and Sierra Madre
$$
Ages 3 months to 3 years
Perhaps your infant or toddler has never touched pool water. Or perhaps he or she is becoming quite adept at kicking and splashing. Either way, this premier swim school's Beginner, Intermediate and Advanced level offerings will delight and challenge your budding swimmer, and gradually encourage competence and independence in the water. Double swim diapers required.

11. Wild Child Water Play
29751 Crown Valley Parkway
Laguna Niguel
949.429.0702
Note: This location is opening on June 21, 2019. Please check the website for updated location information.
and
San Joaquin Hills High School
Laguna Nigel
$$
Ages 6 months to 3 years
Using songs, games, and interactive play, with plenty of one-on-one instruction and ample time to practice, Wild Child's small classes help build confidence and a love of the water from a very early age. Disposable diapers and plastic pants required for swimmers under the age of 3.
12. Australian Swim School
1404 Village Way
Santa Ana
855.794.6232
$
Ages 3 months to 3 years
Other locations in Anaheim, Fountain Valley, Tarzana, and Fullerton.
No online registration available currently. Australian Swim School believes that teaching children how to swim in a group setting is the most beneficial, because of the socialization factor. Parents and the kids learn together to be comfortable in the water as skill attainment is achieved through songs, games, and routines.
13. Blue Buoy Family Swim School
1702 Nisson Road
Tustin
714.832.8910
$$
Ages 3 months-3 years
Classes offered Mondays-Saturdays throughout the day. Blue Buoy has been teaching kids and adults how to swim in Orange County for more than four decades. It believes swimming is a basic life skill, and that is why it works with children when they are very young. It has a separate, smaller, enclosed pool for its parent and me classes, to help the kids feel safe and secure This two- to four-foot pool is specifically designed to inspire confidence while working on foundational skills.
Baby Swim Classes in the Valleys
14. Lenny Krayzelburg Swim Academy
de Toledo High School
22622 Vanowen St.
West Hills
818.287.8797
$$
Ages newborn to 2 years
We mentioned the Westside location above. But it's worth mentioning this school's Valley location, as both facilities are top-notch. The swim academy's philosophy is the sooner the better. Infants (and their parents) are welcome as soon as their belly buttons have healed from birth. And once the child is 2, the academy believes it's time for mom and dad to step aside in the water. Good stuff happens here. And above all the wee ones learn from the start that being safe and having fun in the water is a glorious thing. Sign up for a free initial evaluation lesson. Sessions are then scheduled based on demand. But the "Parent-Tot" classes here are so popular, they are offered almost every day. Babies begin to learn the back float survival skill here.
15. Rose Bowl Aquatics Center
360 N. Arroyo Blvd.
Pasadena
626.564.0330
Several 30-minute classes offered mornings and afternoons, weekdays and weekends. Spring and summer schedules generally include parent and me classes.
$
Ages 6 months to 3 years
Believing that babies and toddlers swim when they are ready, the Rose Bowl Aquatics Center offers classes that meet the child where they are at by gradually and gently introducing water play and skills. Bond with your beginners through songs and simple games. Offer support and confidence to more intermediate swimmers as you help them develop water independence, all with the expert guidance from the Aquatics Center's instructors. Classes are offered all year round, in two Olympic-size outdoor pools. Snacks and drinks are available inside.

16. Water Otters Swim School
Water Otters private pool (exact address given when registering)
Jumilla Avenue
Winnetka
818.693.3113
$$ Private lessons also available.
Water Otters can also come to your private pool.
Ages 6 to 36 months
Water Otters knows that each baby and toddler is different, and so each will have a different reaction to the water. Some are bold and fearless, others are cautious and hesitant. No matter. The fun-filled classes are tailored to meet the needs of the children (and the parents!) in them. Learn to feel confident being in the water with your little one, and delight in watching them gain comfort and skill through fun instruction, games and play.

Originally published July 2, 2012