Universal Horror Nights with Kids: for Families Who Love Halloween So Much It's Scary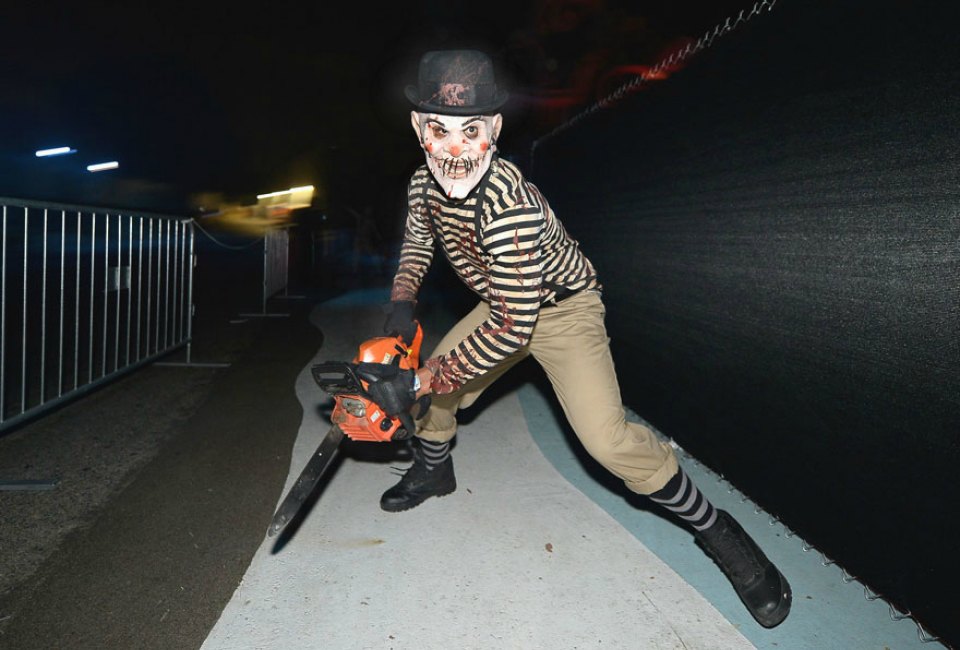 10/17/19
- By
Roberta B
Sooner or later, the Halloween is coming when your kids will hang up the Disney costumes and ask about tickets to Universal Studios' Horror Nights. Braving Universal's big Halloween event is part of growing up Angeleno. The question is will you experience it as a family, or send your kids on a mass teen rite of passage? The passage is happening younger every year; these days the teen packs screaming the night away at Universal start at 13 or so. So... will you drop your middle schooler at Halloween Horror Nights? Or, if yours is a family that likes to scream through scary movies together, will you go together? Knowing what the scene is like can help you decide, and we've got the info to make either plan a screaming success.
If you and your kids enjoy watching American Horror Story and Walking Dead together, if you love movies like Insidious or Nightmare on Elm Street, then attending Universal's epic annual Halloween haunt together will be the ultimate treat. Brace yourself for eight mazes full of people who will scare and startle, all set to themes of favorite Universal shows and films. Freddy, Jason, and a knife-wielding Jack Nicholson wait for you at every turn. In addition to the mazes, there are several scare zones to walk through, where chainsaw wielding spooks burst out of foggy corners. And the studio tour tram ride is reworked as a terror tram, which for movie buffs may be best of all: get ready to run for your life through the real Bates Motel, past the haunted Psycho house, and through a long, eery plane crash site. Scenes that are normally only drive-by experiences on the tour become chilling walk-throughs.
RELATED: 7 Spooky Halloween Haunts for Kids ready for a Big Kid Scare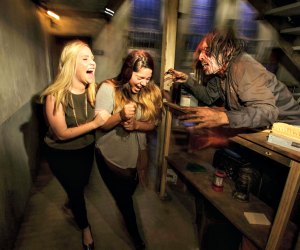 Screaming and laughing go so well together.
If you do go for the family that screams together experience, I highly recommend splurging for front of line passes. Admittedly it's a big splurge, but the difference is enormous. With front of line passes, we were able to see every maze (8), every scare zone (3), the terror tram ride, and an couple of rides (four of the big ones are open at night) by 11pm, in spite of the huge distances involved in a trip to Universal, and the epic lines of the night (up to 150 minutes). We didn't wait at a single attraction all evening. By contrast, we had friends there on the same night without front of line passes; they achieved two mazes in the same amount of time.
The production quality is amazing, as you'd expect. New since the last time I attended is a whole extra backlot area, normally only visible from a distance on a studio tour, where three mazes and two scare zones are set up. It's a hike to get there, but a fun, spooky, zombie infested hike; and the crowd was noticeably thinner down there on an otherwise crazy, sold out Saturday night.
Speaking of sold out—Horror Nights sell out. Whenever you plan to go, make sure to book in advance. Upgrades may be available last minute, and there is even a special offer that kicks in later in the evening: the night we went, front of line upgrades dropped down to $60 at 11pm, which is a good way for night owls to run through and catch any remaining mazes and rides before leaving.
RELATED: LA's Best Home Haunts, Spooky Tours, and Haunted Houses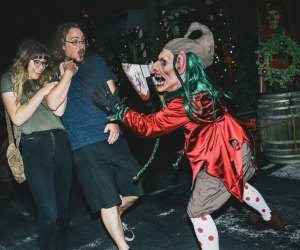 It's all in good fun. Really.
But maybe your kids really just want to ditch you and go with their friends. Among my parent friends, several of us recently discovered that (through no fault of our own) we have become embarrassingly uncool. Some parents were invited to stay home. Others were asked to hang out on City Walk (without drawing attention to themselves) until needed. But if you've never been to Halloween Horror Nights, sending your until-very-recently baby unsupervised into a mass of screaming strangers and stabbing clowns might raise concerns.
The good thing, for a start, is that this is an alcohol-free event, which means the crowd doesn't get drunkenly out of hand. The atmosphere really is mobs of Halloween lovers wanting to run and scream. It's a bit of a rave, for sure, and one kid I know lost a shoe in a particularly crazy moment. But there are plenty of teens having their trial by fire together. If you're ready to send your kid to a teen hangout, it's probably safer than the mall, considering how much people have to pay to get in! And you don't need to worry about kids wandering off, because there are no in and out privileges; once your kids are in, they're in for the night.
If you do decide to drop off your monsters with a pack of middle schoolers, I would say there is no need to spend the extra cash for front of line. Teen packs move slowly, no matter what their tickets say, and much time will be spent standing in front of Starbucks, checking in on Snapchat. Save the VIP version as a treat if they decide to give in and actually hang out with someone as uncool as you.
Universal Studios' Halloween Horror Nights runs September 8 - October 31, 2022.
This post was originally pubished in 2017. Photos courtesy of Universal Studios
Places featured in this article:
---
Universal Studios Hollywood
Sign up for the Mommy Poppins Newsletter today!