Disney Celebrates 100 Years of Magic with Celebrations at Disneyland, Disney World, and More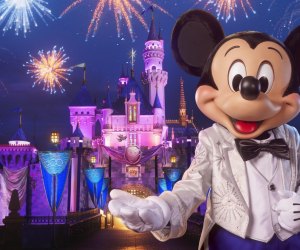 1/26/23
- By
Ana Belibasis
Disney is turning 100 in 2023! That Mickey Mouse looks pretty great for his age. (For the record, Mickey Mouse isn't 100 yet, as he was first seen in 1928.) To celebrate 100 years of childhood smiles, the Walt Disney Corporation is throwing a party at theme parks across the globe. This year we get new nighttime spectaculars at Disneyland in Anaheim (and hopefully at Walt Disney World in Orlando as well), traveling museum exhibits across the country, a new animated feature film dedicated to the legacy of the animation studio, and more.
The worldwide anniversary bash begins January 27, 2023 at Disneyland, and the party continues all year, with more dates to be announced at other Disney parks. We've rounded up the biggest and best new rides, shows, movies, and celebrations, so you can plan your Disney-themed vacation this year. If your Disney trip takes you to Disney World, be sure to check out all our Orlando theme park coverage, and if your family is more partial to the west coast, we've got all the tips and tricks you need to know when visiting Disneyland with kids.
Disneyland in Anaheim is the original Magic Kingdom, so of course that's where the celebrations are centered. Mickey and Minnie's Runaway Railway is the first ride at Disney to star Mickey and friends, and the brand new ride opens right in time for the festivities on January 27, 2023—letting guests back into Toontown in advance of the full Toontown reopening March 8, 2023. Sleeping Beauty's Castle is glammed up with stylish platinum banners, and the castle is the epicenter of Wondrous Journeys, a new nighttime 13-minute spectacular featuring nods to every Walt Disney Animation Studio film to date—and the debut of the new song, It's Wondrous. The show features projections on the castle that tell a tale of a century of Disney, accompanied by a breathtaking fireworks display overhead.
RELATED: The Best Anaheim Hotels near Disneyland for Families
Mickey and Minnie's Runaway Railway is the first ride at Disney to star Mickey. Photo courtesy of Disneyland
Disneyland Resort is also bringing back the Magic Happens Parade, with Mickey Mouse leading the floats. This parade returns on February 24 for select dates. And, while it's not officially part of the 100-year celebration, Disneyland After Dark is also back at the Anaheim park this year, kicking off with two events in Jan/Feb: Sweetheart's Nite and Princess Nite.
As a "thank you" to all of Disneyland's guests, beginning February 4 the resort will offer free downloads of Disney PhotoPass attraction photos to all guests.
Over at Disney California Adventure Park there's World of Color-One, a new version of World of Color that brings to life moments from favorite films such as The Lion King, Moana, and Soul. You can also expect to find new merchandise and food throughout Disneyland and Disney California Adventure Park, commemorating Disney's 100th Anniversary.
RELATED: 10 Awesome Birthday Parties for Kids at Orlando Theme Parks
Artist's rendering of the new Moana's Journey of Water. Photo courtesy of Walt Disney World
Walt Disney World — Orlando
Disney World is the biggest park in the Disney universe, attracting millions of people each year from across the globe. Opening in late October is the new Moana's Journey of Water Nature Trail, a water-focused interactive experience. Another space in the Magic Kingdom that's going through some major renovations to prep for the festivities is the TRON roller coaster. If all this leaves you hungry for more, check out the new restaurants opening in Walt Disney World in 2023.
EPCOT is celebrating too, creating an all new nighttime spectacular in The World Showcase Lagoon, which will open in late October 2023.
Disneyland — Paris
Disneyland Paris kicked off the celebration on New Year's Eve with a special projection of clips of Disney's most memorable films onto Sleeping Beauty's Castle to the melody of When You Wish Upon a Star. The show is only the beginning of a year of surprises at Disneyland Paris. (We'd tell you more, but that's all we know!) But we do know that a family trip to Paris can only be made better by a visit to Disneyland Paris.
Disneyland — Hong Kong
Disneyland fans in Hong Kong will witness the unveiling of a new statue of Walt Disney himself, and one of Mickey Mouse right by Cinderella's Golden Carousel. Also, to commemorate the centennial, the long-awaited World of Frozen, which features a Frozen-themed land, will open in the second half of 2023.
RELATED: 50 Best Kids' Movies for Family Movie Night
It's time for a new live-action reimagining from Disney! Photo courtesy of Disney Live Action
Disney Movies and Tours
If you can't travel to a Disney theme park this year, you can celebrate at home. For classic Disney cartoon action, Walt Disney Animation Studios is releasing Wish in November, a film based on the iconic Disney wishing star. Disney Live Action is releasing three new films in 2023, including The Little Mermaid, a live-action reimagining of the original Oscar-winning movie, which opens exclusively in theaters on May 26. Haunted Mansion, a ghostly adventure inspired by the classic theme park attraction, and Peter Pan & Wendy, a re-envisioning of the 1953 animated classic, will both premiere on Disney+ in 2023.
Across Europe, Africa, and the Middle East there will be plenty of activities commemorating the anniversary, such as Disney100: The Concert, which is a touring group playing favorite Disney songs with the Hollywood Sound Orchestra.
And finally, Disney 100: The Exhibition was created specially for the centennial celebration. This new traveling exhibition aims to immerse guests in Disney's magical stories. First stop is Philadelphia, where our local editor already has her tickets to cover the exhibit, before the exhibition travels to Munich, London, and then comes back stateside.