Museum of Flying at Santa Monica Airport: Plane Old Fun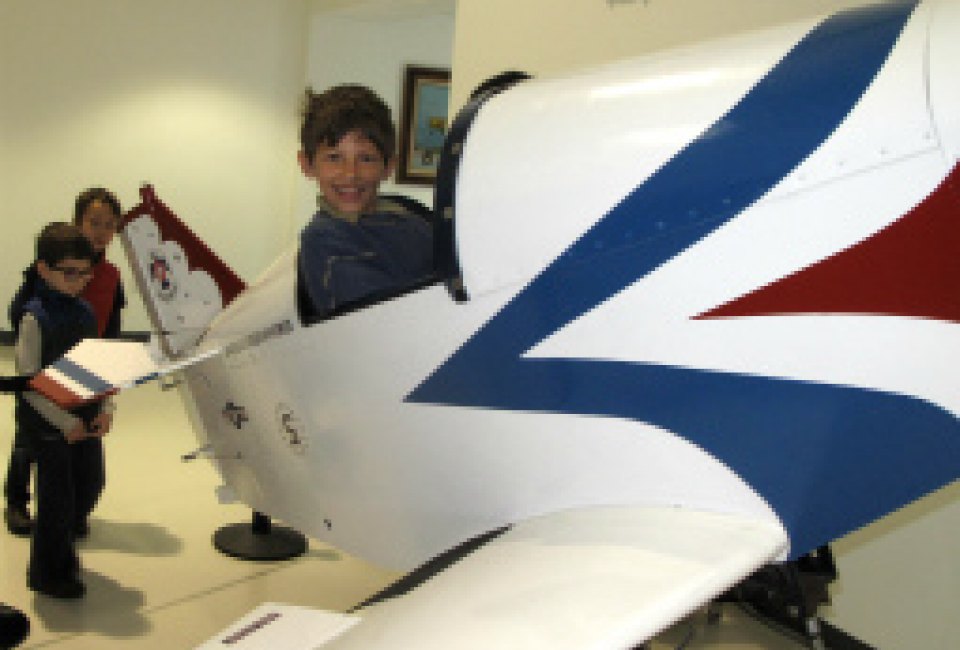 3/22/12
- By
Roberta B
At the risk of being accused of gender-based stereotypes, I believe I have located the exact street address of Daddy Heaven. Don't get me wrong - I thoroughly enjoyed taking my son to the Museum of Flying at Santa Monica Airport the other day, and my son had a great time, too. But the people giving off the true glow of aerial ecstasy at this newly re-opened Santa Monica landmark are definitely the dads. It is, hands-down, the ultimate daddy outing.
Being the sort of airplane fan who generally only displays an interest in "Is there WiFi on board," "Is there an in-flight meal," and "Any chance of an upgrade?" my interest in the impressive collection of historical aircraft on display was but skin-deep. I loved that there was an enormous replica of the original Wright brothers flying machine to start the tour, but after that I was mostly pointing at biplanes and barnstormers making intelligent observations like, "Isn't that neat?" I couldn't help but notice that those other-gendered parents around me seemed to have deeper insights about model numbers and historical significance to share with their offspring.
By about halfway through the tour, however, my lack of knowledge abruptly stopped mattering. That's when my son encountered the front end of a FedEx plane that had made its last delivery. Parked with its 727 nose pointing at traffic on Airport Avenue, the cockpit is permanently available for sitting, playing, and exploring. A helpful docent explained the controls to my son, who gleefully took repeated turns at being pilot, co-pilot, and navigator. The allure of all those buttons cannot be overestimated.
The interactive portion of the museum has a few other, smaller planes and cockpits to climb in, press buttons on, and command. Nothing could compare, however, to what turned out to be the highlight of the day: the K-3 mini flight simulator. We had no idea we were looking at a flight simulator, truth be told; we just stood admiring the little plane for a moment or two, trying to work out what it was and whether it was meant to be full-size. As we looked and chatted about it, a docent approached and uttered those six beautiful words: "Would he like to fly it?"
Would he like to fly it - is that a rhetorical question?? The next thing we knew, the kindly docent was plugging it in and dragging over a step stool. A crowd of jaw-lolling kids seemed to appear out of nowhere, but my lucky, in-the-right-place-at-the-right-time kid got to fly it first. The docent stayed close, giving tips about about how to pitch, yaw, and roll (say I, as if these terms meant something to me); the grinning from ear to ear part seemed to be instinctive. That flight simulator alone is absolutely worth the price of admission.
I can see that in future years, as my son's appreciation of aviation history matures, this little museum will continue to be a handy resource to have in the neighborhood. For now, it's a way to pass a happy hour or so, exploring and fantasizing behind the wheel.
Worth mentioning, also, is the museum gift shop, of which I made mental note as a great place to return for unique, affordable birthday gifts. Lots of airplanes, as one might imagine, in every form a kid could want.
The Museum of Flying, which opened to the public in February 2012 after a long hiatus and redesign, is open Fridays through Sundays only, 10am-5pm.
Museum of Flying
3100 Airport Avenue
Santa Monica, California 90405
310.398.2500
Adults $10
Senior/Student $8
Children (6-12) $6, (5 and under) free

Sign up for our free
newsletters.
Mommy Poppins is a family activity website that helps people find things to do with kids.
©
2023
MommyPoppins. All Rights Reserved.
mp-prod4-v4.32.99
Enter to Win!