Best River Rafting Trips for Kids of All Ages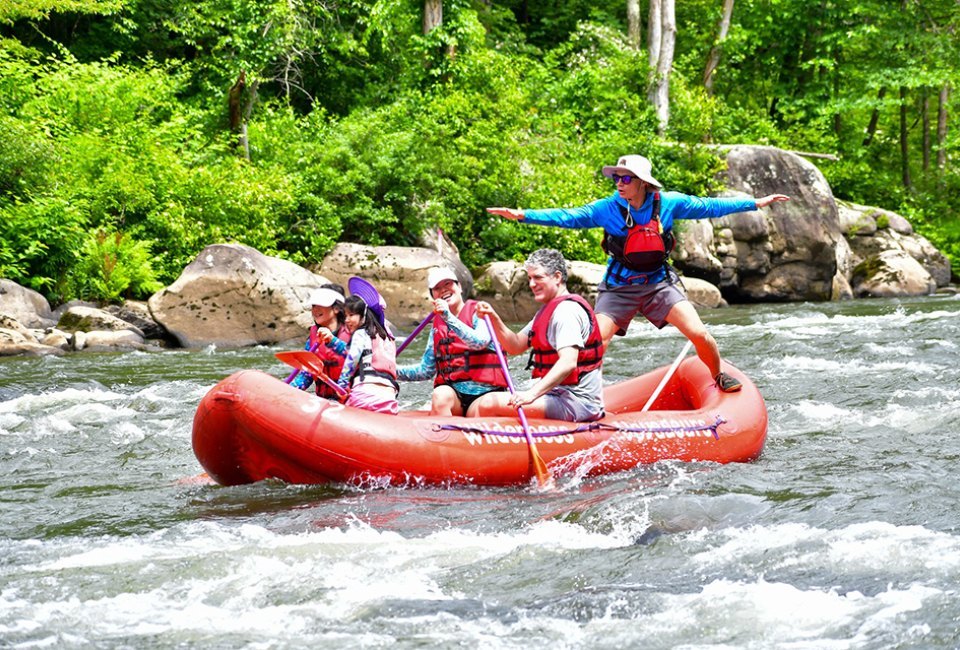 7/29/23
- By
Cait Sumner
River rafting is one of America's most adventurous pastimes and a great way to stay cool in the summer months. Whether you're looking for lazy-river vibes with your littlest adventurers or high-speed rapids for the thrill seekers in your life, there's a river rafting trip for you.
There are a few things to consider when choosing a rafting trip for your family—the length of the trip, the intensity of the rapids, and the participants' paddling abilities. Only you know your family and how your kids will respond to the water, so keep those things in mind when you choose your river adventure.
Here are 12 of the best river rafting trips in the US for families, from California and Colorado river rafting out west to the popular Ocoee River Rafting in Tennessee. Find even more outdoorsy vacation ideas in our Family Travel Guide, including gorgeous United States National Parks and the best places to go camping in the US.
Note: All of these river rafting adventures have unique operating hours and dates, so check the websites for details.
Best River Rafting in the Northeast
This company offers a guided, family-style river rafting adventure along the Lehigh River in the Pocono Mountains. The three- to four-hour trip, open to kids ages 4 and up, includes free riverside barbecue from Memorial Day through Labor Day and on weekends in May, September, and October. Life vests are provided, and you'll enjoy a post-trip bonfire with your barbecue.
Cool for kids: Take your little mateys on a pirate adventure in which your custom pirate ship—a.k.a whitewater raft—is "attacked" by pirates with water cannons. Arrgh!
Take kids ages 5 and up river rafting along the middle section of the Youghiogheny River, also known as the Middle Yough. Guided (with lunch included), guide-assisted, and self-guided trips are all available for this adventure through beautiful Ohiopyle State Park, starting from Maryland and going into Pennsylvania. For older kids aged 10 and up, check out the Lower Yough Rafting trip, which features Class III and IV rapids.
Cool for kids: During your relaxing rafting journey along the Middle Youth, you can drop into the river to swim and cool off.
RELATED: Best Family-Friendly Farm Stays in the US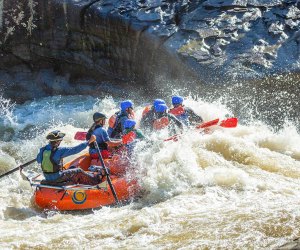 The challenging Upper Gauley River run is touted as one of the best whitewater runs in the world.
This company offers rafting trips along the rim of America's newest national park, New River Gorge National Park. Kids ages 6-11 can enjoy the Upper New River trip. Older, more experienced rafters can check out the Lower New River with Class II-IV rapids or the Lower Gauley with Class V rapids. If you've got teenagers with rafting experience, the challenging Upper Gauley River run is touted as one of the best whitewater runs in the world. All of these full-day adventures include a hot riverside lunch.
Cool for kids: One child age 6-11 can raft the Upper New River free with a paying adult every day except Saturday.
North Country Rivers offers rafting adventures on the Kennebec River or the Penobscot River. Depending on which section of the rivers you choose, there are options for kids of various ages. A lunch buffet is included with each adventure.
Cool for kids: Enthusiasts with kids ages 8 and up can try their luck at booking a rare adventure on the Dead River, which only runs eight days out of the year.
RELATED: Must-Try Dude Ranch Vacations for Families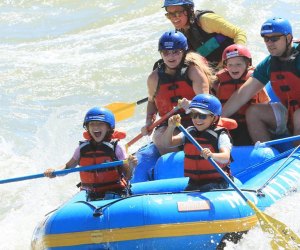 Go for a Zip & Dip in Bozeman, MT with Montana Whitewater Rafting & Zip Line Tours.
Best River Rafting in the West
If you've got a little one aged 6 or older who's ready for a thrill, head to Noah's Ark River Rafting to ride down the Arkansas River through Browns Canyon National Monument, which features Class III+ rapids. You'll be provided with life vests, but it's still recommended that you know how to swim. Noah's Ark also offers rafting adventures for older kids, an aerial park, rock climbing, fly fishing, hiking, and more.
Cool for kids: The Browns Canyon adventure is one of the few river rafting experiences with Class III+ rapids that allows kids as young as 6.
Echo Canyon offers river rafting adventures for families with all levels of experience, from those that are brand-new to rafting all the way through seasoned adventurers. Kids ages 4 and up can enjoy their very first rafting trip on a scenic float down the Arkansas River. Those aged 6 and over will love the Bighorn Sheep Canyon Rafting trip, while teens and adults can try their hand at Royal Gorge Rafting, which offers Class III-V rapids.
Cool for kids: Echo Canyon is less than 15 minutes away from Royal Gorge Bridge & Park, where families can have even more adventures like walking across America's highest suspension bridge, taking an aerial gondola ride, and zip lining.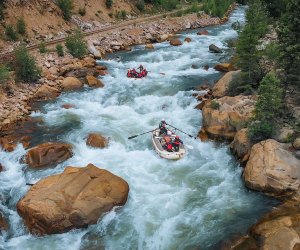 Mild to Wild Rafting & Jeep Tours offers gentle rafting trips starting for kids at age 4.
Mild to Wild offers Utah, Arizona, and Colorado river rafting excursions of various lengths and difficulties, meaning there is one that will suit just about any family. Mild trips are perfect for newbies ages 4 and up, while intermediate trips are best for those 8 and older with some experience. Seasoned rafters who love adventure and thrills can try one of the high-adventure runs. Trips range from half-day to multi-day adventures.
Cool for first-timers: The website's easy-to-understand trip breakdown makes it easy to choose the perfect river rafting adventure for your family.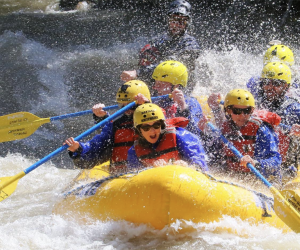 Montana Whitewater Rafting & Zip Line Tours provide high-quality adventure activities near Yellowstone National Park.
Raft the Gallatin River, Yellowstone River, or Madison River with kids age 6 and up. Montana Whitewater Rafting offers lots of trip options. Stick to those with Class I-II rapids for your beginners, while your adventurous 6-year-old can try out rapids that go up to Class IV.
Cool for kids: Book a Zip & Dip package to add zip lining to your rafting adventure.
Adventurers ages 4 and up can enjoy the half-day Main Payette River rafting excursion or the full-day North Fork excursion offered by Bear Valley Rafting. Families with older kids ages 12 and up can check out the South Fork of the Payette River, which offers Class IV rapids and thrilling drops. Full-day and half-day options are available for South Fork trips, and all full-day trips include lunch.
Cool for kids: The Main Payette and North Fork adventures include stops to rest on sandy beaches and cool off in swimming holes.
Older kids will love rafting the Kern River in California. Just three hours from Los Angeles, the Kern River offers families with kids ages 12 and up thrilling rapids, jump rocks, and more on its one- or two-day rafting excursions. Younger kids (ages 10 and up from April through July 15; 8 and up from July 15 through August) can also enjoy the calmer, three-hour Kernville Rapid Run.
Cool for kids: Kern River Rafting—the closest rafting adventure for all of Southern California—offers special youth rates, free parking, and a generous cancellation policy.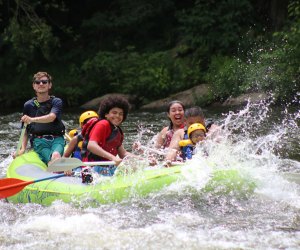 Rip Roaring Adventures offers rafting trips with the Great Smokey Mountains as a backdrop.
Best River Rafting in the South
With a trained guide in every raft, there's no need to have experience to raft the Ocoee River, one of the most popular whitewater rafting adventures in the US. Rafters must be 12 and older for this adventure, which features Class III and IV rapids. Double up on your fun by booking a zip and raft adventure to check out Ocoee's zip line canopy tours.
Cool for kids: If you're looking for even more fun, Ocoee River Rafting also features an aerial challenge course.
Take in the beauty of the Great Smoky Mountains on one of these amazing river rafting trips. The Lower Pigeon River trip is perfect for families with little ones ages 3 and up looking for a relaxing way to stay cool. If your kids are 8 or older and want a little more adventure, try Upper Pigeon River where you'll soar down Class III and IV rapids. Life vests are provided and required for all guests, so no swimming skills are necessary. There's also a zip line course.
Cool for kids: Rip Roaring Adventures is only about an hour's drive from Gatlinburg and Pigeon Forge, TN, one of our favorite family vacation destinations full of fun places like Dollywood and Anakeesta.
Photos courtesy of the rafting and adventure companies
Click Here to Sign Up!
i