Visiting Dollywood with Kids: Everything You Need to Know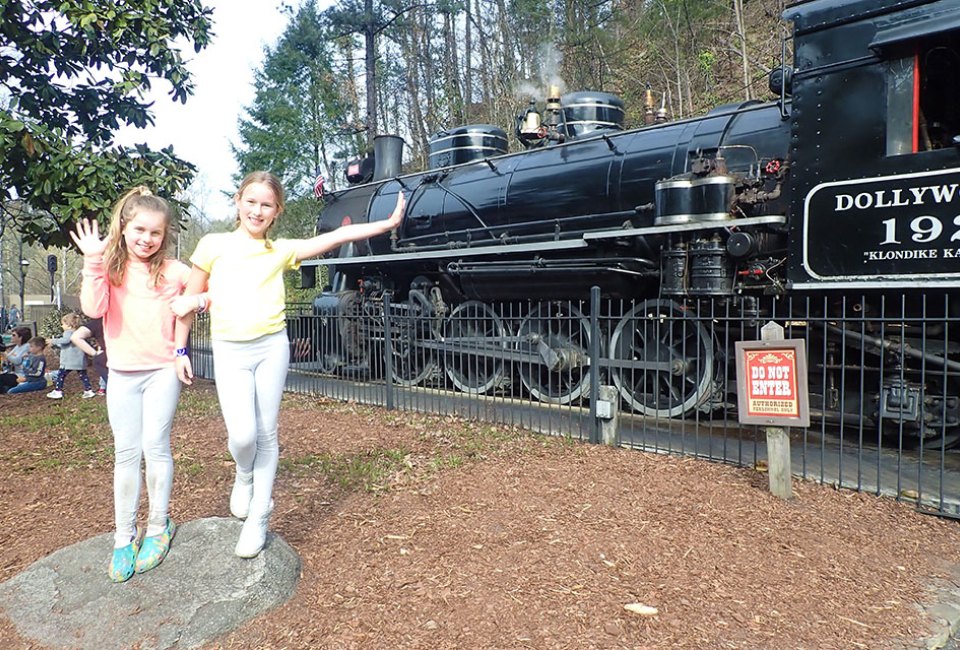 5/27/23
- By
Jackie Jones
Dollywood, the Dolly Parton-inspired theme park in Pigeon Forge, TN, has become one of the top amusement parks in the US for families. Set in the stunning Great Smoky Mountains, the park has over 50 rides, daily musical shows, and an iconic coal-fired steam train that runs along its periphery.
Located next door is Dollywood Splash Country, a 35-acre water park. And with a new Dollywood resort set to open in fall 2023 (HeartSong, which joins Dollywood's DreamMore Resort), families can plan a full vacation at Dollywood.
My family recently visited Dollywood, and wow—what a trip! Read on for details from our adventure and answers to your biggest questions, like: What are the best rides at Dollywood? What ages is Dollywood for? Is Dollywood little-kid-friendly? And if you're looking for even more family-friendly theme parks, check out our Family Amusement Parks & Water Parks Guide.
What ages is Dollywood for, and is Dollywood little kid-friendly?
Dollywood has rides and attractions for every age, from the small to the tall and from toddlers to thrill-seekers. Here are some of our favorites:

Kids of all ages will love riding the carousel.
Rides for Toddlers and Younger Kids
The Country Fair section has classic rides that will appeal to younger guests. Soar on the Amazing Flying Elephants or travel around in a pig car on the Piggie Parade (both rides have no height requirements). If your child is 36 inches tall, they'll be able to go on most of the offerings in the Wildwood Grove area. Frogs and Fireflies is a sweet roundabout ride, and the Great Tree Swing is like those pirate ships that swing back and forth. The Dragonflier (for kids 39 inches and above) makes for a great intro to roller coasters. It's speedy and has an open-air design, but it's also smooth and not too scary. My 8 year-old says it's her favorite ride at the park.
RELATED: Visiting Busch Gardens Williamsburg, VA with Kids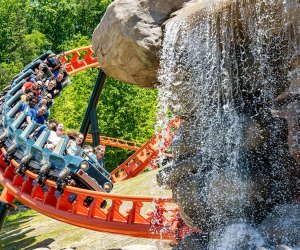 Catch thrills on several roller coasters, including Big Bear Mountain. Photo courtesy of Dollywood
Rides for Older Kids and Thrill-Seekers
The award-winning Wild Eagle may be the craziest ride I've ever been on. This flying coaster, which leaves riders' feet dangling, reaches a height of 210 feet before plunging down at speeds of over 60 miles per hour. Not to be outdone is the Lightning Rod, a wooden coaster that races down a 165-foot drop. Big Bear Mountain, which opened May 2023, is the park's longest coaster and features onboard music. And there are plenty of rides that are not too extreme or too tame. My 11-year-old's favorite is the Mystery Mine, a steel coaster that travels through an abandoned mine with fun trap doors and upside-down turns. Our whole family also loved Blazing Fury, a firefighting-themed indoor coaster.
Dollywood Express
I recommend the Dollywood Express train ride for an experience you won't get at other theme parks. The five-mile trip aboard this coal-fired steam train hits all the right nostalgia buttons and gives you a picturesque view of the park.
RELATED: Best Theme Parks in the US for Special Needs Kids

TimeSaver passes can you slip lines at rides like the Mystery Mine.
I'm not going to lie—the lines for rides were much longer than I was expecting. Granted, my family visited during spring break, but locals told me this is becoming the norm as Dollywood grows in popularity. According to park employees, Thursdays in the fall are the best time to go. On other days, you might want to consider buying TimeSaver passes.
TimeSaver passes allow expedited access to lines at over 15 rides and shows, but they aren't cheap: At the time of publication, they cost $60 per person for five attraction entries and $80 per person for unlimited entries. Our family received TimeSaver passes as guests of the DreamMore resort, and they probably shaved 20 minutes off lines that would ordinarily be over an hour. So, the value of TimeSaver passes really depends on how crowded the park is. Try to arrive when the park opens, as crowds build as the day goes on.
Dollywood Shows
If you're looking for a break from the rides and the lines, Dollywood features several musical acts each day. From a capella groups and solo rockers to roaming banjo players and comedians, we saw some serious talent on display. Concerts are typically about 30 minutes and take place on stages throughout the park. There's also a Wings of America show featuring birds of prey like falcons and owls. Plus, Dollywood is home to a 30,000-square-foot aviary for bald eagles called the Eagle Mountain Sanctuary.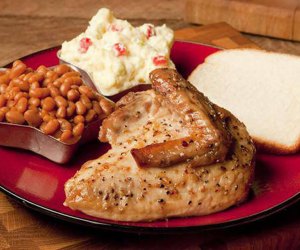 Enjoy southern favorites at Miss Lillian's Smokehouse. Photo courtesy of Dollywood
Dollywood Food and Shops
The usual theme-park eats—pizza, burgers, hot dogs, and plenty of sweet treats—are all available. Dollywood also goes big on barbecue. We were happy with our sandwiches and turkey legs from the Hickory House BBQ, and Miss Lillian's Smokehouse cooks up other southern fare like fried chicken and smoked sausages. Throughout the park there are ice cream vendors and funnel cake spots, but for the ultimate Dollywood experience, head to the Grist Mill for some cinnamon bread (a pull-apart concoction served with apple butter). Warning: there's usually a line out the door for this famous treat made fresh daily.
Looking for a souvenir? There are tons of specialty shops eager to sell you everything from airbrushed t-shirts and Christmas ornaments to leather goods and classic toys. I had to pry my 8 year-old out of a store selling wall-to-wall Squishmallows. The Dollywood Emporium, which doubles as the park exit, has a large assortment of knickknacks featuring Dolly Parton herself.
RELATED: Orlando Theme Parks & Water Parks Guide

A giant eagle sculpture greets you at the entrance to the Wild Eagle roller coaster.
A one-day pass to Dollywood (at the time of publication) costs under $90 for those ages 10-61 and less than $80 for seniors and kids ages 4-9. Kids 3 and under are free. For a better deal, consider a two-day pass: It's only $20 more than a one-day pass, and your second visit can take place anytime within a five-day period. Or, go for the three-day pass, which is only $10 more than the two-day and $30 more than the one-day, and your three visits can take place over five days.
Dollywood also offers a military discount, as well as multi-park tickets that include admission to Dollywood Splash Country and are only slightly more expensive than tickets to the theme park alone.
Know Before You Go
Dollywood is generally open March through December, with varying hours depending on the day (see the 2023 calendar here). Days vary as well based on the season.
Lockers
Outside food and coolers are not allowed inside the park. Lockers are available for $10-$15 a day.
Rain Checks
If rain wrecks your day at Dollywood, you can request a rain check from guest services. They're valid until the end of the season.
RELATED: Best Outdoor Water Parks in the US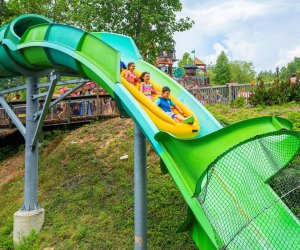 Splash Country is home to many large water slides, including RiverRush. Photo courtesy of Dollywood
Open May through September, this water park is the place to go when summer hits in the Great Smoky Mountains. Though the theme park does have a handful of water rides, Dollywood Splash Country boasts giant slides, water playgrounds, and tube rides.
Fire Tower Falls is Splash Country's tallest and fastest slide, propelling riders straight down a 70-foot drop. Meanwhile, RiverRush is the state's only water coaster. Seating four per tube, it twists, turns, and goes through tunnels—basically like a roller coaster with rushing water.
If you're seeking something more low-key, there's a wave pool and a 1,500-foot lazy river. Kids of all ages love the Bear Mountain Fire Tower, a multi-level water playground with seven slides and a dumping bucket filled with 1,000 gallons of water.
You'll need to purchase separate tickets to get into Dollywood Splash Country, or multi-park tickets that get you into both the theme park and the water park. Splash Country tickets cost significantly less than those for the theme park, and TimeSaver H20 passes for select water rides are available for an additional cost.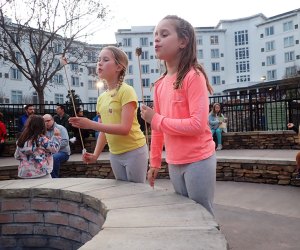 Enjoy fun activities like roasting marshmallows at the DreamMore Resort.
DreamMore Dollywood Resort
There are lots of family-friendly hotels in Pigeon Forge to choose from, but if you're visiting Dollywood, the DreamMore Resort is your best bet. As a guest, you get early entry on Saturdays, TimeSaver passes, a free trolley to and from Dollywood (parking there costs upwards of $22, FYI), and access to all of the fun amenities at the hotel. These include both an indoor and outdoor pool, a playground, storytimes and concerts, complimentary lemonade in the afternoon, and s'mores by the fire pit at night. There's also an on-site arcade and a really nice day spa.

The Dollywood resort features lots of cool Dolly Parton memorabilia.
While our room at this Dollywood resort was nothing fancy, it was comfy and clean. The hotel itself, though, is very charming, with a log-cabin vibe and plenty of cool Dolly Parton memorabilia. My daughters and I spent a good 20 minutes gazing at a wall displaying Dolly's many album covers, and we were intrigued by the locked wooden box housing a never-been-heard song written by the country idol. (Dolly says the box will be opened in 2045, just before she turns 100 years old.)
Our family had two great dinners at the Song & Hearth hotel restaurant, where everything is served buffet-style (convenient for us, as I could nosh on Louisiana mussels while my kids had chicken fingers and salad). DM Pantry is the hotel's grab-and-go spot, where you can get Starbucks coffee, bakery items, snacks, and pizza.
Look out for HeartSong, a new Dollywood resort set to open in fall 2023. Like DreamMore, it will offer plenty of amenities and perks for families visiting Dollywood.
Unless noted, photos by the author
Places featured in this article:
---
Dollywood's Splash Country
---
Dollywood's DreamMore Resort and Spa
Click Here to Sign Up!