Best Theme Parks in the US for Special Needs Kids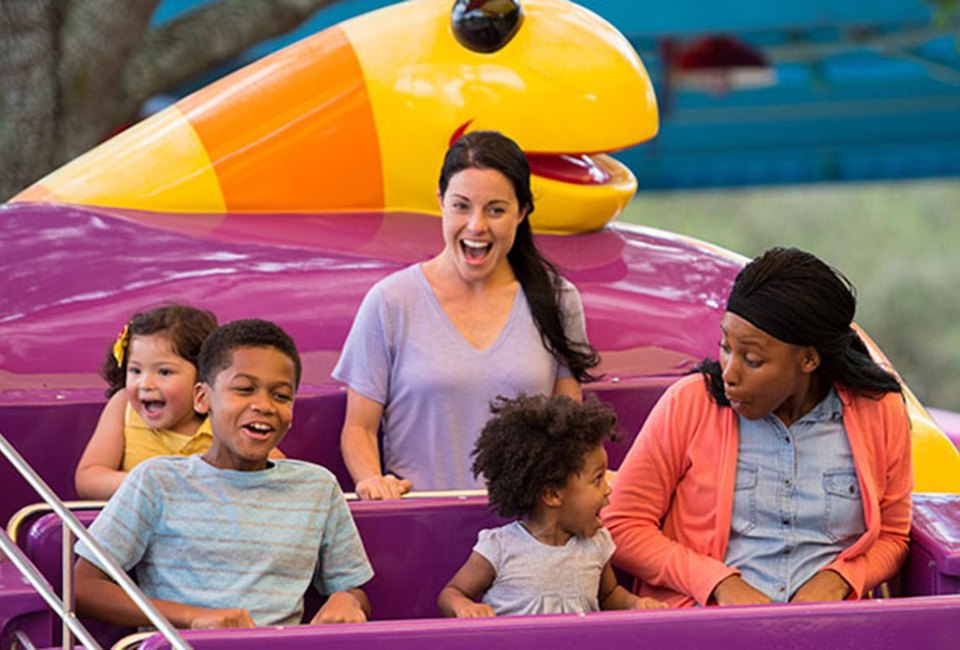 5/13/23
- By
Tom Stefanchik
We began taking our son TJ, who is on the autism spectrum, to theme parks when he was just 3 years old. Along the way we've discovered that some amusement parks go out of their way to accommodate special needs kids more than others do. With autism-friendly rides (not too fast, loud, flashy, etc.), attractions that follow ADA rules and accommodate wheelchairs, and other features, these theme parks make the experience so much more enjoyable for children with special needs.
Here are the 10 best theme parks for special needs kids and their families. They were chosen because of both their sensitivity to children with special needs and the appropriateness of their rides and attractions for these kids. Find even more fun theme parks and water parks in our Family Amusement Parks & Water Parks Guide.
(NOTE: Some of the theme parks listed below are designated as Certified Autism Centers, meaning they've been certified by the International Board of Credentialing and Continuing Education Standards as having at least 80% of staff highly trained, fully equipped, and certified in the field of autism. These parks will have "CAC" after their names.)
Best Theme Parks for Special Needs Kids in Orlando, Florida
Walt Disney World has a long history of accommodating guests with special needs. While the parks at WDW do contain some truly thrilling rides, the majority of their attractions are relaxing yet entertaining, family-friendly yet highly imaginative. In other words, they have that special Disney magic. Walt Disney World's Guide for Guests with Cognitive Disabilities can help you plan your visit, and the Attraction Details for Guests with Cognitive Disabilities lists any potential sensory issues on all of the parks' rides.
Universal prides itself on being the sassy, irreverent upstart to Disney. That being said, Universal Orlando rivals its neighbor in terms of creativity and imagination, and its two theme parks contain many family-friendly attractions. Download Universal Orlando's Guide for Guests with Cognitive Disabilities before you visit.
The most family-oriented of all Walt Disney World parks, Magic Kingdom is home to classic attractions like Peter Pan's Flight, Jungle Cruise, and Dumbo the Flying Elephant. However, "it's a small world" holds a special place in our hearts. Before our first trip to Disney World, TJ watched a video of this attraction over and over, and he was absolutely mesmerized seeing it in person. I will never forget the look of wonder and delight on his face, and even though he barely spoke at that time, he sang along with the entire theme song. Score a point for developmental progress through travel!
RELATED: Top Attractions in Orlando: Best Things To See and Do with Kids

Visit Epcot for some laid-back Disney magic. Photo by the author
Often referred to as the "grown-up" park, Epcot has some of the smallest crowds and most laid-back attractions in all of Walt Disney World, including Spaceship Earth, Living with the Land, and The Seas with Nemo and Friends. In the World Showcase section, which is made up of pavilions from 11 countries, TJ loves the Gran Fiesta Tour (Mexico), Frozen Ever After (Norway), and Remy's Ratatouille Adventure (France), all very family-friendly.
RELATED: The Best Zoos in the US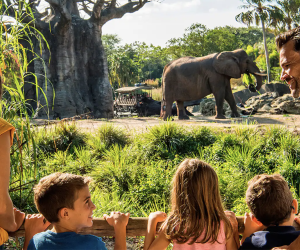 Going to Animal Kingdom is like visiting the most amazing zoo ever. Photo courtesy of Animal Kingdom
The name of this park says it all. Many children on the spectrum have a special connection with animals, and they will be delighted by the many animal encounters and animal-themed attractions at Animal Kingdom. The highlight, however, is Kilimanjaro Safaris, a 20-minute ride through open-air habitats where you will encounter elephants, giraffes, hippos, and other cool animals.
Journey to E.T.'s home planet on the E.T. Adventure. Get transformed into a minion on Despicable Me: Minion Mayhem, a motion-simulator ride (if your child is sensitive to motion, there are stationary seats up front). Meet Spongebob and friends at Spongebob Storepants. And if you have a Harry Potter fan, you simply must explore the shops and restaurants of the fully immersive Diagon Alley, part of The Wizarding World of Harry Potter.
RELATED: Best Things To Do with Kids at Universal Orlando's CityWalk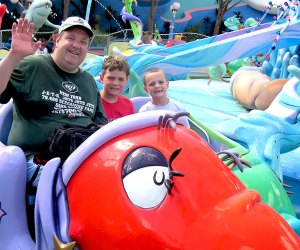 Seuss Landing at Universal's Islands of Adventure is perfect for kids with sensory issues. Photo by the author
If your child, like TJ, loves Dr. Seuss (and who doesn't), then they will adore Seuss Landing, an entire land themed to the works of the good doctor. Here you will find four imaginative and enjoyable attractions with nary a thrill in sight (save for a few spins on The Cat in the Hat). There are also gift shops (of course), live shows, and a quick-service restaurant (Circus McGurkus) with a ride that passes right through it. Don't forget to visit Hogsmeade if your kiddo likes Harry Potter.
SeaWorld has a much more relaxed vibe than Disney World or Universal, and with much of its property devoted to animal encounters, it is the optimal theme-park environment for neuro-sensitive children. Enjoy spectacular live shows featuring dolphins, killer whales, sea lions, and otters. Visit habitats showcasing manatees, mantas, penguins, beluga whales, and other beautiful creatures. For some interactive fun, feed the California sea lions and harbor seals at Pacific Point Preserve.
Download SeaWorld Orlando's Accessibility Guide before you go for helpful tips and ride info. You can also try SeaWorld's other US theme parks, SeaWorld San Diego and SeaWorld San Antonio.
RELATED: The Best Anaheim Hotels Near Disneyland for Families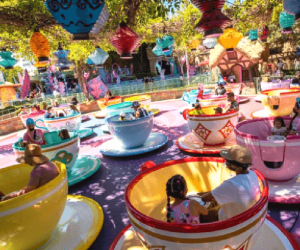 Disneyland is a magical place for kids of all ages, sensitivities, and abilities. Photo courtesy of Disney
Best Theme Parks for Special Needs Kids in Southern California
Disneyland features many family-friendly attractions that do not appear in any other Disney park, including Alice in Wonderland, Casey Jr. Circus Train, Pinocchio's Daring Journey, and the Storybook Land Canal Boats. It also has a quaint charm all its own. The Guide for Guests with Cognitive Disabilities can help you plan your visit, and the Attraction Details for Guests with Cognitive Disabilities indicates whether each ride has lighting effects, loud noises, periods of darkness, and other sensory issues.
Knott's Berry Farm began its life as a small family farm over 100 years ago, and it still maintains a rustic California feel. The Ghost Town section features a railroad and a stagecoach ride, with live horses. Camp Snoopy, the first-ever theme park area developed just for kids, is designed to evoke a summer camp in the California Sierras. While there, your child can meet the beloved Peanuts characters and enjoy over 15 kid-friendly attractions. The park's Guest Assistant Guide is a helpful tool for families of special needs kids.
RELATED: Best Outdoor Water Parks in the US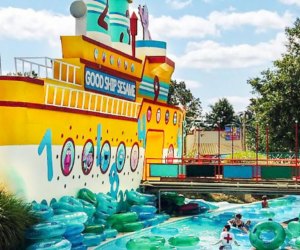 If your child likes water, grab a tube and float down Big Bird's Rambling River. Photo courtesy of Sesame Place
Best Theme Parks for Special Needs Kids in the Northeast
Take a stroll down everyone's favorite street at Sesame Place, the first theme park in the world designated as a Certified Autism Center. Here kids can enjoy several family-friendly attractions including water rides and slides, see live shows and a parade, and have meet-and-greets with all of their favorite characters, including Elmo and Cookie Monster. The park offers sensory-friendly amenities such as a quiet room and noise-canceling headphones, and you can download the Ride Accessibility Guide. If you're out west, check out Sesame Place San Diego, which opened in 2022.
You don't need to be a LEGO Master Builder to enjoy everything Legoland New York has to offer. All of the rides and attractions are family-friendly, with one moderately thrilling coaster. The park's spacious layout, open-air setting (only two rides are located indoors), and bright, cheery structures make it substantially less intimidating than other theme parks. And the new Water Playground opening Memorial Day weekend 2023 gives kids a fun place to cool off on hot summer days.
Download the Resort Sensory Guide to get a summary of sensory levels for each ride, or refer to the signs posted at each attraction. Legoland California and Legoland Florida are worth visiting, too.
Know Before You Go
During the 20-plus years we have been taking TJ to theme parks, we've encountered numerous meltdowns, endured many disapproving stares, and occasionally had to cut our day short, as we were unable to manage his behavior. However, we've also developed several strategies that have helped minimize the complexities (and the stress) of bringing a child with autism on a theme-park vacation. Below are a few hard-earned, time-proven strategies:
Don't Follow The Crowd
Most families follow the school calendar when planning a vacation, which means they are going to the parks when every other family is. Rather than exposing a neuro-sensitive child to extreme crowds and long waits during the busiest times of the year, consider taking your child out of school for a few days and going off-peak.
Preview the Attractions
There are dozens, if not hundreds, of YouTube channels dedicated to theme parks, and between them all you can see videos of just about every theme-park ride and attraction. Preview those you plan to experience with your child so they know what to expect.
The Guest Assistance Pass: Your New Best Friend
All major theme parks feature some type of guest assistance pass, which helps guests with cognitive disabilities (and their families) shorten the wait time for attractions. See our article on the Guest Assistance Pass for more about this invaluable resource. Most theme-park websites also have downloadable guides for guests' disabilities.
Dress Your Child in Bright Clothing
Many children with autism and other disabilities are runners who can slip away at a moment's notice. To minimize the risk of losing your child in a crowded theme park, have him or her wear clothing that is bright and easily recognizable.
Pack Familiar Items
To help further ease your child's anxiety about being away from home and visiting a strange place, pack some familiar items such as books, toys, snacks, and even blankets and pillows (or pillowcases).
Choose the Right Restaurants
Certain attributes make a theme-park restaurant less threatening to a child with a cognitive disability. The restaurant should be bright, cheery, not too noisy and, most importantly, feature some kind of major diversion. A perfect example of this type of experience is character dining, where characters come to your table for a personal meet-and-greet (i.e., Crystal Place at Magic Kingdom). This is also a much less exhausting way to meet characters than waiting on long lines in the blazing Florida sun.
Unless noted, photos courtesy of the parks