The Wizarding World of Harry Potter: Tips for a Magical Experience in Orlando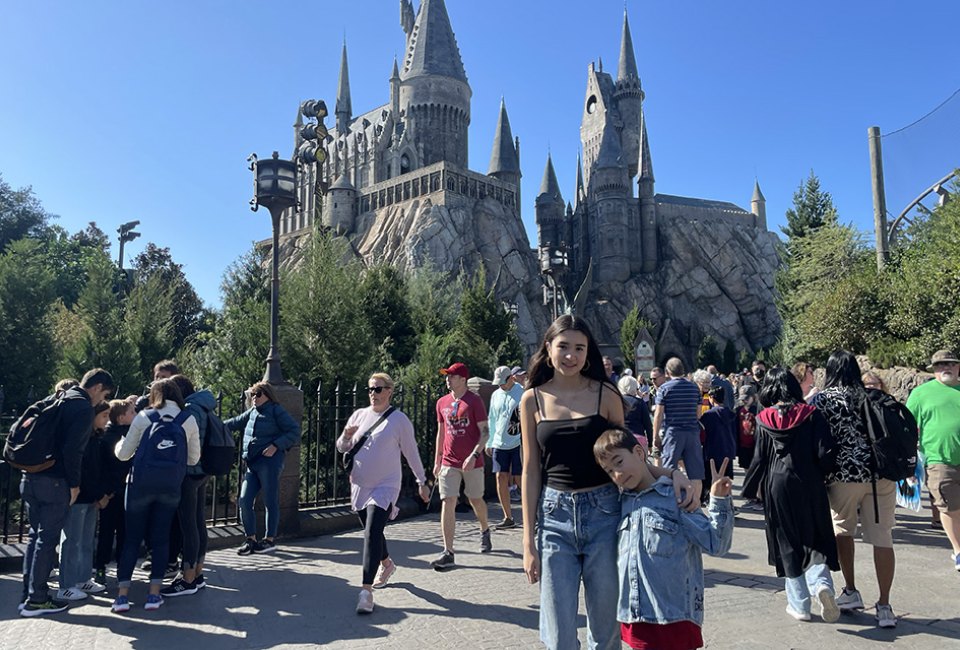 4/9/23
- By
Diana Kim
At The Wizarding World of Harry Potter, experience magic and adventure in Orlando! Explore Hogsmeade, Hogwarts Castle, Diagon Alley, and other fictional locations that come to life in our world. While visiting Universal Orlando may be daunting for Muggles, we've got the scoop on how to make your visit a magical success.
I recently visited The Wizarding World of Harry Potter with my two kids, and we had a blast! From butterbeer and wand shopping, to casting spells and riding hippogriffs, there so much fun to be had at The Wizarding World of Harry Potter at Universal Orlando. Don your robes, pack your wand, and read on for all our expert tips.
For more adventures and thrills, check out our Theme Park Guide. And subscribe to our newsletters for more stories like this delivered directly to your inbox!

Get ready for the experience of a lifetime with Harry Potter and the rest of the Hogwarts gang.
The Wizarding World of Harry Potter: An Overview
The Wizarding World of Harry Potter World is located at Universal Orlando Resort, which itself is composed of three theme parks: Universal Studios Florida, Universal Islands of Adventure, and Volcano Bay. The main villages of Harry Potter World are located in Universal Studios Florida and Islands of Adventure. (Volcano Bay is a water park and has no Harry Potter-related activities or rides.)
Islands of Adventure houses Hogsmeade Village, Hogwarts Castle, and Hagrid's Hut; Universal Studios contains Diagon Alley and Gringotts Bank. The Hogwarts Express ride travels between these two theme parks and allows for easy and quick passage (requires a park-to-park admission ticket). You can walk between the two different theme parks with separate admission for each park. However, I highly recommend purchasing the park-to-park tickets in order to ride the Hogwarts Express— a great, calm ride for kids of all ages who experience Platform 9 3/4 and see cool panoramas inside the train cars.

Stop in Dervish & Banges to see what this magical shop offers.
Universal's Islands of Adventure – Hogsmeade
It was amazing to see and browse the magical shops of Hogsmeade. We first purchased an interactive wand for my son at Ollivander's —with a flick of his wrist, an incantation, and some technological "magic," my son could cast spells that would make things move in select shop windows. We also stocked up on Bertie Botts Every Flavour Beans and chocolate frogs at Honeydukes, peeked inside Dervish & Banges, and sent a letter to family at the Owl Post.
Islands of Adventure also features Hogwarts Castle, which you can walk through as part of the Harry Potter and the Forbidden Journey ride. Walk through the halls and corridors of the castle like a real Hogwarts student, observe talking portraits, and even see Dumbledore's office.
RELATED: Visiting Every Park at Walt Disney World with Kids: A 5 Day Itinerary

Get your magic wand ready while walking through the magical streets of Harry Potter World.
Universal Studios – Diagon Alley
Enter Diagon Alley either by riding the Howgarts Express from Hogsmeade or through the arched brickway next to King's Cross Station at Universal Studios. You'll recognize all the shops in Diagon Alley including Madam Malkin's Robes, Quality Quiddtich Supplies, and Weasleys' Wizard Wheezes, where you'll see the Weasley twins' zany inventions come to life. Don't miss Gringotts Bank, where a 60-foot dragon breathes fire atop the building!
Explore a little farther down Knockturn Alley, where Borkin and Burkes sells Death Eater masks and other supplies and artifacts for dark magic.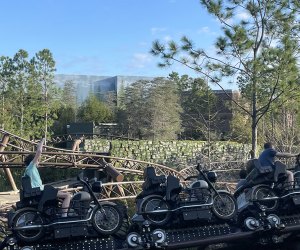 Our family's favorite ride of the trip was Hagrid's Magical Creatures Motorbike Adventure!
The Wizarding World of Harry Potter: Rides and More
There are a total of five rides at Harry Potter World —the main ones are located at Islands of Adventure and include Hagrid's Magical Creatures Motorbike Adventure, Harry Potter and the Forbidden Journey, and the Ride of The Hippogriff. The main ride at Universal Studios, home of Diagon Alley, is Escape from Gringotts. The Hogwarts Express is also considered a ride and goes between the two theme parks (again, can only ride with a park-to-park admission ticket).
Our favorite ride was Hagrid's Motorbike Adventure, a fast roller coaster with surprising turns and twists. My 6-year-old really enjoyed it, but it may not be right for every child, even if they are tall enough. We also loved Escape from Gringotts, which takes riders through the bank and underneath its vaults.
As you wander Hogsmeade, enjoy the Triwizard Spirit Rally from the talented students of Hogwarts, Durmstrang, and Beauxbatons. Performers, dressed as their fictional counterparts, put on an entertaining show filled with dance, acrobatics, and more as they compete for the Triwizard Tournament.
RELATED: Visit SeaWorld Orlando Like a Local with These Insider Secrets

There are advantages to staying at the three premier Universal resorts, like unlimited express passes.
The Wizarding World of Harry Potter: Hotels and Express Passes
Besides offering wonderful amenities, the three Premier Hotels–Loews Portofino, Hard Rock, and Royal Pacific– also offer the advantage of unlimited express passes and early park admission. On most days, Islands of Adventure opens at 8am for those staying at an official Universal hotel and then 9am to the general public. This private hour makes it helpful when trying to get on popular attractions like Hagrid's Motorbike Adventure: The only Harry Potter ride that does not accept express passes and grows quite a long line as the day goes by.
Another advantage of staying at a premier Universal hotel is the unlimited express pass. All the rides at The Wizarding World of Harry Potter (except for Hagrid's Motorbike Adventure), have separate, shorter lines for express pass holders. You can also use this express pass for the other rides at Universal. While staying at a Premier Hotel may cost a little more, it's absolutely worth it for the unlimited express pass and early park admission.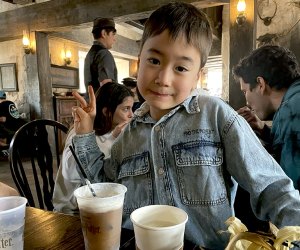 Enjoy butterbeer three different ways for a true Harry Potter experience.
The Wizarding World of Harry Potter: Food
There are two main Harry Potter restaurants: The Leaky Cauldron in Diagon Alley and Three Broomsticks in Hogsmeade. Both restaurants offers typical English pub fare like shepherd's pie and fish and chips. Families can order from a separate children's menu, as well as vegetarian options. Hog's Head sells drinks and snacks.
All these restaurants serve butterbeer, which I recommend everyone try! Butterbeer tastes like butterscotch soda with a layer of creamy foam, and there are three kinds available: cold, frozen, and hot. My kids tried and loved all three varieties, but I particularly liked frozen butterbeer. You can also get butterbeer ice cream, butterbeer fudge, and butterbeer potted cream!
Know Before You Go
On most fast rides, personal times like wallets and phones can be securely stowed in a bag like a fanny pack worn close to the body. Larger items must be stored in lockers located next to the ride. These lockers are free with admission tickets.
Food lines are long during standard lunchtime hours, so best to eat early or late.
Make sure to download the Universal Orlando Resort app, where you can access to park maps, track wait times for popular rides, order and pay for food, and more.
We highly recommend visiting for two days to fully enjoy all the attractions, rides, and experiences.
Know the height requirements for each ride before getting in line to save your family time and potential meltdowns.
Wear comfortable shoes and clothes. Don't forget a hat and sunscreen.
Check out the rest of the rides and attractions at Universal! My son loved Seuss Land, right next to Harry Potter —the rides are perfect for young kids. My teen loved the thrilling roller coasters at Jurassic World and Marvel Superhero Island.
Photos by the author
Places featured in this article:
Sign up for the Mommy Poppins Newsletter today!
i