Family-Friendly Farm Stays: Meet the Animals and Work the Farm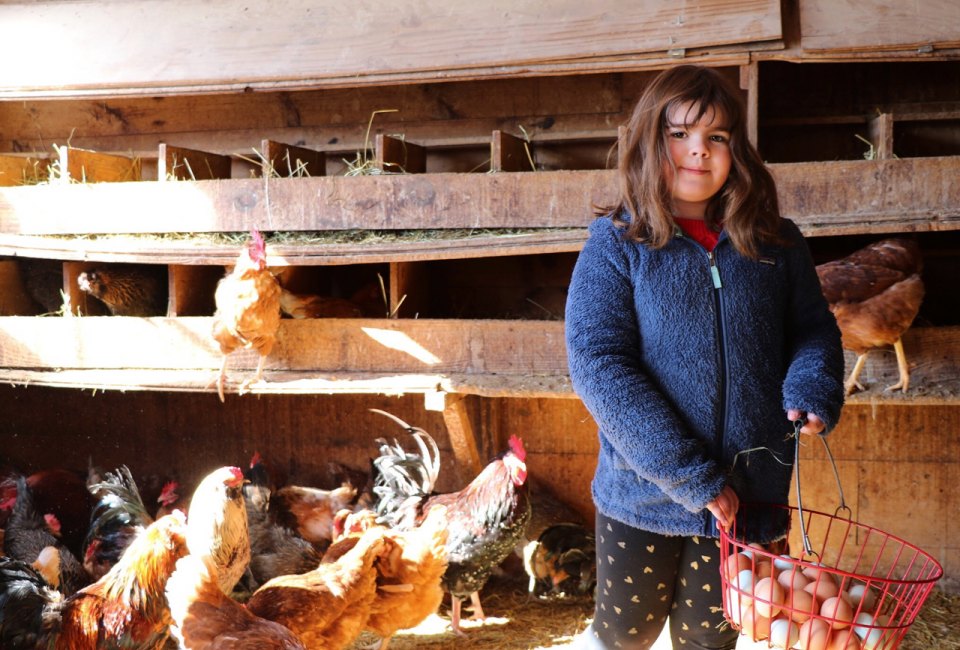 3/2/19
- By
Ally Noel
Farm stays provide guests of all ages with a taste of farm life. Whether by milking cows and collecting eggs, or gathering fresh fruit from a pineapple plant for breakfast, families who choose to stay at a farm hotel, which might be cabin, house, or even a tent, will likely have more fun than Old MacDonald led you to believe is possible.
Time your farm stay with the kids for spring, summer, or even fall. Check out which seasonal activities might be going on before picking the dates of your farm vacation, as well as the location. We've rounded up 10 of our favorite farm "hotels" around the country, from Maine to Texas to California.
I've found that farmer-hosts have a strong desire to educate little farmers on how to live a more sustainable and balanced life. Unplug, relax, and enjoy the fruits of a hard day's work around a campfire. Lessons learned on these farms will stay with you long after you return home.
Find more vacation ideas and weekend getaways in our Family Travel Guide, or check out your local Farm Fun Guide for local petting zoos, harvest festivals, and pick-your-own fun.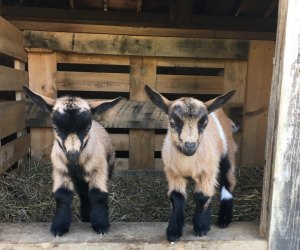 Kidding around on Toddy Pond Farm. Photo courtesy of the venue
1. Toddy Pond Farm — Maine
It doesn't get much more idyllic than spending a lazy afternoon watching sheep and dairy cows graze farmland from the comfort of the screened in porch at this farm stay's private cottage. This guesthouse sleeps seven, so bring the whole crew! Toddy Pond Farm, situated near the Downeast coastal region of Maine, makes artisan small-batch yogurt from 100% grass-fed jersey milk, but what truly sets it apart are the year-round activities. Guests can fully immerse themselves into farm life by milking cows, feeding pigs, and gathering eggs; kids will swoon to see the baby lambs in the spring! Enjoy a swim, kayak, canoe, or fishing in Toddy Pond, too. Come winter, there is snowshoeing on the farm's trails. Relax around the cottage fire pit, or pick wild blueberries—this is Maine, after all!
2. Verdant View Farm — Pennsylvania
Verdant View Farm wants you to experience life on a real working farm in Lancaster County. Multiple rooms are available at this farm stay, some with bunk beds for the kids. Enjoy starting your day with a family-style breakfast served to guests (Monday-Saturday) around a communal table each morning at 8:30am. Fuel up on home-grown meat, fresh eggs, raw milk, and local Amish-made jam before you begin your morning farm chores. The farm is ideally located in the heart of Amish Country and offers easy access to museums, restaurants, farmer's markets, and more.
RELATED: 13 Fun Things to Do in Lancaster County, Pennsylvania with Kids

Get up-close-and-personal with the farm animals on Flamig Farm.
3. Flamig Farm — Connecticut
It's hard to miss Flamig Farm's giant backward EGGS sign. This family-run farm has been part of Connecticut's history for over 100 years. Families can enjoy a stay in a comfortable apartment located above the Farm Store. Multiple bedrooms let you really spread out. Flamig Farm offers a pretty packed schedule of seasonal and educational programming as it strives to be a top destination. School tours are common here, and it even has a summer camp. For an additional fee, overnight guests can spend the morning feeding the chickens, collecting eggs, and checking out the rest of the farm's extensive animal inhabitants including cows, sheep, pig, goats, and emus! Note: The petting zoo is seasonal here, so plan accordingly.
4. Rocky Acre Farm — Pennsylvania

This 200-year-old dairy farm welcomes families with open arms. Cuddle goats and kittens, gather eggs, feed a newborn calf, or milk a cow. An overnight stay includes a hearty family-style breakfast with a selection of pancakes, waffles, or French toast with homemade preserves, sausage, hash-brown potation, and other local delights. There are also nearly 10 rooms from which to choose, so you can customize your overnight a bit. Round out your experience with a hayride through the beautiful hills of Lancaster County's pristine farmland.

Pick your own fruit salad at Always in Season Farmstead. Photo courtesy of the venue
5. Always In Season — Hawaii
Guests can fully embrace the Aloha spirit at the Always in Season Farmstead. Although this is not a "working farm" in the traditional sense, guests are welcome to graze the property at their leisure, pick pineapples and papayas, and munch on a variety of other fresh fruit. Plus the location and views are just stunning. Owner Donna is on a personal mission to get families out of their traditional vacation rut and enjoy partaking in "conscious activities together." Relax, rest, and rejuvenate while enjoying lush gardens and ocean breezes. Accommodations are tighter, so this stay might be best for small families comfortable bunking together. The suite has a king bed in one room and a pull-out sofa in the living room for the kids.
6. Kinnikinnick Farm — Illinois 

Kinnikinnick Farm offers a jam-packed two-day farm stay program that is just the right mixture of work and play. From late May to early October, budding farmers can "rough it" in one of Kinnikinnick Farm's on-site tents. Each tent accommodates a family of six and includes beds, filtered water, wooden stoves and firewood for cooking, and oil lanterns and candles for light. The bathhouse includes two private showers. A two-night minimum is required. Farmers David and Susan are likely to keep the whole family engaged from sunrise to twilight with morning chores, pizza nights, late-night ice cream runs, and more.

Feed a baby calf her breakfast at the Inn at East Hill Farm. Photo courtesy of the venue
7. The Inn at East Hill Farm — New Hampshire
A little bit family camp, a little bit farm stay, and a whole lot of fun! A day spent at East Hill Farm is filled with activities from sunrise to sunset. Kick things off with farm chores like milking in the barn, followed by petting bunnies, and then learning how to make butter. Relax with storytime in the attic or stay active with a round of ping pong. There's also skiing nearby, ice skating, and swimming, depending on the season— and indoor and outdoor pools. The New Hampshire inn is situated at the base of the popular Mount Monadnock, which was made famous by the writings of Ralph Waldo Emerson. The inn offers more than 65 room options, too, from cottages to rooms inside the historic farmhouse built in 1834. All come with private bathrooms. Rates are per person and include three meals a day. Children under 2 are FREE, and this farm is pet-friendly, so bring your pooch along!
RELATED: Farm Stays Near NYC for City Kids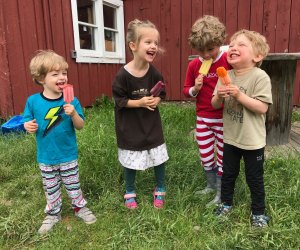 Enjoy farm fresh popsicles at Stony Creek Farmstead. Photo courtesy of the venue
8. Stony Creek Farmstead — New York
Deep in the Catskill Mountains, you will find grazing cattle, rolling fields, and the 100-year-old barns that make up the Stony Creek Farmstead. Spend the night in one of their fully furnished and stocked platform tents, and the day milking cows, collecting eggs, and enjoying a little R&R. Described as "rustic yet luxurious," the tents offer king-size beds for the grown-ups and bunk beds for the kiddos. Make your own wood-fired brick oven pizza on Saturday nights from May to October, kick back with a glass of wine, and listen to the trickling creek as you relax after a day of hiking or farm chores. Don't forget to grab a popsicle for a treat for the kids at the Farm Store.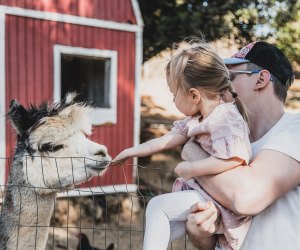 Feed the friendly alpacas at Morning Song Farm. Photo courtesy of the venue
9. Morning Song Farm — California
Morning Song Farm situated in the hills of San Diego provides five farm stays on its 20-acre farm, ranging from romantic getaway accommodations to luxury glamping safari tents for the whole family. All are unique and have hot tubs and other amenities. For an additional fee, guest can take classes and learn how to make ice cream, jam, bread, butter, and more. Those staying at the two-bedroom bungalow will be able to gather eggs from their personal brood of hens, and everyone will enjoy feeding Silverado and Dusty, Morning Song's resident alpacas! Families can find plenty to do in the area, from hiking to enjoying the family-friendly vineyards of the sunny Southern California Temecula region.
10. Blissworld Ranch — Texas
Blissworld, a 650-acre working ranch in Texas' Hill Country, is filled with pastoral bliss. Guests can stay at one of its 10 houses and cabins and participate in feeding animals and observing the day-to-day life of a real working ranch. Additionally, guests can also try their hand at archery, horseback riding, fishing, hiking, and more. Or, just relax and enjoy the quiet on the private porch of your bungalow.
t Click Here to Sign Up!