25 Things to Do With Kids on Lake Winnipesaukee, New Hampshire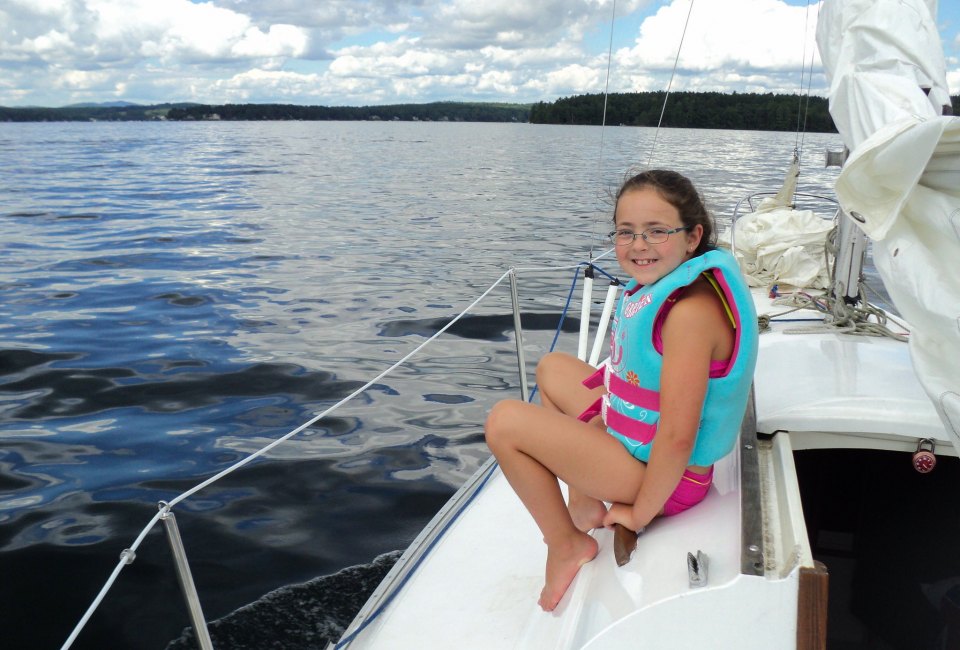 6/25/19
- By
Elyse Andrews
Summer is the season for road trips with kids, and we're lucky because New England is full of so many fun spots to visit that are only a few hours away by car. One family favorite is Lake Winnipesaukee in New Hampshire. From bustling Meredith, NH on the west side of the lake to quaint Wolfeboro, NH on the eastern edge, there's plenty of water sports, casual restaurants, and natural beauty that make for a great family vacation. Here are 25 of the best ways to enjoy everything on and surrounding this sparkly blue, 72-acre lake affectionately known as "Lake Winni."
1. It's not often that you can dine with your toes in the sand, especially in New England, but at the Town Docks in Meredith you can kick off your sandals lakeside. Kids love playing in the sand while waiting for dinner, and adults love the festive tiki drinks.
2. In my family we have a contest every year to see who can spot the M/S Mount Washington on its maiden voyage around the lake in the spring. Even more fun than spotting the boat is taking a cruise around the lake on it or one of its sister boats, the Sophie C., a working mail boat, or the Doris E.
3. The place to stock up on children's books, unique games and toys, and science and nature activities is at the Innisfree Bookshop in the Mill Falls Marketplace in Meredith.
4. It might surprise you to find out that the self-proclaimed largest arcade in the world, Funspot, calls the Lakes Region home. And large it is: Funspot has all the traditional arcade games, plus indoor mini-golf and bowling.
5. Next to Funspot you'll find the Monkey Trunks Adventure Course and Ziplines with challenges for both kids and adults. The big kids can tackle the larger course while the little monkeys stay closer to the ground with obstacles just right for their age and ability.
6. Combine fun with learning at the Squam Lakes Natural Science Center where kids can "meet" black bears, bobcats and raptors in interactive exhibits. Spend the day hiking the trails then hop on one of the Squam Lake Cruises to get a peek at a neighboring lake.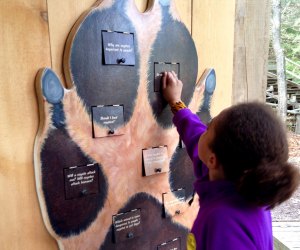 Squam Lakes Natural Science Center has lots of hands-on activities for kids to connect with nature. Photo by Tara D. Jackson.
7. Locals start filing into George's Diner for hearty breakfasts just after it opens at 6am, but you don't have to get there that early to enjoy the home cooked food fit for the whole family.
8. There are a lot of places to hike in New Hampshire, but they're not all kid-friendly. Near Lake Winnipesaukee you'll find West Rattlesnake, a hiking spot for even the littlest family members that also boasts spectacular views.
9. Stock up on fresh fruits and vegetables, homemade cookies and pies, or cider doughnuts at Moulton Farm, a beautiful working farm in Meredith on the way to Center Harbor. The weekly outdoor farm-to-table brunch buffet is fun for the whole family.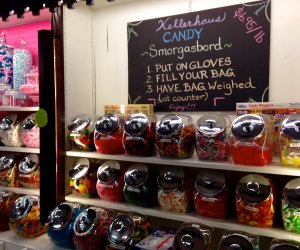 Kellerhaus is a favorite sweet stop for families. Photo by Tara D. Jackson
10. It's not summer without ice cream. Luckily, the Lake Winnipesaukee area has plenty on offer. A favorite for more than 100 years is Kellerhaus in Weirs Beach, which is also a popular place for penny candy (some are partial to Liliuokalanis, also at Weirs). Or, snag a scoop at Town Docks in Meredith and eat it next to Lake Winni; when it Wolfeboro, hit Bailey's Bubble.
11. Take in gorgeous vintage and antique boats at the New Hampshire Boat Museum in Wolfeboro (reopening June 29, 2019 after renovations). The museum has special activities to keep kids interested and has a replica of an antique wooden boat available for rides.
12. Hop aboard the Winnipesaukee Scenic Railroad for a stunning ride from Meredith to Laconia along the shores of the lake. Its historic roots means it has access to a lot of lakefront you might not otherwise see.
13. The setting for the Lakeside Deli is picture-perfect and the food is good enough to match. Take your sandwiches out to the porch or picnic tables for lunch at the lake.
14. You'll probably hear loons calling out at night during your visit to Lake Winnipesaukee and you can learn more about them at The Loon Center in Moultonborough. Take the walking trails through the sanctuary to enjoy this pristine, protected part of the lake.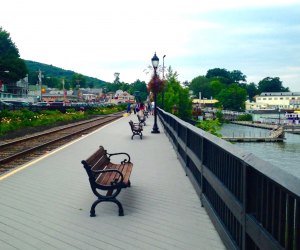 Kitschy and family-friendly, the Weirs Beach boardwalk is a popular attraction. Photo by Tara D. Jackson
15. Whether you spend the day in the sand, stroll the boardwalk or come for the fireworks, Weirs Beach is a can't-miss stop on your Lake Winnipesaukee trip. It's pure kitsch at its best.
16. Challenge your whole family to a round of mini-golf at Pirate's Cove in Weirs Beach. The course is fun and accessible for all ages.
17. Swimming in Lake Winnipesaukee is a rite of passage for kids who live in or visit the Lakes Region. One of the best spots to cool down in these clean waters is at Ellacoya State Park in Gilford, which is also a great place to picnic and even camp.
18. In the winter, Gunstock Mountain is home to some of the best skiing near Lake Winni. In the summer, you can stay active at the Gunstock Mountain Adventure Park, which has ziplining, off-road Segway tours, and an Aerial Treetop Adventure Course for kids and adults.
19. One of the best ways to see the lake is from a canoe, kayak or paddleboard. There are ample places to rent them, like Wild Meadow Canoes in Center Harbor and EKAL Activity Center in Meredith.
20. Visit the historic Lucknow estate, better known as Castle in the Clouds in Moultonborough, for an aerial view of Lake Winnipesaukee that can't be beat. There are kids' activities in the mansion, a pond with jumping rainbow trout, and plenty of places to picnic.
21. Lake Winnipesaukee is no small pond; it's 21 miles long and anywhere from one to nine miles wide, so there's a lot to see. Rent a boat at one of the many marinas in the area to fully explore the big, beautiful lake.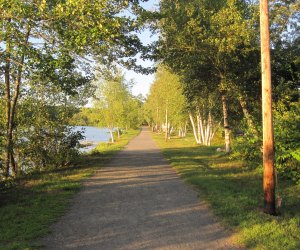 The Cotton Valley Rail Trail is a flat, easy trail for hiking or biking (and strollers). Photo courtesy of VisitWolfeboro.com
22. Walk, run or bike the Cotton Valley Rail Trail, which starts in Wolfeboro and runs for 11 miles into Wakefield.
23. Take a trip back in time when you head to the Weirs Drive-In Theater for a showing of the latest flick. It's throwback fun at its best.
24. New York may be the bagel capital of the East Coast, but Winnipesaukee Bay Gulls serves up a pretty delicious version. Bagels are baked all day so they're always fresh and delicious.
25. One of the quintessential summer activities on the lake is fishing, whether it's from a dock or a boat. You just need a pole and some bait to get the bass biting.
---
Places featured in this article:
---
Lake Winnipesaukee
---
Weirs Beach
---
Ellacoya State Park