Weekend Getaway: Outdoor Family Fun in New Hampshire's Lakes Region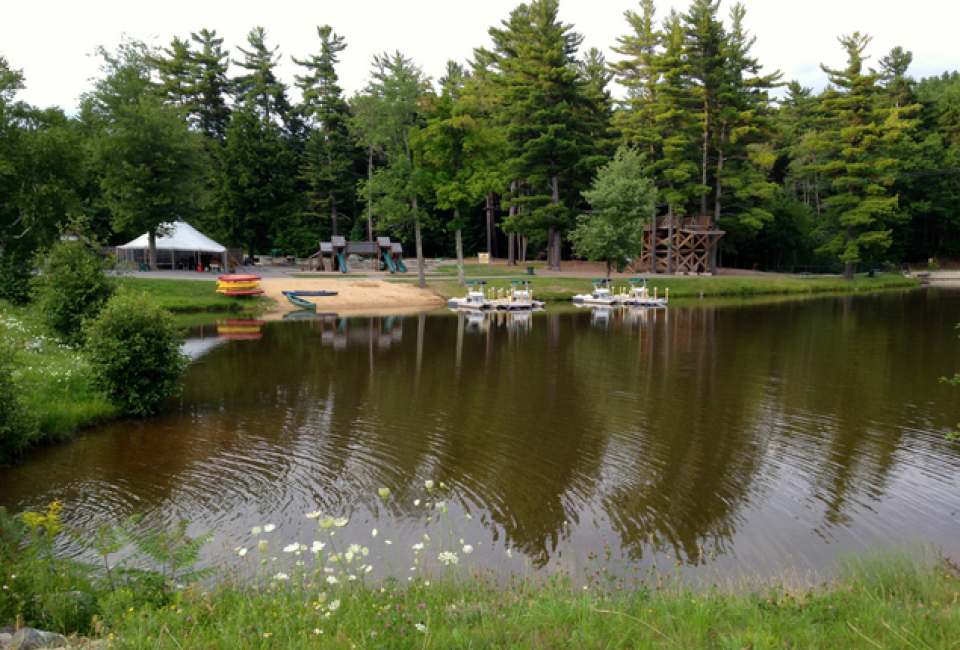 4/24/15
- By
Tara D
The Lakes Region of New Hampshire is well known for its wintertime skiing and snow sports, but it morphs into a lush paradise for nature lovers and thrill seekers during the other three seasons. Breathtaking views greet you at every turn, and the whole region becomes one big adventure playground for kids and adults alike.
Charming waterfront towns on Lake Winnipesaukee and its eight neighboring lakes comprise the Lakes Region, and each has something special to offer visiting families. Outdoor fun abounds, from hiking to zip-lining, animal encounters to drive-in movies. When the weather sends you running for cover, there are lots of great restaurants, unique shops, game-filled arcades, and even a "castle" with a secret room.
Here are some of the top things to do during your Lakes Region family getaway, with options for every age and interest—but don't try to do it all in one go. There's so much to experience at each stop, and once you've discovered the magical pull of New Hampshire's lakes, your family will likely want to return again and again.
Gunstock Mountain – Gilford
719 Cherry Valley Road, Gilford, NH 03249 | 603-293-4341 |
When it comes to outdoor family adventures, Gunstock Mountain has it all. Hike the base of the mountain for an easy, pleasant workout. Or, kick it up a notch by ascending the mountain on foot, which is decidedly more challenging but reaps bigger rewards. For pure fun and a serious adrenaline rush, get a Discover Pass and spend the day in the Discover Zone (open seasonally). Scenic lift rides, catapulting off a ramp and onto a giant air bag, summer tubing, kayaking and paddle boating, climbing, jumping, slack-lining, and water gun fights are just some of what's on tap. Older kids (ages 10 and up) and adults might want to try the exhilarating zip-lining course, and Aerial Treetop Adventure Courses are available for both children (ages 6-11) and adults. When the whole family is worn out from the day's adventures, sleep can be as close as a few hundred feet away; Gunstock also offers camping.
Lockes Hill Trails, Kimball Wildlife Forest – Gilford
Off Route 11 in Gilford. From I-93, take Exit 20 (Route 11) East. The trailhead and parking area are on the right side of Route 11, approximately 3 miles past the Laconia Airport.
We discovered the trails in the Kimball Wildlife Forest by happenstance, and we're very glad we did. (We were actually looking for Kimball Castle, which, as it turns out, is privately owned.) The hikes are fairly steep, but they're short, and the various mushroom sightings alone make it well worth the effort. Take the Lakeview Trail for—you guessed it—terrific lake views.
Laconia Cactus Jack's Grill & Watering Hole – Laconia
1182 Union Avenue, Laconia, NH 03246 | 603-528-7800 |
Cactus Jack's, a small New Hampshire restaurant chain (and brother to T-Bones) offers a fun, kid-friendly atmosphere. The food is made to order and is served up fast and fresh.
Weirs Beach – Laconia
Laconia, NH 03249
There's a lot to draw families to Weirs Beach, including a boardwalk with gorgeous views of Meredith Bay, a small beach at Endicott Rock Park, Weirs Drive-In Theatre, arcades, ice cream shops galore, and rental cottages. Also, there are public restrooms on the boardwalk, which is a big draw for my family!
Giuseppe's Pizzeria & Ristorante – Meredith
312 Daniel Webster Highway, Mills Falls Marketplace, Meredith, NH 03253 | 603-279-3313 |
Located in the beautiful Mills Falls Marketplace, Giuseppe's is our new favorite place for gluten-free pizza. The crust is surprisingly filling and the options for toppings are inventive and tasty. The nightly entertainment and homey atmosphere, complete with chocolate milk served in jars, round out the dining experience. After your meal, give yourself plenty of time to walk around Mills Falls Marketplace, where Lee's Candy Kitchen beckons and the landscaping makes it feel more like a park than a shopping center. (And there's a reason it's called Mills Falls!)
Squam Lakes Natural Science Center – Holderness
23 Science Center Rd, Holderness, NH 03245 | 603-968-7194 x12 | Open May through October |
To get close—but not too close—to the native animals of the region, visit the Squam Lakes Natural Science Center. Start at the Introductory Exhibit in the Trailhead Gallery, and then meander the trail through open meadows, mature forests, and marsh boardwalks. It all connects to interactive natural exhibits where kids and adults experience hands-on learning. The Life Underground exhibit, with its human-size chipmunk burrow to travel down, was a big hit with my kids, as was the Gordon Children's Center. It's always hopping with children climbing through the giant spider web, inventing insects, crawling through the underground tunnel, and listening to nocturnal animal sounds—and learning a whole lot about the natural world without even realizing it. Along the trail, there are black bears, mountain lions, deer, raptors, river otters (try to catch them at feeding time), and bobcats (oh, my!).
For some peaceful, contemplative time, escape into the lovely Kirkwood Gardens or one of the three hiking trails. There's also a nice gift shop and a cafe at the Science Center. The Lake Explorers Family Cruise sounds like a winner and is very affordable, especially if you get combo tickets.
Castle in the Clouds – Moultonborough
Rt 171, 455 Old Mountain Rd., Moultonborough, NH 03254 | 603-476-5900 | Open weekends only in early May; open daily June through October |
Carve out a good chunk of your day for a visit to Castle in the Clouds (which really isn't a castle at all). On your drive up the mountain, there are multiple stops for walks in the woods, rushing waterfalls, and overlooks with magnificent views. Parking is at the Carriage House, where you can step into the Lodge to enjoy the small art gallery and an outdoor patio with gorgeous views, have lunch at the Carriage House Restaurant, and take a bathroom break before boarding the tram to the house. It's easy to imagine the tram as a time machine taking you back to 1914 and letting you snoop around the home of Tom and Olive Plant. It's like visiting Downton Abbey, American-style. There's a scavenger hunt for kids that helps them notice things they might not have given even a passing glance to (Mr. Plant's secret reading room was my family's favorite). From inside the house you can get a glimpse of the marvelous views through the windows, but when you step outside, the vista of Lake Winnipesaukee and the mountains in the distance are breathtaking.
If you want to skip the house and just enjoy the land's natural wonders, there is free access to the Castle in the Clouds Conservation Area's 16 hiking trails. Whether you visit the house or not, be sure to stop at Shannon Pond before you leave. The kids will love tossing food from the fish feeders and watching supersize rainbow trout jump out of the water to catch it. If your children are hankering for a snack of their own, Cones in the Clouds is nearby and ready to dish out ice cream, hot dogs, and other kid favorites during the summer season.
---
Click Here to Sign Up!