Santa Anita Park Spring Carnival
Santa Anita Park

KidStock
Pretend City Children's Museum

Artificial Intelligence with Scratch Online Camp
Young Gates - Kids Online Personalized Classes
Sign up for our free newsletters.
Rose Bowl Flea Market with Kids: You Can Do This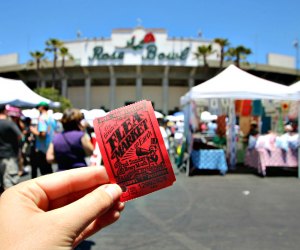 5/9/18
- By
Lindsey Hunter Lopez
Pasadena is home to one of the world's most famous outdoor markets—a destination both tempting and daunting to bargain hungry parents. But guess what: a Sunday morning at the Rose Bowl Flea Market doesn't have to mean dragging bored, sweaty, whining kids around rows and rows of breakables. A treasure-hunting expedition can be fun for the whole family! Picking through this renowned Pasadena flea is my absolute favorite thing to do, and, while I sometimes go solo so I can focus on finding great vintage decor and clothes, my toddlers and husband enjoy coming along, too. It just takes a little bit of refocusing to make this LA must-do locale a family-friendly day out.
Held every second Sunday of the month, The Rose Bowl Flea Market is a huge draw, featuring more than 2,500 vendors each month. A Pasadena institution for nearly half a century, the flea attracts around 20,000 shoppers each month, which are theme park-sized crowds. There's new merchandise—like the booth of big-eyed Beanie Boos—as well as arts and crafts, linens and home decor, antique items, vintage, and even just plain old second-hand. From succulents to baby cribs, you can find it all. Most people I know come for the antique home items, furniture, and vintage clothes, but the reasons for hitting this market are as varied as the people who hit it.
So, how to navigate with young kids?
Strollers
The biggest tip is a no-brainer: bring a stroller, wagon, carrier, or whatever your preferred method of transporting and restraining children. (Note that while a wagon sounds tempting, it can be tough to maneuver around a Rose Bowl crowd.) We usually take a double stroller—not the side-by-side, though, because those don't fit down the aisles. Whatever form of kid carrier you choose, it's going to be key to enjoying your day. For one thing, it's likely to be hot (it's Pasadena, after all), and kids get tired. Plus you don't want them running free with all those fragile knick-knacks around; you break it, you buy it! So pack up the kiddos, slather them with sunscreen, and grab their water and snacks. You're off!
RELATED: 25 (okay, 30) Things To Do in Pasadena with Kids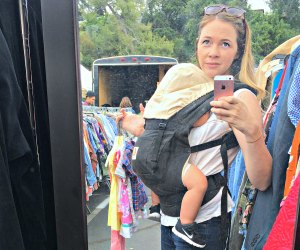 Photo by the author
Start early
Regular admission is 9am ($9/adult, kids under 12 free), but you can enter as early as 5am for $20. I like to get as early a start as possible, before it gets too hot. And I worry that all the good stuff will be gone if I get there late! (I buy for myself and also for my kids' clothing Instagram shop.) Of course, as a mom I get so little sleep that 5am is a bit of a pipe dream; we just get moving as early as we can. Arriving early also means we don't have to walk as far from the car to the entrance.
Parking
Here's some good news: parking is free! The lot at the Rose Bowl is big, though, so the later you arrive, the farther you walk. If you haven't managed to pull off an early arrival, you can pay for preferred parking closer to the entrance.
Game Plan
I like to give my kids a little bit of money to spend (it doesn't take much); that way they feel like they're part of the action. After the ticket booth, we usually head for the vintage area, to the left. A little bridge leads to the vintage clothing area, where in addition to clothes you can also find a lot of cool old toys. We generally stop for the kids to pick out vinyl figurines for $1 each, or dead stock Treasure Trolls, or 80s My Little Ponys… it's pretty much heaven. (I'm nostalgic about toys, so this part may be for me as much as them.) Once the kids have new toys to focus on, we are free to browse.
Food
Lunch time! The market has a food court area in the center of the action, so you have quite a few options. I LOVE to get bean and cheese papusas and slather them with hot sauce. There is a $3 hot dog and drink deal, too. One thing I would not recommend are the stale churros—tasty though they may look, they actually taste like cardboard! Bringing your own water helps to avoid the overpriced bottled water, or maybe go for some horchata instead. Or beer. Beer is good. And our kids love the frozen lemonade or the Hawaiian shave ice truck.
Also helpful to know
Yes, there are ATMs at the Flea Market, and no, you can't bring pets. What you probably should bring are bags, to transport all the treasure you'll be bringing home.
Finally, if the kids still have energy after all that sun and shopping, there are great parks right outside the Rose Bowl, like Reese's Retreat universal access playground in Brookside Park. If they're pooped like my little guys usually are, we just head home for nap time.
Top photo by Jordan Brown/DetourLA.com