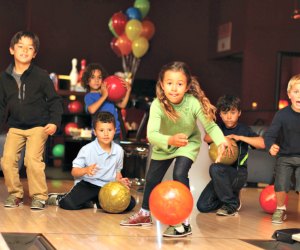 Bowling Alleys with Free and Cheap Bowling for Kids All Over LA
News flash: bowling is a really great sport for kids! My son went to a bowling alley birthday party recently that sparked an obsession with the game and opened all of our eyes to what a great family sport this is. The ingrained turn-taking structure, team camaraderie, and relaxed competitiveness offer kiddos a dose of sportsmanship at a fun pace. Accommodations like gutter bumpers and starting ramps guarantee success for even the youngest bowlers. Seriously, bowling is like the unsung hero of children's athletics. And it must have been this idea that fueled the creation of Kids Bowl Free, a fantastic nationwide program designed to give youth a constructive way to beat the heat. Read on to find out how your kids can bowl free every day this summer.
Everyone under a set age (usually under 14 or 16 decided upon by participating bowling centers) is eligible to sign up for the seasonal program, which offers two games of bowling free every day over the summer. To sign up, simply click on your alley of choice and fill out the online form.
But even without the free summer special offered at some of the alleys below, bowling is a low-cost activity geared toward the whole family. In addition to the alleys featuring the free offer, we have also included a list of other local bowling alleys to keep on your radar. Individual games typically cost $3 to $11 around LA, depending upon when you go; shoe rental adds another $3 or $4. So take a reprieve from the usual routine, and gather your family at one of these lanes this summer.
OUR LATEST VIDEOS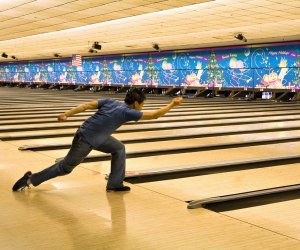 Irvine Lanes. Photo by Scott Cutler/CC BY 2.0
KIDS BOWL FREE PARTICIPANTS (Passes eligible through the end of summer)
Concourse Entertainment Center
3364 E. La Palma Ave.
Anaheim, CA, 92806
(714) 666-2695
This up-to-date alley is participating in Kids Bowl Free. It also offers Cosmic Bowling and a live DJ on Friday and Saturday nights.
Corbin Bowling Center
19616 Ventura Blvd.
Tarzana, CA 91356
(818) 996-2695
This bowling alley in the West Valley is very kid-friendly and old school, with a decent redemption arcade. It's participating in Kids Bowl Free this summer.
Fountain Bowl
17110 Brookhurst St.
Fountain Valley, CA, 92708
(714) 963-7888
The 60-lane bowling alley takes part in the Kids Bowl Free plan.
Gable House Bowl
22501 Hawthorne Blvd.
Torrance, CA 90505
(310) 378-2265
Solar panels help power LA's only green bowling alley, and the area's fanciest. The establishment offers laser tag as well. Kids Bowl Free.
Gage Bowl
3477 E. Gage Ave.
Huntington Park, CA 90255
(323) 587-3211
This weathered, inexpensive center is open for bowling as late as 1:30am and houses several pool tables as well. Kids Bowl Free.
Harley's Simi Bowl
480 E. Los Angeles Ave.
Simi Valley, CA, 93065
(805) 526-4212
Offering the Kids Bowl Free plan. Harley's also features Cosmic Bowling, as well as, Family Bowling nights, College Nights, and Dollar Nights.
Harley's Valley Bowl
5255 Cochran St.
Simi Valley, CA, 93063
(805) 584-2695
It too allows the younger set to keep bowling through Kids Bowl Free, and offers Cosmic Bowling for families.
Irvine Lanes
3415 Michelson Drive
Irvine, CA, 92612
(949) 786-9625
Kids can keep bowling through the Kids Bowl Free plan through the end of summer.
Matador Bowl
9118 Balboa Blvd.
Northridge, CA, 91324
(818) 892-8677
Kids can cash in their two free games per day among the matadors of Northridge. They are also a part of the Kids Bowl Free offer.
Pinz Bowling Center
12655 Ventura Blvd.
Studio City, CA 91604
(818) 769-7600
A family favorite in the Valley with 32 lanes, a full arcade, and free parking, Pinz is participating in Kids Bowl Free.
Winnetka Bowl
20122 Vanowen St.
Canoga Park, CA 91306
(818) 340-5190
You'll find comfort food in the cafe of this traditional alley, offering cheap bowling made cheaper by Kids Bowl Free.
OTHER FAMILY-FRIENDLY ALLEYS (not in Kids Bowl Free program)
Westside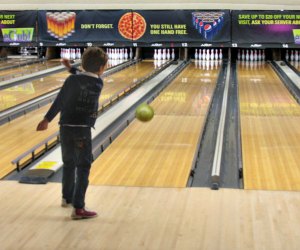 Bowlmor Santa Monica. Photo by Jeremy Miles/CC BY 2.0
Bowlmor Santa Monica
234 Pico Blvd.
Santa Monica, CA 90405
(310) 399-7731
AMF is known for its old-school and well-kept bowling alleys. This one takes up prime real estate three blocks from the beach in Santa Monica. A favorite spot on the northern Westside, and has summer games specials on their website.
Bowlero Mar Vista
12125 Venice Blvd.
Los Angeles, CA 90066
(310) 391-5288
Another traditional bowling experience that's a little cheaper than Santa Monica. A large, free parking lot is a bonus, and it has summer games specials on their website.
Bowlero Los Angeles
8731 Lincoln Blvd.
Westchester, CA 90045
(310) 670-0688
This is the biggest bowling alley on the Westside with 32 lanes, and it has a decent diner attached. As with the other Bowlero locations, visitors can take advantage of summer games specials on their website.
Eastside
Lucky Strike Hollywood
6801 Hollywood Blvd.
Los Angeles, CA 90028
(323) 467-7776
The Lucky Strike name is synonymous with trendy, modern bowling alleys. This one, at the Hollywood and Highland complex, started it all. Good food and artwork by local artists help raise the bar here.
Lucky Strike Downtown
800 W. Olympic Blvd.
Los Angeles, CA 90015
(213) 542-4880
A virtual duplicate of the Hollywood location, it's situated across from the Staples Center at LA Live.
X Lanes LA
333 S. Alameda St., Suite 300
Los Angeles, CA 90013
(213) 229-8910
Housed on the third floor of a mall in Little Tokyo, this new modern alley gives Lucky Strike a run for its money, boasting a large arcade and gluten-free pizza on the Italian menu.
Shatto 39 Lanes
3255 W. 4th St.
Los Angeles, CA 90020
(213) 385-9475
Koreatown's place to bowl serves a melting pot of mid-city patrons. It's worn and weathered, and possibly the cheapest bowling in LA.
All Star Lanes
4459 Eagle Rock Blvd.
Los Angeles, CA 90041
(323) 254-2579
The old mid-century exterior matches the interior of this quirky joint in Eagle Rock that has a Chinese restaurant inside.
AMF Beverly Lanes
1201 W. Beverly Blvd.
Montebello, CA 90640
(323) 728-9161
Along with ping pong, an arcade, pool tables, and air hockey, this 36-lane bowling alley is offering summer games specials on their website.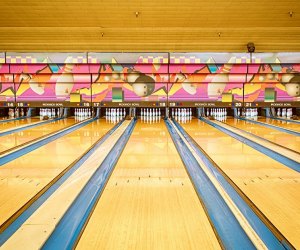 Pickwick Bowl
The Valleys
Bowlero Woodland Hills
23130 Ventura Blvd.
Woodland Hills, CA 91364
(818) 225-7181
These clean and spacious lanes in the clean and spacious West Valley offer everything one expects from a traditional bowling alley. Bowlero has summer games specials on their website.
Bowlero Arcadia
400 S. Baldwin Ave.
Arcadia, CA 91007
(626) 264-9750
The 35-lane bowling alley also offers a sports bar and an arcade, as well as, summer specials on their website.
Pickwick Bowl
921 Riverside Drive
Burbank, CA 91506
(818) 845-5300
This is a clean, well-kept establishment within Pickwick Gardens (which is also home to an ice skating rink). Expect inexpensive, traditional bowling, easy parking, and a pleasant walk around the gardens.
Jewel City Bowl
135 S. Glendale Ave.
Glendale, CA 91205
(818) 243-1188
Families seeking old-school bowling with some of the latest amenities will appreciate the recent renovation done to this classic bowling alley. Service rates high, and it's a popular children's party spot for local folk.
Montrose Bowl
2334 Honolulu Ave.
Montrose, CA 91020
(818) 249-3895
The truly old old-school manual scoring system (i.e., pencil and paper) set against music playing from a cool electronic touch-screen jukebox makes this little spot noteworthy.
Bowlmor Pasadena
3545 E. Foothill Blvd.
Pasadena, CA 91107
(626) 351-8858
The electro-hip bowling alley offers 31 lanes, an all-new interactive arcade, a discounted summer pass, and summer specials on their website.
Brunswick Zone West Covina Lanes
675 S. Glendora Ave.
West Covina, CA 91790
(626) 960-3636
This 56-lane bowling alley also features an arcade and air hockey. Brunswick Zone offers summer specials on their website.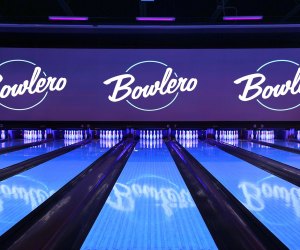 South Bay/Southeast
Bowlero Torrance
21915 S. Western Ave.
Torrance, CA 90501
(310) 328-3700
The huge, 40-lane bowling alley offers traditional ambiance at a low price, as well as a discounted summer pass and summer specials on their website.
AMF Cerritos Lanes
18811 Carmenita Road
Cerritos, CA 90703
(562) 924-9363
With 40 lanes, the bowling alley is offering a discounted summer pass and summer specials on their website.
Orange County
Bowlmor Orange County
2405 Park Ave.
Tustin, CA 92782
(714) 258-2695
The upscale, 30-lane electro-cool bowling alley is at The District at Tustin. Bowlmor offers a discounted summer pass and summer specials on their website.
Bowlmor Anaheim
400 W. Disney Way
Anaheim, CA 92802
(714) 783-2810
The bowling alley offers 41 lanes of electro-cool blacklight bowling at Anaheim GardenWalk. As with other Bowlmor locations, visitors can enjoy a summer specials on their website.
AMF Carter Lanes
1501 S. Lemon St.
Fullerton, CA 92832
(714) 526-7725
The 40-lane bowling alley is offering and summer specials on their website.
Top photo courtesy of Lucky Strike. All others courtesy of venue unless otherwise noted.
Originally published May 20, 2013