KidStock
Pretend City Children's Museum

Artificial Intelligence with Scratch Online Camp
Young Gates - Kids Online Personalized Classes

Online Robotics Camp
Young Gates - Kids Online Personalized Classes
Sign up for our free newsletters.
All New MB2 Entertainment in Santa Clarita is a Family Fun Center Gem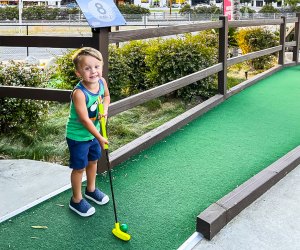 8/7/22
- By
Kylie Williams
During my childhood, Santa Clarita was home to Mountasia. It was your typical family fun center with a 90s vibe. We're talking fluorescent lights, multi-colored, ugly carpeting, hokey prizes, and purple walls. I loved it. During COVID, the lack of business put it under, and this Valencia mainstay closed for good.
Thankfully, MB2 swooped in and saved the day. The company acquired the Valencia property and spent months recreating it into something cool and new, while retaining that classic family fun. What has emerged is my favorite new place to bring my kids for a whole day of fun. Spend the day with bumper boats, go karts, bowling, VR, arcade games, laser tag, axe throwing, mini golf, and more. Read on for what to expect and more tips about visiting the new MB2 Entertainment in Santa Clarita.
If you need to keep kids from climbing the walls at home, check out the best rock climbing gyms for kids and top mini golf courses in Los Angeles! Find all this and more in our Los Angeles Guide to Sports Centers, Gyms, and Fun Zones.
Subscribe to our newsletters to get stories like this delivered directly to your inbox.
Mountasia has officially reopened as MB2 Entertainment and, to put it simply, it is cool. It's the type of place where you could have a bachelor party, meet some adults for drinks, or take your kids mini golfing and on the bumper boats. There's industrial furniture, raw shiplap walls, neon signs, and twinkling garden lights.
When you enter, you are greeted by a queue leading to the front desk. You can add credits onto a play card if you're planning to make your way around the center, or purchase activities individually (which is what we did!).
The front desk doubles as the counter for a walk-up service restaurant on the property with incredible hand-tossed pizzas, burgers, wraps, fries, milkshakes, and wings.
RELATED: Best Centers and Arcades for Virtual Reality in Los Angeles

Duckpin bowling has smaller pins and smaller balls and is great for kids!
Things To Do with Kids at MB2 Entertainment
When we arrived, my boys were mesmerized by the duckpin bowling. At only $5 per game per person, it was hard to say no. This casual way of bowling doesn't require those questionable rental shoes and uses smaller balls than your average alley. The boys loved it and one round lasted us about 45 minutes. (Editor's note: If you grew up in New England, you know all about the duckpin and this feature alone will make a visit to MB2 Entertainment worth a trip to Santa Clarita!)
RELATED: Rock Climbing Gyms in Los Angeles Where Kids Can Climb the Walls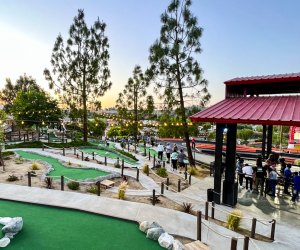 36 holes of mini golf means you can play all day. Photo courtesy of MB2 Entertainment
After our bowling venture, we headed outside for mini golf. We played all 36 holes of the immaculate golf course. The holes are creative, challenging, and varied—for both kids and adults. There are no hokey windmills to hit through or obstacles to dodge, though one hole did take us through a cave. It was easy enough for my boys to move quickly, but challenging enough to require their focus.
We didn't make it onto the go karts, but they sure did look like fun. Kids can ride alongside an adult in the kart if they are at least 4 years old and 40 inches tall. They must be 12 years old and 57 inches tall to drive an adult kart, but can operate a junior kart at 48 inches tall. MB2 has two tracks: a longer race track and a compact drift track for people who get a thrill from spinning sideways.
RELATED: Best Mini Golf in Los Angeles for Kids

The bumper boats are loads of fun on hot days! Photo courtesy of MB2 Entertainment
More Things To Do at MB2 Entertainment
Other attractions at MB2 include axe-throwing (must be 18 or older to play), a golf simulator, more than 65 arcade games, laser tag, virtual reality games, and bumper boats. The bumper boats look like loads of fun on hot days!
RELATED: The Best Sports Centers, Gyms, and Fun Zones for LA Kids
More than 65 arcade games means there's something for everyone.
As for the restaurant: There is ample seating for diners to the left of the entrance, but if you really want atmosphere, head outside. On the terrace overlooking the racetrack, MB2 installed a beer garden with outdoor games like Jenga and cornhole, all set under cooling misters. It's a great place to relax with food and drink while kids keep playing—and racing back to the table for french fry breaks!
Overall, the new vibe, great prices, and varied attractions made our night at MB2 a win. We stayed out way too late (they are open until 11pm on weeknights at midnight on weekends!). I may have had some groggy kids the next morning, but it was worth it to check out this new gem. MB2 also does parties and large groups; it's the perfect place to gather and celebrate a birthday or special occasion.
RELATED: Best Indoor Playgrounds in Los Angeles
Beyond those red doors a day of fun for the whole family awaits.
Visiting MB2 Entertainment
MB2 Entertainment is located at 21516 Golden Triangle Rd. in Santa Clarita. It is open year-round, from 11am - 11pm Sunday to Thursday, and 11am - midnight on Friday & Saturday. Games, rides, and attractions all cost a different amount of "credits" which you can load onto your MB2 Play Card for 5 credits for $1 (also available in bulk buys for savings), or you can purchase attractions individually.
Unless otherwise noted, photos by the author