Santa Clarita with Kids: 25 Awesome Things To Do in Santa Clarita, California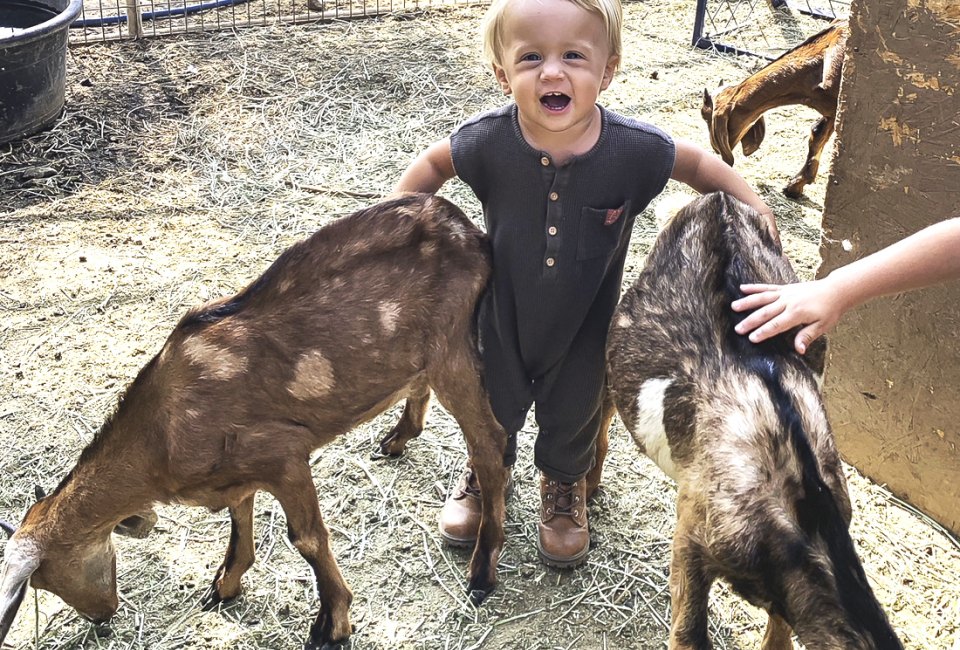 6/9/22
- By
Kylie Williams
I grew up in Santa Clarita and now, I'm raising my kids here. College-aged me would have said there were approximately 0 fun things to do in Santa Clarita and all I wanted to do was move to Loz Feliz or Silverlake and be "near all the cool stuff." But you know what? When you have three little kids, hipster coffee shops and boutique clothing stores lose their allure. Instead, you want amazing parks and fun places to take rambunctious toddlers with lots of energy. Santa Clarita has that in abundance. It's what turned me from an anti-suburbian into a lifer.
Here are 25 good reasons why you should brave the 5 freeway (but not during rush hour) and head to the SCV with your kids. For more valley fun, check out our guides to Sherman Oaks and Studio City.

There's a mini dune course for the littlest bikers. Photo courtesy of Trek Bike Park
Sporty Things To Do in Santa Clarita: 7 Recreational Gems
Are you looking for a way to get your kids moving? The Trek Bike Park in Santa Clarita is packed with trails and tracks for all ages. There are different tracks for different experience levels, including a concrete bowl and a mini dune course for the littlest bikers. The two smallest courses are strider and training-wheel friendly and there is a covered viewing area for parents. Bigger kids can challenge themselves with two bigger dirt courses, and there are wood ramps and downhill trails for advanced riders. Best of all, the park is completely free and you don't need a reservation to visit!
2. Splash and Dive at one of the Aquatic Centers
Los Angeles County Aquatic Center in Castaic has pools and a shallow splash pad and is perfect for little kiddos. This smaller center offers free entry but has very specific rules about what is allowed inside the pool area. The Santa Clarita Aquatic Center in Canyon Country is larger, with a waterworks house, a waterslide, and high diving boards. It's one of my kids' favorite places to meet friends in the summer. There is a small admission price per person.
RELATED: Fishing Lakes and Spots Where Kids Can Learn to Fish Near Los Angeles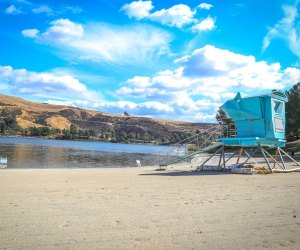 Boat, swim, and even fish at Castaic Lake. Photo courtesy of LA County Parks
Castaic Lake is stocked with trout and fishing is permitted in designated areas on the dam and at the lower lake. Anyone over 16 must have a fishing license, but kids can cast their reel without one. Lower Castaic Lake is also a picturesque spot for kayaking, paddleboarding, and swimming in the summer.
4. Hit the Trails on a Horseback Ride
Santa Clarita is a valley set in between rolling mountains, which means there are many trails in the hills for horseback riding. Oak Canyon Equestrian Center and the Santa Clarita Valley Equestrian Center are two of the many ranches where horse lovers can organize a trail ride or schedule a few lessons.
5. Shred at the Skate Parks
There are two great skate parks in Santa Clarita at opposite ends of the valley. The larger of the two is the Santa Clarita Skate Park at the George A. Caravalho Santa Clarita Sports Complex. With two clover bowls, a U-shaped half-pipe, a 10-foot square bowl, and plenty of rails and ramps, this park has everything a skater could want. There's a designated "junior rider" time on Saturday and Sunday mornings. The other skatepark is in Castaic—the Spohn Ranch Skatepark. Spohn Ranch skateparks are famous for their architectural design and attention to detail and this little park is no exception. It is my kids' favorite, as it is better suited for smaller riders and isn't as crowded.
Top Out Climbing is an 11,500-square foot facility with plenty of climbing walls and bouldering courses for kids and adults of all experience levels. Children 5 and up can take a turn on the walls, though the facility says that the courses are better suited for kids over 8. Anyone under the age of 12 must be supervised by an adult. Day passes and memberships are available.
7. Explore One of Santa Clarita's Open Spaces
The Placerita Canyon Nature Center is my family's go-to spot for a hike. There is an easy walking trail behind the nature center building that is dotted with Native American artifacts. Plaques and props educate hikers about Native American history. At the opposite end of the nature center, near the entrance, is a flat, paved walk to the Oak of the Golden Dream, a historic tree where gold was first discovered and authenticated in California. Towsley Canyon, the Quigley Canyon Open Space, and the trails at The Summit are a few other wonderful places to enjoy nature on a lovely hike through the hills.
RELATED: Best Horseback Riding and Trails for Families Near Los Angeles

Sure, there are thrills, but there's also something for everyone. Photo courtesy of Six Flags Magic Mountain
Entertaining Things To Do in Santa Clarita
You probably saw this one coming. Santa Clarita is best known for Magic Mountain. The theme park is the perfect thrill destination for teens and there is even a small kids area with mini coasters, a playhouse, a carousel, and a train. Fireworks light up the sky over Valencia in the summer and in October, thousands flock to the SCV to take part in Fright Fest. With 19 major roller coasters, this theme park is an adrenaline junkie's dream.
RELATED: 20 Things To Do with Tweens and Teens in Los Angeles They'll Actually Enjoy

Jump and swing at Trampoline Park Valencia. Photo by Brooke Ritter Photography
Got a kid that is bouncing off the walls? Here's a place where that is actually encouraged! Trampoline Park Valencia has a basketball area, a foam pit, an open jump space, a dodgeball zone, and an arcade. There's also a food court and even massage chairs for exhausted parents.
Formerly known as Mountasia, this family fun center in Canyon Country was recently purchased by MB2, a go-kart business with a bigger location in Sylmar. The new and refurbished entertainment center has bowling, mini-golf, arcade games, bumper boats, a go-kart track, axe throwing, laser tag, a golf simulator, and more.

Billy Beez is one place where you can sit back and relax while kids go wild. Photo courtesy of Billy Beez
11. Slide and Explore in a Safe and Secure Space at Billy Beez
Billy Beez is a large indoor playground with colorful slides, boppy music, a sports court, a cafe, and tunnels galore. My boys would arguably choose Billy Beez over Disneyland. They love the freedom to explore, run, climb, and slide to their heart's content. The staff keep the gates closed and each child is given a wristband, so your kids can wander without fear of getting lost. Admission is a bit pricey, but worth it for the smiles you'll get in return. Billy Beez is a chain, but the Santa Clarita location at the Westfield Mall is the only one in LA County.
12. Explore, Bounce, and Slide at Scooter's Jungle
Similar to Billy Beez, Scooter's Jungle is a playland full of slides and climbing equipment. It is a giant warehouse packed with inflatables, obstacle courses, a ping pong table, an air hockey table, scooters, and more. While Scooter's Jungle is primarily for birthday parties, the website calendar lists weekly toddler times and open play times.
RELATED: Best Water Parks Near Los Angeles for Wet and Wild Family Fun

Oh, yes, it gets hot. But we know how to cool down. Photo courtesy of Hurricane Harbor, Facebook
Hurricane Harbor is the water park connected to Magic Mountain, and it is only open during the summer. We absolutely love splashing in the kids' zones and floating around the lazy river from June to September. Bigger kids can get all of their tummy-turning thrills on the intense waterslides.
5 Santa Clarita Parks Your Kids Will Love
Santa Clarita's newest park is our family's favorite. Situated under a grove of oak trees, this park has a covered play structure, swings, and a toddler playground that is perfect for your littlest explorers. The play equipment is surrounded by turf, which I personally prefer to wood chips. My five-year-old would tell you the best feature of this park is the basketball court, with two tall hoops and two shorter hoops for tiny athletes. Also, the bathrooms are fantastically clean.
Located in River Village, this park is the site of "trail tails," a walkable storybook created by the SCV library. Start at the beginning of the trail and progress from podium to podium to read the children's book of the month. There is also a large, paved loop for scooters and bikes and a woodland-themed playground with climbing ropes, slides, and swings.
This spacious park in Stevenson Ranch is run by the LA County Parks and Recreation Department. It has one of the tallest slides we've come across in our park adventures. There are two playgrounds and a ropes course to give your kids an extra challenge. The wide fields and many trees make this a relaxing place to bring a picnic and stay awhile.
Located on a ridge with a beautiful view, this park includes the perfect, easy path for scooter adventures. There is a basketball court, two playgrounds, swings, and a fenced-in dog park.
This Santa Clarita classic is located in the heart of Valencia near the mall and a wide variety of restaurants. We love to grab lunch nearby or bring a picnic and head to this park to play on the exciting covered play structures, walk around the loop, or run around in the wide, open field.
7 Exciting Animal Encounters in Santa Clarita
19. Experience the Many Wonders of Gilchrist Farm
Gilchrist Farm is everything you want a little family-friendly farm to be. Meet baby chicks, ride a pony, pet a sheep, or milk a goat. For a bit extra, you can try your hand at axe throwing, or ride the farm train. This charming little spot has so many fun activities and seasonal festivals. A basic farm visit is only $5 and no reservation is required.

Visit the home of the original movie cowboy. Photo courtesy of William S. Hart Park
20. Visit the Barnyard or Hike to the Buffalo at William S. Hart Park
The barnyard at Hart Park is home to pigs, chickens, ducks, alpacas, horses, and deer. It is open to visitors during the day, and it's completely free! When I've got enough energy (and the Ergo baby carrier), we make the trek up the trail behind the barnyard to sneak a peek of the famous Hart bison that were originally donated to the city by Walt Disney.
21. Meet Birds of Prey and Venomous Snakes at the Placerita Nature Center
In the Placerita Nature Center courtyard, there are cages containing birds of prey including a hawk and a raven. After we watch our feathered friends, my kids love going inside to peek at the live rattlesnakes and tarantulas. The facility also has a small, interactive natural history museum with taxidermied animals that are native to the area.
Grab some quarters for the duck food dispensers and head to the Bridgeport Marketplace for some (almost) free entertainment. This relaxing setting is home to a variety of ducks and geese and my kids absolutely adore giving them an afternoon snack. Outdoor speakers pipe relaxing music into the atmosphere and the sound of the waterfall is calming as well. There are several delicious restaurants (Rustic Burger's fries are out of this world) right next to the waterfowl if you need a bite to eat.

Look at that little face. Photo courtesy of the Gibbon Conservation Center
Book a reservation to meet five friendly species of gibbons at this conservation center and learn more about gibbon habitats, conservation, and endangered species. Children must be at least 4 to take one of the tours.
While tiny, the Newhall Aquarium is full of fascinating ocean creatures. It has a playful octopus, seahorses, and a touch tank where little hands can feel starfish and other ocean dwellers. Some visitors may even get to help feed the small sharks! Visits are by reservation only and require a $5 minimum donation per person.

Talk about cute little, and not so little, faces! Photo courtesy of The Gentle Barn
25. Make Some New Animal Friends at The Gentle Barn
This darling barn exists to teach children how to show kindness and compassion to animals. The barn is only open to visitors on Sundays and you must reserve tickets in advance. Your children can meet pigs, sheep, alpacas, cows, goats, turkeys, donkeys, horses, chickens, emus, dogs, and even pigeons. Each animal has a name and a story of rescue and rehabilitation.
Sign up for the Mommy Poppins Newsletter today!
i