20 Things To Do in Sherman Oaks with Kids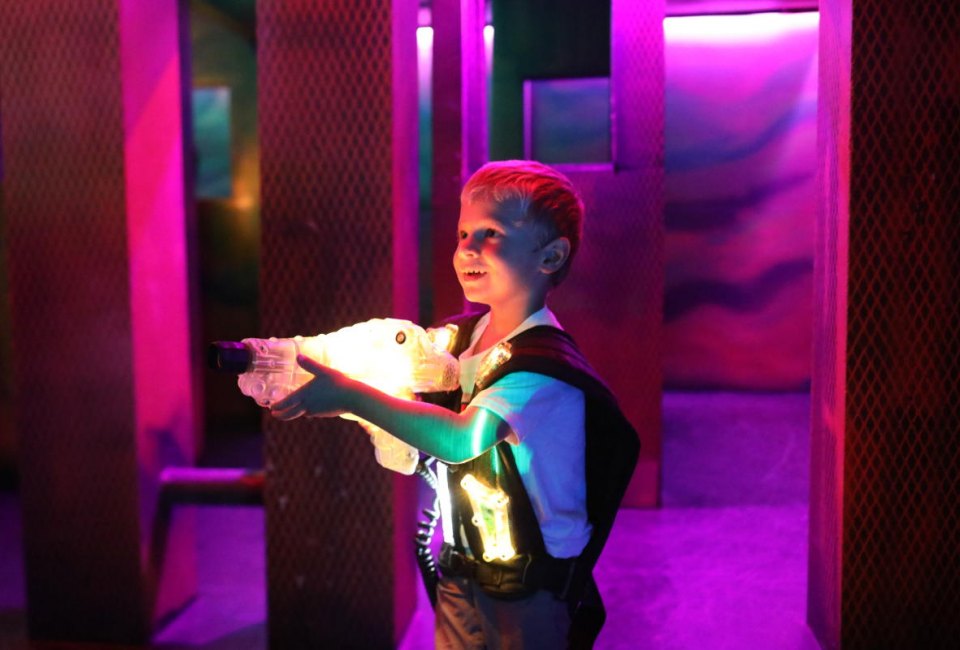 6/14/21
- By
Angela Marie Hutchinson
Sherman Oaks is one of the most popular family-friendly neighborhoods in the San Fernando Valley. It combines the best of city living (with easy freeway access to both the 405 and the 101) and small town charm with boutique shopping, cute cafés, and plenty of places for kids and families to hang out together. If you've only visited Sherman Oaks to play mini golf, it's time to plan a day trip to one of the best little towns for families in the Valley. Here are 20 places to experience and create fun memories with your kids in Sherman Oaks.
Things To Do in Sherman Oaks with Kids
If you've only been to Sherman Oaks before for one reason, it's probably this one. Sherman Oaks Castle Park is a local amusement center with miniature golf, arcades, and batting cages, and it's probably the best and biggest mini golf spot in town. This is a great location for an intimate birthday party or weekend fun with the family. It's rarely over-crowded and you can also get dinner here (if you're in the mood for kid-faves like hot dogs, pizza, and nachos!).
Ultrazone Laser Tag & Arcade is another great escape for family fun or birthday parties. Play laser tag or just chill in the small arcade that has both new and old school games. As of June 14, Ultrazone is still closed, but planning on reopening very soon, so check the website to see if it has fully reopened when planning your Sherman Oaks outing. (Editor's note: we had 3 of my son's birthday parties here because he loves it so much. They have a great party room for birthdays, and plenty of parking for guests.)
The Sherman Oaks Van Nuys Park has basketball courts, tennis courts, a running track, and two playgrounds. From swings to slides to seesaws, this park has it all and is a great place to stop and play outside if you're in Sherman Oaks to shop, snack, or for a birthday party. Another cool feature about this park is the new soccer field— so don't forget your ball for a pickup game with your family. There is plenty of open grass at this park and it's spacious enough to be a perfect place to host outdoor parties or small picnic gatherings with close friends and family. There's also a great outdoor pool (which is still temporarily closed, but hoping to open this June) at the Rec Center which is available to the public for a small fee.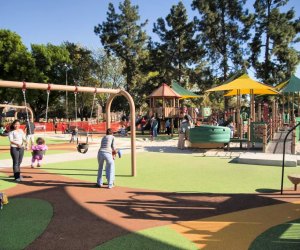 Sherman Oaks Van Nuys Park is well worth the drive. Photo courtesy of LA Dept of Recreation & Parks
Sherman Oaks Martin Pollard Branch Library is the local library with lots of reading space inside and a dedicated children's area. The library hosts storytimes, movie screenings, and readings for kids and families. In the community room there are often arts and craft DIY projects for kids to do during the holidays or for special occasions. (Check the hours of the library on the website, as they are changing as libraries reopen and expand hours.)
Take a shaded hike at Dixie Canyon Park. Photo courtesy of The Mountains Recreation and Conservation Authority
This half-mile hike is shaded, which any Valley-dweller knows is key, especially in the summer. The short length makes it perfect for kids of all ages. It's the perfect place to work up a little hunger for ice cream or shaved ice (see below for where to get those!). The trail can get overgrown, as it's a bit off the beaten path, but that's half the fun for kids. Little known fun fact: rumor has it that this little parcel of land was donated by Warren Beatty.
These music and sensory classes for babies and toddlers are some of the best in the city. For parents still cautious about venturing out, the studio is currently hosting private backyard classes and birthday parties, and plan to offer a regular schedule in the studio again, as soon as it is possible to safely fully reopen. You can also purchase really thoughtful and great sensory boxes to keep kids playing and exploring at home.
RELATED: 25 Things To Do in Studio City with Kids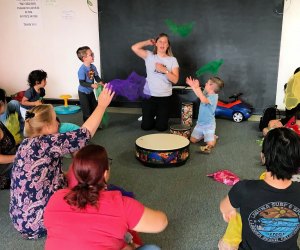 We are so excited to see where this beloved spot will reopen! Photo courtesy of The Playroom
Kids adore the bounce house, mini roller coaster, air hockey table, rock wall, ride-on toys, and ball pit at The Playroom—which is why this space made our list of the Best Indoor Play Spaces in LA. The Playroom, in its current incarnation, is still closed but we're keeping it on this list because it is relocating to a new space in Sherman Oaks this summer! So stay tuned for where and when this local favorite reopens...
The Japanese Garden is located in Lake Balboa, right next to Sherman Oaks, and if you're in the hood, it's well worth the visit. Ranked #10 out of 300 Japanese Gardens in North America, this oasis offers three beautiful gardens with waterfalls, bridges, and blooming plants and flowers. It is a great Zen break in the day for all ages from babies to tweens to stressed-out parents.
RELATED: Mini Golf in LA: Where To Play Miniature Golf or Have a Golf Birthday Party

Happy Days Cafe makes the most addictive churros (even better than Disneyland!) in town.
What To Eat in Sherman Oaks with Kids
Brian's Shave Ice & Boba is a Hawaiian-themed shave ice spot, and the perfect dessert place to stop on a hot day. (And the Valley has plenty of hot days!) The wide assortment of flavors are sized for solo drinks or sharing.
Beignet Box is a food truck often parked at the corner of Hazeltine and Ventura Boulevard during the weekends. This past April they opened up a brick-and-mortar café in Studio City, adjacent to Sherman Oaks, so if the food truck isn't out, you're just a few minutes away from the cafe (which just happens to be co-founded and co-owned by Christina Milian). The delightful soft pastries with powdered sugar are a good pick-me-up to keep you going while you explore and shop.
Yes, that Marie Callender's. While we don't usually recommend national chains, this spot is a favorite among locals in the know. What's unique about this Sherman Oaks location is the patio with colored lights, which make it perfect for kids' birthday parties or small celebrations. With free kids' meals on Tuesdays and Saturdays (with the purchase of an adult meal) plus crayons and a coloring menu to keep children entertained, this restaurant is always a hit with families.
Sports fans! Mulberry Street Pizza is known for its New York-style pizza and they often show sports games on TV throughout the day. It's a great place for older kids that are sports lovers to grab pizza while catching up on the latest game. Fast service and reasonably priced daily menu specials, plus the fact that you don't have to head to Beverly Hills (or NYC) for this very authentic NY pizza, make it a local favorite.
RELATED: The 17 Most Insane, Over the Top LA Desserts To Treat (and Wow) Kids

Craving something decadent? Photo courtesy of The Dolly Llama Waffle Master
The Dolly Llama Waffle Master specializes in homemade waffles served with ice cream and toppings of choice is why this place landed on our list of the bestest, most outrageous desserts for kids in LA. There are even vegan options for the ice cream and waffles.
Sherman Oaks Mels is the local Mel's Diner, and has been offering carhop service for the past year. Kids can explore the original jukeboxes that are available at each table, and enjoy a kids meal that is adorably presented in a cardboard car. With both typical diner food (which kids adore) and healthy food for families, there's something to please everyone. Just don't forget to get a milkshake with whatever you order.
Humphrey Yogart inside the Gelson's grocery store is a hidden gem for frozen yogurt, though the popularity of this small spot exploded when Megan Markle announced working here was her first job! For a slightly more healthy treat than a cone at Dolly Llama (although by the time kids get done with choosing custom toppings, it just might not be so healthy anymore), Humphrey Yogart is a great choice.
Happy Days Café is a quaint café with freshly baked churros, waffle churros, doughnut churros, and churro ice cream sandwiches. Actually, any churro treat can be ordered with ice cream. For parents who don't need an indulgence, there's a great selection of hot or cold coffees and teas. And if you're full from eating at all these other local faves, you can order churros to go with a selection of yummy dips to have at home later.

The trendiest tots in town shop at Little Trendz. Photo courtesy of Little Trendz
Where To Shop in Sherman Oaks with Kids
Earth 2 Comics is a specialty comic book shop for those families with kids who are superhero and comic book fans. They also have nostalgic toys, action figures, and collectible cards. It's a quaint store with a wide selection of comics, and kids are happy to browse here for hours.
Need a Tupac onesie, tutu, hipster jean jacket, or just the softest and cutest basic play clothes for the fashion-forward kid in your life? This is a shop that sources the best and the cutest, merging soft and comfy basics with trendy and fun pieces. There are also crazy cute accessories and baby gifts. Sizes run from newborn to 8Y.

Like, totally the coolest mall around. Photo courtesy of Sherman Oaks Galleria
The Sherman Oaks Galleria is a chic outdoor mall that offers boutique shopping and popular restaurant chains like the Cheesecake Factory, if your picky eaters insist on familiar food. For holidays, the mall often hosts activities for kids and families, including arts and crafts, magic shows, music and dancing, and even free giveaways and treats. If you're here on a summer Saturday, you definitely want to catch a Kids Club performance, with some of the best local kids performers around. But really, we love the Galleria for its history: It's the mall that Frank Zappa wrote about in his song Valley Girl, and it has been featured in movies like Fast Times at Ridgemont High and (obviously) Valley Girl.
The electronic store? Yup. Because it can get hot in the valley, and sometimes you need to duck into someplace with air-conditioning where everyone in the family can find something they like. While parents check out the latest in TVs and fridges, kids browse the latest technology on their own or get tutorials or product shows from the staff. Be sure to take the escalator down to the bottom level where there's an array of children's video games, board games, movies, popular toys, and movie collectibles. Sounds like a crazy pick, but keep Best Buy in mind next time you're in the neighborhood and the sun is shining and tempers are getting short.
Sign up for the Mommy Poppins Newsletter today!
i