Laser Tag: Must-Try Spots for Family Fun or Epic Birthday Parties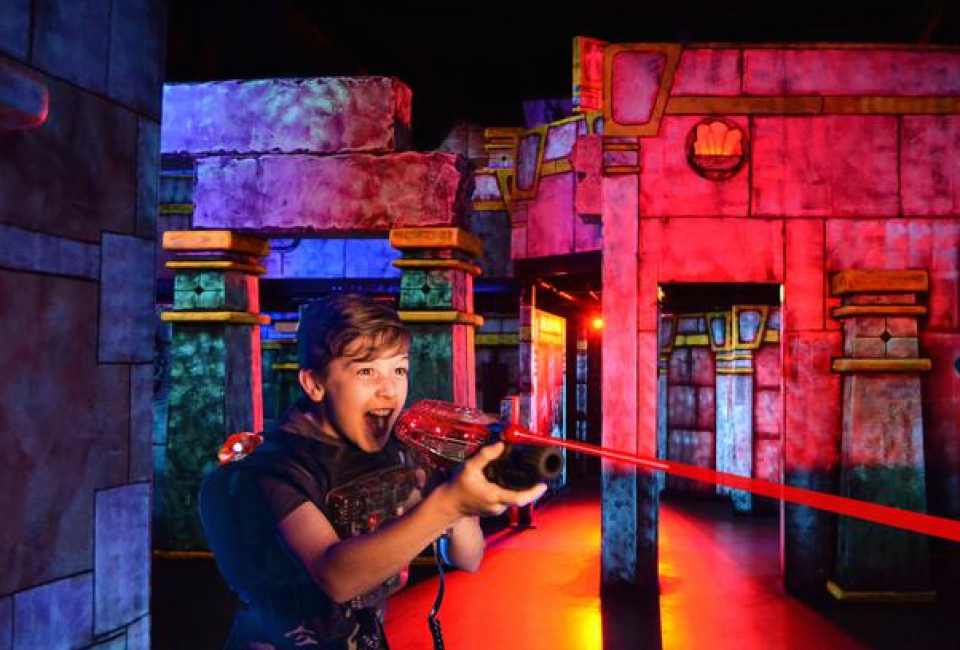 3/24/17
- By
Audrey M
Kids, teens, and adults all love laser tag. A little bit tag, a little bit hide and seek, laser tag is great fun for a mixed-age group. Video games fans can get up off the sofa and jump right inside the game, with an adrenaline rush practically guaranteed. Players wear special vests and use laser guns; the vests light up when hit (so no arguments!), and no protective gear is required—you cannot feel the laser, and it is eye-safe as well.
Some SoCal multi-activity family fun centers (of the type, for example, that might have glow-in-the-dark mini-golf) offer small versions of a laser tag game; if you've played at one of these, it's time to ramp up your game at one of the major laser tag arenas below! A dedicated laser tag center is two to four times larger than the games at family fun centers, and usually offers multiple levels. There are also fewer extra activities to pull at your wallet. Arenas are dark (the better to see the lasers) and may have other effects such as fog and sounds or music—not to mention blacklights. If you are feeling competitive, don't wear white.
Laser tag is a great activity for a birthday party, too. In case none of the arenas are convenient to you, we've also found some mobile laser tag companies who bring the guns and vests, barricades, and inflatables to you. Indoor or outdoor, daytime or nighttime, going to battle with your kids is just good, wholesome fun.
Games take 20-25 minutes start to finish, with 12-15 minutes of that being active playing time. Comfortable clothing and athletic shoes are best. You will probably be playing with other members of the general public; team sizes are determined by how many are ready to play. Generally kids should be at least 5 or 6, so they can wear the vest comfortably.
Laser Tag Arenas
Ultrazone Alhambra
231 E Main St.
Alhambra 91801
626.282.6178
Ultrazone Alhambra offers a multi-level playing arena and a variety of party pack options. Recommend ages are 6 and up, as most 6 year olds can wear the vests comfortably. For parties, outside food other than pizza is allowed; pizza must be ordered on-site.
Ultrazone Sherman Oaks
14622 Ventura Blvd #208
Sherman Oaks 91403
818.789.6620
Ultrazone Sherman Oaks bills itself as the premier laser tag location in LA. The location offers a huge variety of party options for any occasion, including lock-in and overnight events and mobile events that come to you. Recommend ages are 6 and up, but flexible.
Laser Quest Mission Viejo
27741 Crown Valley Parkway Ste 315A
Mission Viejo 92691
949.367.1421
Laser Quest Fullerton
229 E Orangethorpe Ave
Fullerton 92832
714.449.0555
Laser Quest is an international chain of laser tag arenas, with two SoCal locations. There are birthday party options, overnight and late night options, and even STEM-based science field trips designed for school groups. Be sure to sign up for the LaserQuest rewards program if you will be playing regularly! Recommended ages are 5 and up, or 48" and up (for vests to fit comfortably). Both locations also have a Key Quest Escape Room, which is recommended for ages 12 and up.
Jungle Zone
826 N Glendale Ave
Glendale 91206
818.241.2900
Jungle Zone features a jungle-themed, two-story arena. There are different party options—be aware that the only outside food allowed is cake and veggie/fruit platters for scheduled parties. The menu consists of more than just pizza, but is only available for scheduled parties; no food is available for walk-ins (which may not be a bad thing).
Lost Worlds Laser Tag
17545 Colima Rd
City of Industry 91748
626.810.8500
Lost Worlds has a huge two-story, Atlantis-themed arena, a few other small attractions, an arcade, and a cafe. Walk-ins can purchase single games of laser tag, or choose a passport option to visit the other attractions and play in the arcade. There are three birthday party packages.
Mobile Laser Tag
If you are looking to hold a laser tag party but the arena locations aren't convenient, that's OK! There are several mobile laser tag companies in the great LA/OC area, too. For these parties, you provide the location, and the company brings laser guns, barricades, inflatables, a mission commander, and whatever add-ons you select. You would be responsible for getting any necessary permits or reservations for setting up in a park or rented space—and if you need proof of insurance, just contact the company for details.
Alpha 1 Laser Tag
Anaheim 92802
714.326.5847
714.917.5849
Alpha 1's equipment includes headbands rather than the more common laser tag vests. Either day or nighttime works well. There are different party package options, and this company is especially great for military fans. While recommend ages 8 and up, 7-year-olds can play if their parents play as well.
Gamez on Wheelz
Serving OC and surrounding areas
15331 Barranca Parkway
Irvine 92618
714.442.3876
Serving Ventura County and surrounding areas
805.804.3092
A variety of indoor/outdoor laser tag packages are available, as are video game trucks. Gamez on Wheelz recommends a battlefield size of 60 x 30 feet, and natural surroundings (trees, bushes) make the game even better. Several add-on options are also available.
Party Xtreme Laser Tag
(909) 395-7674
Serving all of LA and OC, and parts of Ventura, San Bernardino, and Riverside Counties, Party Xtreme is prepared to bring laser gear to parties indoors or outdoors, in a parking lot, park, gym, or clubhouse.
Photo: Lost Worlds Laser Tag
Sign up for the Mommy Poppins Newsletter today!