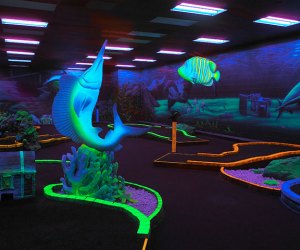 Glow-in-the-Dark Mini Golf: a Glowing Twist on a Classic Game
There's plenty to love about mini golf; it's a timeless crowd pleaser that can rescue a dull afternoon or set the stage for a great birthday party. But just when you thought you knew all you needed to know about this classic pastime, along comes glow-in-the-dark mini golf! That would be indoor miniature golf, lit with black lights. It's a whole new twist on an old-fashioned game, and it works day or night, rain or shine, little kid or teen. We found five cool spots around the Southland that crank up the day glow effects to set the stage for mini golfers. Be sure to wear white or clothes with glow-in-the-dark designs and take the family to one of these luminous, eye-popping destinations.
Glowzone
6051 De Soto Ave
Woodland Hills 91367
818.918.3964
Glowzone has a number of glowing attractions, among them 18 holes of glow-in-the-dark mini golf with a fun variety of obstacles. Other Glowzone activities include laser tag, an arcade, and a maze, all of which share the glow-in-the-dark theme. Guests can pay by individual attraction, or buy challenge passes for multiple attractions and the arcade. Another approach is an unlimited pass by the hour. There are several birthday party packages, too—in fact some attractions close to the public if booked for parties.
Howl at the Moon Glow Golf
Great Wolf Lodge
12681 Harbor Blvd
Garden Grove 92840
888.960.9653 or use chat feature on website
We've written about Orange County's indoor water park resort before; but it bears repeating that while the water park is only for overnight guests, all other attractions and restaurants at Great Wolf Lodge are open to the public. One of those attractions is 9 holes of nature-themed glow-in-the-dark mini golf. And, yes, it is possible to slip your kids down to the are that houses the glow golf, arcade, bowling, and nail spa without marching them past any water slides.
Cosmic Golf
Boomers Upland
1500 W. 7th Street
Upland, CA 91786
909.946.9555
(this location only)
The Upland Boomers location has many attractions and rides—and one of those attractions is Cosmic Golf. You can purchase rounds of Cosmic Golf alone, or buy play cards to get points that can be used on any of the activities. Under 5 plays free with paying adult. Boomers also awards kids points for As and Bs on their report cards (up to 50 points, one round of golf is 10 points)—just bring in a report card within 6 weeks of issue. Birthday party packages are also available.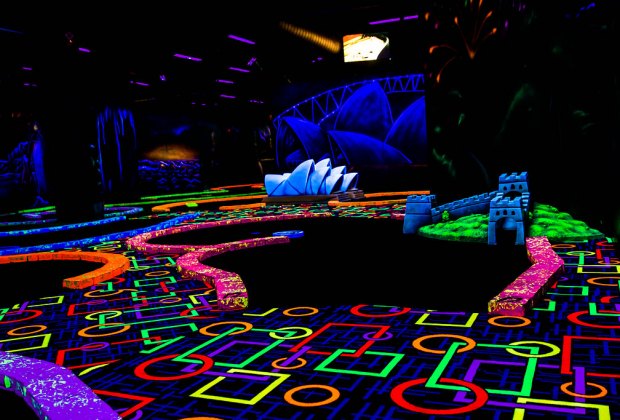 A feast for the eyes at Glo mini Golf
Glo Mini Golf
Galleria at Tyler
1299 Galleria at Tyler Ste E106
Riverside 92503
888.896.8419
Glo Mini Golf has 27 holes; your kids might actually get all the mini golf they want here! The holes have a Wonders of the World theme, and 3D glasses also available to make your experience even more eye-popping. Several golf room party packages are available (outside food and drinks are fine, or you can order pizza in-house). Glo also offers an arcade and an X-box gaming room, as well as an ice cream shop.
Glow Golf
John's Incredible Pizza Company
5280 Arrow Hwy
Montclair 91763
909.447.7777
(this location only)
The admission price to John's Incredible Pizza Company includes an all-you-can-eat buffet and a whole bunch of fun activities, including glow-in-the-dark mini golf. All games, rides, bowling, the laser maze, and arcade attractions are purchased individually using credits on your Fun Card. The Glow Golf is sea themed, to create an underwater effect. Birthday party packages are available.
Top photo courtesy of John's Incredible Pizza Company