Free (or Super Cheap) Archery Classes for LA & OC Kids Who Love Bows and Arrows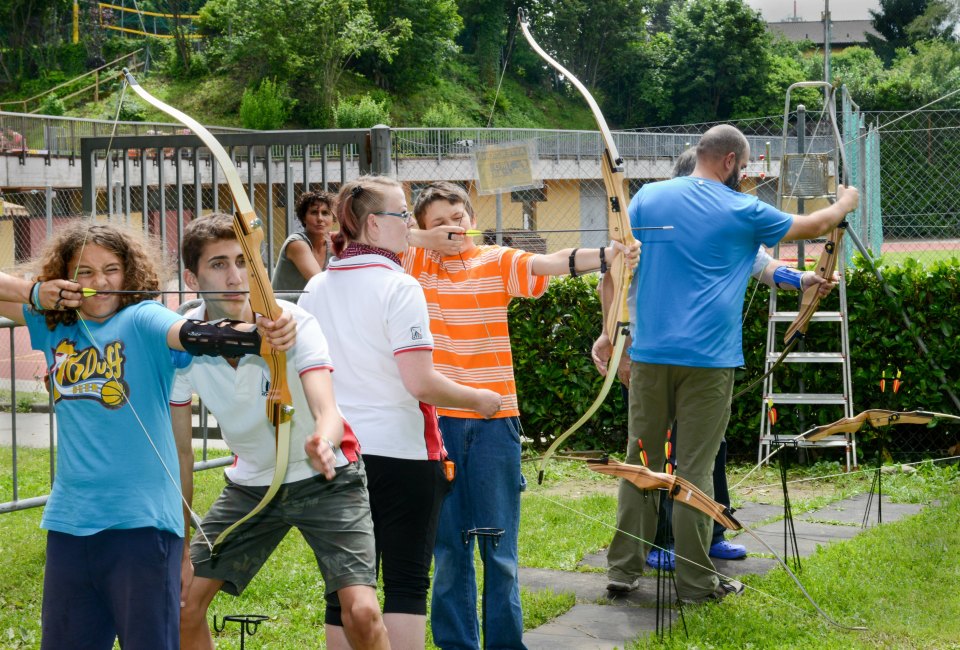 5/10/21
- By
Roberta B
Archery classes sound like something for Robin Hood, but a fair number of kids who see Brave or The Hunger Games end up curious about archery. Which means a fair number of their parents end up scratching their heads and saying, "Where do we do that??" Gymnastics classes, swimming classes—those are easy. But where to bring a would-be archer to string a bow and shoot some arrows? Less obvious, perhaps, but not as hard as you might think. And the even better news? These archery classes are usually free! (Or very low cost.)
Check our guide to the Best Kids Classes and Activities in Los Angeles for more kids' activities and programs for kids of all ages, including the best Parent and Me classes for babies and toddlers.
One of the great things about archery is that anyone can do it, at almost any age and any size, making archery classes a great activity for parents and kids to do together. Film star Geena Davis took up the sport in her 40s and found herself at the Olympic trials two years later—so no excuses, Mom! And if you have one of those kids who'd rather sit inside with Lord of the Rings or World of Warcraft, this is a great way to lure the warrior outdoors. Also, no need to take the plunge with equipment or a series of archery classes before there's a committed archer in the family; the clubs below are happy to share their bows and arrows while young archers test the waters with an introductory archery class.
Saturdays, $5 range fee donation per person
The Conejo Valley Archers provide an open public archery session every Saturday from 9am to 1pm, rain or shine (unless preempted by special events). Families interested in the sport can start with the basics in sessions led by USA Archery-certified instructors and coaches. All equipment is provided. In the interest of safety, children must be at least eight years old to participate.
Saturdays, $5 equipment fee
Long Beach has its share of armed warriors, and they sling their arrows at El Dorado Park on Saturday mornings. The beginners' class starts at 10:30am, and the more advanced folks start firing their bows at 9am. The first session is a mandatory safety class held at 11:30am, and since this class is limited to 15 participants, early arrival is recommended. Children are welcome starting at age eight, including Scouts seeking the archery merit badge.
Free by advance reservation
Beginning archery classes include the use of equipment. The 6.71-acre redesigned range, the largest of its kind in Orange County, features 24 in-line shooting stations beneath a continuous metal shade canopy, perimeter fencing, and a 20-foot safety berm. The park does have a parking fee of $3 per vehicle entry Monday-Friday and $5 Saturday-Sunday and up to $10 on holidays or for special events.
2021 Update: Public classes are on hold until further notice.
Saturdays and Wednesdays, Free
Woodley Park Archers share what they know for free in beginners' classes from 9-11am Saturdays and 6-8pm Wednesdays (except during rain). Equipment use is free during class time. Students must be at least nine years old. All participants must sign a waiver and the form is available online, and having this prepared in advance makes the first visit go more smoothly. These classes are popular and are on a first-come-first-serve basis upon your arrival at the class The club recommends arriving at least an hour early.
2021 Update: Public classes are on hold until further notice.
Saturdays, First class free
Pasadena Roving Archers have been firing arrows into hay bales in Pasadena's Lower Arroyo Seco Park since 1935. Beginners are invited to try their hand at the bow in beginners' classes offered Saturdays from 8 to 10am; advance registration is required and no walk-ups are accepted. Students are asked to arrive no later than 7:30am to be fitted for equipment. The first class, and use of the equipment, is free; subsequent classes are $10. A tip: the range can be hard to find without checking the map and directions.
2021 Update: Public classes are on hold until further notice.
These archers have a new facility at the Rancho Park Archery Range at Cheviot Hills Recreation Center. The renovated range still offers free introductory classes on Saturday mornings and the second Sunday morning per month. Taking the free class includes use of equipment and two free practice sessions during open shooting, after which a modest annual membership allows for continued use of facilities and gear. Children participating must be at least 8 years old and classes are first come, first served.
Top photo via Bigstock
Sign up for the Mommy Poppins Newsletter today!
i