Neon Retro Arcade: Pasadena's New Spot for Old Video Games & Pinball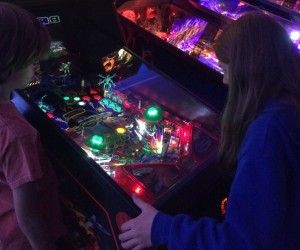 Sometimes that which is old becomes new again. While our kids certainly have their own video games, there does seem to be a certain fascination with the games that started it all: Pac Man, Donkey Kong, Frogger, and - my favorite - the super old school pinball. Books like Ready Player One by Ernest Cline riff on the quaintness of 80s gaming. In Pasadena, it is now possible to do a little time travel and experience the arcade of yesteryear at Neon Retro Arcade. We went to check it out on opening weekend.
The owners of Neon are gaming geeks who have been collecting vintage arcade machines for years. They decided to turn their passion into a business and have succeeded in creating a super cool space. It is clean, well lit, and perfectly situated near multiple coffee and dessert locations in Old Town. I confess, that as Mommy Poppins' focus is on activities for kids, it was my original intention to cover opening weekend during the day. One thing led to another, and my friend and I didn't get there with our eleven year olds until after 8pm. Having dined at a burger joint which was filled with inebriated college kids, we were a bit concerned about what we might find at an arcade. Turns out that Neon really is a family oriented space. There were families, kids, and some grown-up gamers who likely hit the arcade after enjoying a marathon of The Big Bang Theory. Next time, I'm bringing the husband and teenager.
These days, the "arcade" is a virtual concept, with much of our kids' social interaction occurring on line. I like the idea of a place where kids can hang out together and socialize in person while they play. Neon is a great place for that. I would feel very comfortable dropping my son and his friends here for an evening of nostalgic gaming. Better yet, they can take the train, an experience I did not get to have as a kid in Los Angeles.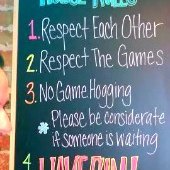 Pricing seems reasonable: $10 for an hour of unlimited play. Unlike in our childhod, the games themselves do not require money. Parents are given guest tags to wear and are not charged for accompanying their children. The seating was comfortable and, though hardly silent, the noise level manageable. There are two affordable birthday party packages available starting at $250 for ten kids, which includes unlimited games and pizza. Neon is a safe, fun place for kids and well situated near family friendly shops and restaurants - a great night out in Pasadena.
Neon Retro Arcade
28 South Raymond Avenue
Pasadena, CA 91105
Sun-Thu 12pm-10pm Fri-Sat 12pm-12am