What You're Missing If You Don't Know Bob Baker's Marionette Theater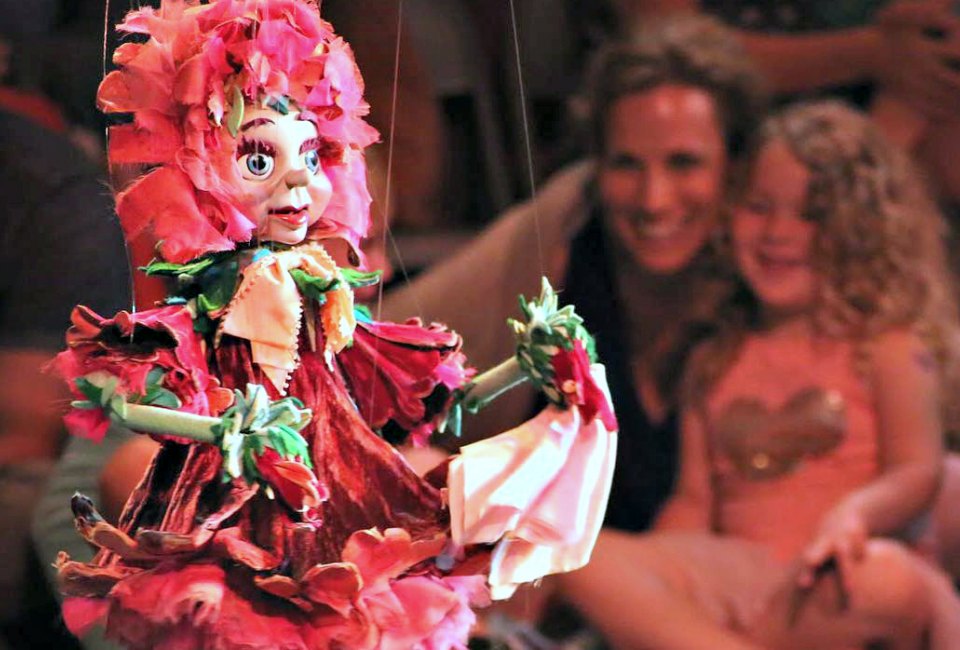 6/24/18
- By
Arianna Menon
Seeing a puppet show is not only one of the many fun things kids can do in Downtown LA, it's an experience that a child will remember for life. Here in LA we are lucky to have our local treasure, Bob Baker Marionette Theater, the oldest children's theater in Los Angeles. Although the founder passed on a few years ago, the puppets carry on his legacy, walking, running, and dancing in front of their audience—and even reaching out to little audience members to pat heads and shake hands. Put your kid's iPad away, because this slice of LA history offers real interactivity that is sure to delight.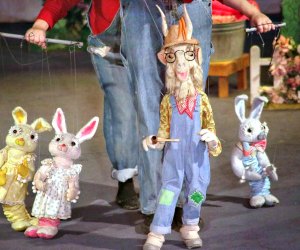 Photo courtesy of Bob Baker Marionette Theater
Bob Baker's puppeteers are not confined behind a puppet stage, but artfully maneuver the marionettes on an open stage—and children are invited to sit as close to the action as possible. I went there recently for the first time and was just as awestruck as my toddler. The show we saw, Something To Crow About, featured farm animals, trees, and flowers with human feelings and emotions, and featured a glamorous chicken, Miss Clarissa, who has just retired from the glitter of Broadway life. The characters run around like headless chickens (ha!) and sing their hearts out. It was pure, satirical fun for the parents and a fantastic world of make-believe for the little ones.
Most shows here are joyful music reviews accompanied by larger-than-life puppets created by the theater's late founder, Bob Baker. The theater debuted its first show in 1963 and counts now more than 2,000 marionettes among its inventory. Some shows revisit vintage productions and utilize the old songs and the same original puppets. Playing mostly during weekends (but sometimes on weekdays, too, especially around Halloween and Christmas), the shows' themes change regularly. There are also evening events (varying from vaudevillian comedy and European cinema to tiki and art-rock extravaganzas) which feature visiting puppeteers, jugglers, and artists. The traditional post-show party, regardless of the playing time, always includes free ice cream (and coffee for adults) and a backstage tour.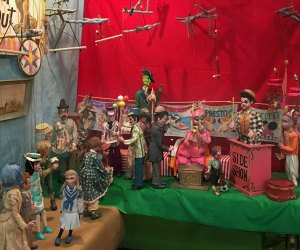 The backstage area is a wonderland in itself—half museum and half playroom, this space chronicles Bob Baker's puppetry career as well as the theater's decades-long history with pictures, posters, and memorabilia. Kids can try the art of pulling the strings and can even buy a marionette of their own. But the real treat happens at birthday parties, when Bob Baker Marionette Theater becomes a real fun fair. With the purchase of a birthday party package, the backstage area and theater get decked out with huge, festive banners, pom poms, and fans. There's a balloon festival before the puppet show inside the theater, in which the birthday boy or girl receives a gold crown and a gift. After the show, the king/queen and guests can go backstage for a marionette meet-and-greet and for a slice of birthday cake, plus lemonade, fruit punch, and ice cream.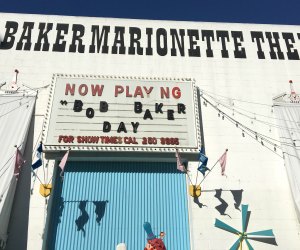 Located in DTLA at the same place where it all began, Bob Baker Marionette Theater was declared a historic cultural monument by the city of Los Angeles in 2009. If you go, plan on arriving early. Street parking is available, but limited. There is a $5 pay lot adjacent to the theater, on Glendale Boulevard. Write your license plate number or space number on an envelope for payment provided at the lot's pay box located at the entrance and enjoy the show!
Top photo courtesy of Bob Baker Marionette Theater. All others by author, unless noted
Places featured in this article:
---
Bob Baker Marionette Theater
Sign up for the Mommy Poppins Newsletter today!