Anza-Borrego Desert: Discovering California's Largest State Park
4/10/17
- By
Jennifer Fontaine
Nestled in the southeast corner of the state, California's largest state park, the Anza-Borrego Desert, is just a three hour drive from Los Angeles, and in spring it shimmers with vibrant hues of green, purple, red, blue, and yellow. From slot canyons to scenic streams and rocky hills, Anza-Borrego Desert State Park's 600,000 acres have burst forth from the drought with a dramatic, weekend-getaway-worthy superbloom that everyone is talking about.
A stop at the visitors' center is a good way to begin exploration of this lesser known of California's deserts. In addition to trail maps and road condition information, the center is also home to an award-winning educational exhibit featuring stories of the primitive inhabitants of the Anza-Borrego desert region. And it's an excellent viewing location for many native varieties of cacti, shrubs, and wildflowers.
RELATED: Death Valley in Spring: What's up with the Superbloom?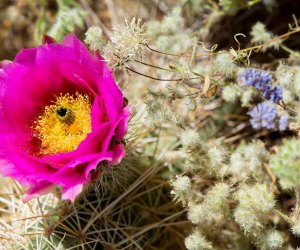 A Hedgehog Cactus in full bloom [Photo courtesy Kerem Hanci]
Borrego Palm Canyon nature trail is a popular hiking trail where the fragrant smell of wild lavender leads to a shady palm tree oasis. For a more strenuous hike, check out the Cactus Loop nature trail—a short, one-mile loop past a wide array of cacti leads to a rocky vista of spectacular desert views. Information about current blooms, if that's your focus, is available on the park website; in general, as the season progresses the bloom creeps to higher elevations. So if the desert floor is brown, head for the hills.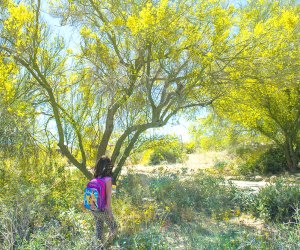 Stopping to rest under the shade of a Cottonwood tree on the Palm Canyon trail [Photo courtesy Kerem Hanci]
The desert is a particularly dramatic destination in summer, but if visiting during the hottest months yields temperatures that are just too much for an outdoor adventure, try exploring the park from the air conditioned comfort of your car. Meander the Southern Emigrant Trail (Highway S2) or Erosion Road (County Road S-22) by following the self-guided auto tour brochure, available at the visitor center. Bring plenty of snacks and water, and drink in the majestic views without sweltering.
Related: Spring Wildflower Hikes and Superblooms for SoCal Families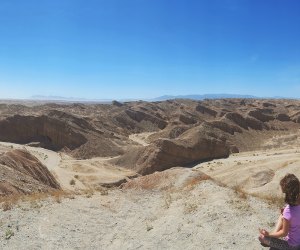 One of many scenic overlooks along County Road S-22 [Photo courtesy Kerem Hanci]
Exploring with a 4 x 4, jeep, or bike can allow access to the park's more rocky, wild landscapes; with over 500 miles of both paved and dirt roads in the park, there is always more to see. The rugged-terrain vehicle routes grant more adventurous visitors admittance to geological wonders such as Split Mountain and the Wind Caves Trailhead, as well as the Blair Valley area and the Pictograph Trail.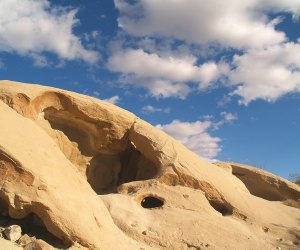 The wind caves are perfect for a game of hide and seek. [Photo courtesy Amanda Scheliga]
Know Before You Go
There are three gas stations in the town of Borrego Springs, located just half a mile from the Visitor Center; make sure to top off the tank before heading into the park.
Anza-Borrego Desert State Park contains some of the hottest temperatures in the US, so staying hydrated is important. Be sure to fill up water bottles, and have an additional reserve of fresh water in the car.
Pack plenty of snacks to keep blood sugar levels stable and tiny feet motivated on the trail.
Watch out for critters. This desert region is home to a whole host of animals including rattlesnakes, deer, coyotes, jackrabbits, and even bighorn sheep.
Dogs are not permitted on hiking trails.
Ground fires are not permitted.
RELATED: Things To Do in Death Valley National Park with Kids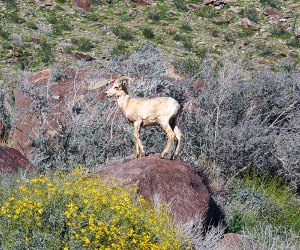 Desert Bighorn Sheep rock climbing at Anza-Borrego Desert State Park [Photo courtesy Steve Boland]
Parking
Visitor Center parking is $5; Day use parking of campground areas is $10.
Where To Stay
If you love family camping, reserve a campsite at any one of the 12 campgrounds located within Anza-Borrego Desert State Park. State park campground amenities range from primitive, backcountry sites to hot showers, and RV hookups.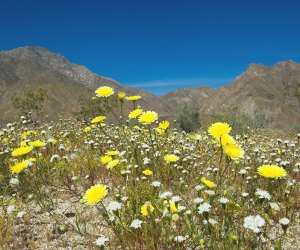 Camping in Anza-Borrego Desert State Park is most beautiful in the spring. [Photo courtesy Kerem Hanci]
Borrego Valley Inn offers convenient family lodging just 2.7 miles away from the Anza-Borrego Desert State Park visitor center. This property offers comfortable rooms with desert views, and a swimming pool, perfect for a post-hike cool down.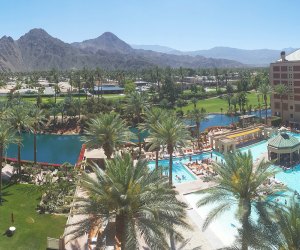 A breathtaking desert view from the balcony of the Renaissance Indian Wells Resort and Spa [Photo courtesy Kerem Hanci]
If a desert luxury experience is more your family's speed, book a few nights at the Renaissance Indian Wells Resort and Spa and enjoy a rejuvenating full body massage after a long day spent exploring the desert. Amenities include a kid's camp, beachfront pool lounging, and s'mores by an outdoor fire pit.
Top photo: A young hiker runs through a field of bright yellow Brittlebush [Photo courtesy Kerem Hanci]
Places featured in this article:
Click Here to Sign Up!
i