Night at the Museum: 5 NYC Museum and Zoo Sleepovers for Kids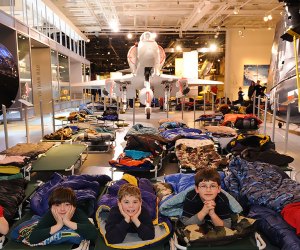 2/14/19
- By
Allison
Sleepovers are all the rage (even Governors Island has gotten into the overnight game). And while a night chaperoning a group of small night-owls might not rank high on your to-do list, kids will get a big kick out of sleeping over at one of their favorite cultural institutions. From the Bronx Zoo to the Intrepid Sea, Air and Space Museum to the new Sharks! exhibit at Coney Island, there's a museum sleepover to fit every kid's interests. And you'll earn some serious cool parent cred—some of these overnight adventures are so extravagant, they landed on our list of NYC splurges worth doing at least once.
As you might imagine, these only-in-NYC pajama parties aren't just cool, they can also be expensive, and sometimes tough to get into. So if you want to splurge on an amazing overnight experience for your child this year, book early as spaces fill up fast. Each of our picks includes meals or snacks and requires adult chaperones to take part. Note that some museum sleepovers are exclusively for scout groups, school groups, or large parties.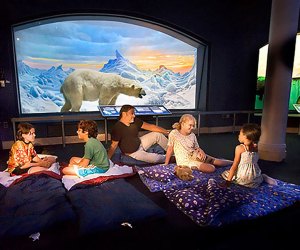 Sleep near the polar bears at American Museum of Natural History. Photo courtesy of AMNH
A Night at the Museum – Upper West Side
American Museum of Natural History
Ages 6–13, Scout nights 6-16
$150 per person for non-members and $140 per person for members; visit website for information and call 212-769-5200 to register.
The popular Night at the Museum Sleepover invites children and chaperones to explore the halls of the American Museum of Natural history after hours and then camp out in one of them. You'll head out on flashlight-fueled expeditions, catch a show in the LeFrak 3D theater, and drift off under the blue whale, in the Hall of African Mammals, or in the Hall of Planet Earth. Sleepovers include an evening snack and breakfast in the morning. Pack change for the vending machine if you want midnight goodies. Read our editor's review for more details.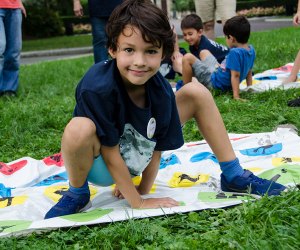 Sleep in the grassy field at the Bronx Zoo's Overnight Safari. Photo by Veronica Barnes
Family Overnight Safari – Bronx Park, the Bronx
Bronx Zoo
Ages 5 and older
$175 per person for members and $185 per person for non-members; book online
A slumber party with lions, tigers, and bears—oh my! See for yourself what the animals are up to after the sun goes down at the Bronx Zoo's Overnight Safari. Families have a front-row seat for some interesting (and perhaps noisy!) creatures. Bring your own tent to pitch on the lawn near the Zoo Center, and await your morning wakeup call, courtesy of the hungry sea lions. Price includes evening dessert, late-night snacks, and breakfast. Guests also get early-morning access to the Children's Zoo and Nature Trek. Sleepovers take place on Saturday nights. Read our editor's review for all the details, and for more zoo-themed sleepovers, consider the overnights hosted by the Queens Zoo.
Operation Slumber – Hell's Kitchen
The Intrepid Sea, Air and Space Museum
Ages 6–17
$130 per person and $99 per person for scouts; book via phone: 646-381-5010 or email: groupsales@intrepidmuseum.org
Try out your sea legs and spend a night aboard the Intrepid Sea, Air and Space Museum, docked on Manhattan's West Side. Overnight guests make like the sailors who once called the ship home and sleep on cots throughout the hangar deck. Before lights out, though, you'll be able to explore the Space Shuttle Pavilion, as well as the exhibits throughout the ship. You'll have access to unlimited flight simulator rides, watch pop-up planetarium shows, and be served dinner, snacks, and a morning breakfast. Bring your own sleeping bag, pillow, and flashlight; cots are provided.
Sharks After Dark – Coney Island, Brooklyn
New York Aquarium
Group bookings only (must have minimum of 45 participants)
Grades 5 and up
$75 per person; book via phone 1-800-433-4149 or email nyaeducation@wcs.org
Want a special experience for a school, scout, or youth group? Look no further than NYC's newest edition to the museum sleepover experience. New York Aquarium's brand new exhibit Ocean Wonders: Sharks! allows participants to discover the marine life of the Hudson Canyon with complete behind the scenes access, a live animal encounter, and fun, educational activities. Pricing includes admission, parking, all activities, commemorative keepsake, beverages, dessert, late-night snack and movie, and a continental breakfast for one person. Bring your own pillow and sleeping bag.
RELATED: Indoor Water Parks Perfect for a Warm Getaway Near NYC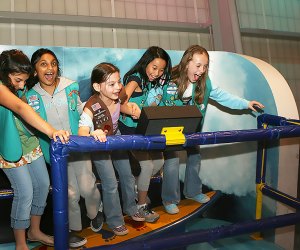 Scout troops and kids' parties are invited to an NYSCI sleepover. Photo courtesy of NYSCI
NYSCI Sleepovers – Flushing Meadows, Queens
New York Hall of Science
Open only to groups
$85 per person; book via phone: 718-699-0005 or visit the website
Make your own discovery at these overnight science parties offered to community groups and scout groups only at the New York Hall of Science. Kids grab their lab books for an evening of scientific exploration, culminating in a pajama party—complete with milk and cookies—in the 3D theater before it's time for lights out. A light breakfast is served in the morning and kids get to play in the Science Playground, weather permitting.
What to Know Before You Book
Be sure to inquire about group or member discounts.
Activities often drift into the wee hours. If you have younger children in your group, you may want to have an extra adult to go to bed when they burn out.
A museum sleepover makes a super snazzy birthday experience. Ask if your chosen venue will serve your cake during snack time for a small fee.
A version of this article first published in 2012, but it has since been updated and revised.