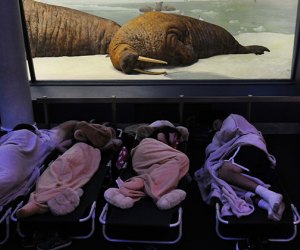 Splurge GoList: 10 Worth-the-Money Experiences for NYC Kids
While we love spotlighting all of the FREE and inexpensive activities New York City has to offer families, sometimes it's fun to toss your budget aside and splurge on an unforgettable, extra-special experience. Whether you're celebrating a big birthday, holiday, or a stellar report card, visiting on vacation, or just feel like treating your child to some amazing memories, the Big Apple is full of over-the-top options you can't enjoy anywhere else in the world. We've rounded up 10 of our favorites, from ideas to make the best Broadway shows even better, to up close and personal sporting events, to new ways to see our beloved city from the air—and beyond!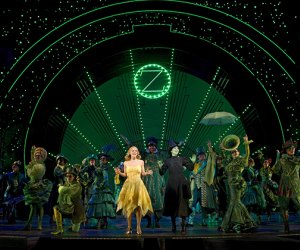 Opt for a behind-the-scenes package with Wicked for an extra special Broadway trip. Photo by Joan Marcus/courtesy of the production.
Go Backstage at a Beloved Broadway Blockbuster
There are lots of amazing, kid-friendly productions playing on the Great White Way, and buying tickets to any of them is, frankly, already a fabulous splurge. But if you want to enhance your theater outing, longtime family favorite Wicked offers audiences a backstage experience. The mega-musical's "The Wizard Will See You Now" VIP package includes a premium orchestra seat, three-course dinner, cocktails delivered to your seat at intermission, various memorabilia, and a backstage tour and photo ops with select cast members. Out of your price range? Try the much less expensive Behind the Emerald Curtain group tour, which doesn't go backstage but does offer an up-close look at some of the costumes and sets, and cast members who answer all your burning questions.
OUR LATEST VIDEOS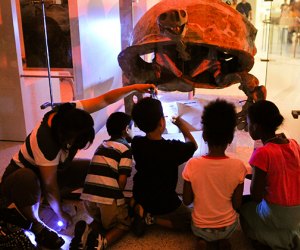 Explore fossils by flashlight with a sleepover at the Natural History museum. Photo by D. Finnin/courtesy of AMNH.
Spend a Literal Night at the Museum
Many kid-friendly NYC museums (plus a zoo and a cathedral) offer family sleepovers. You definitely need to plan in advance, because they don't happen that frequently. For young children. the Bronx Zoo's Family Overnight Safari is hard to beat. Akin to camping, this sleepover involves pitching a tent under the stars, dining alfresco and lots of supervised face time with the zoo's residents. Creature-themed sing-alongs and scavenger hunts round out the fun. If that's too outdoorsy for your city tot, try the American Museum of Natural History's A Night at the Museum Sleepover. No, the exhibits don't magically come to life like in the movie, but there's a fossil fact-finding mission by flashlight, live animal demos, a movie, snacks and you get to "sleep" inside, although don't expect a lot of slumber—kids are just too excited to nod off until the wee hours.
RELATED: Best New Party Places in NYC for Kids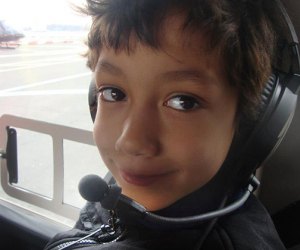 See the city from above with a helicopter ride. Photo by Jody Mercier.
See the City From an Incredible New Angle
Top of the Rock, One World Observatory, the Brooklyn Heights Promenade—there are lots of NYC spots with amazing views. And yet Lady Liberty and Manhattan's iconic skyline look even more breathtaking when your feet leave the ground on a helicopter ride. There are a handful of operators offering bird's-eye-view tours from Manhattan's three heliports. Most jaunts last only 15 minutes or so, but even natives will be stunned by this new vantage point on our city. New York Helicopter and Liberty Helicopters offer a variety of routes, and boast solid reputations.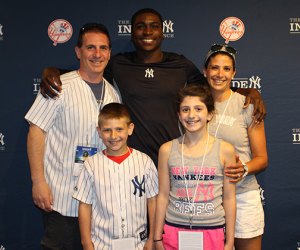 The Yankees Inside Experience lets families meet and pose with a player like shortstop Didi Gregorious (pictured), tour the stadium, and more. Photo courtesy the New York Yankees.
Get Even Closer Than Courtside
Front-row or luxury seats to a basketball or baseball game make you feel like a celebrity. But if you really want to up the game for your young sports fan, a few NYC teams offer VIP experiences that get you even closer to the action. The Yankees Inside Experience includes a meet and greet with a current team member, a behind-the-scenes tour of the stadium, a stellar view of pregame batting practice and a premium location ticket. If that package is just too out of the ballpark, there are much more affordable Yankee Stadium tours sans face time with players. Meanwhile, the Knicks and the Nets have a variety of special fan offerings, though we're partial to the Honorary Ball Kid Experience. Young fans get a workout on the court by rebounding for the players during pre-game warm-ups, snag excellent seats for the main event, and even get a scoreboard welcome.

Book a Rawther Fancy Tea at Eloise at the Plaza in the all-pink parlor for your princess or prince. Photo by Raven Snook.
Be Eloise for a Day at The Plaza
Who wants to be queen when you can be Eloise? Inspired by Kay Thompson and Hilary Knight's popular picture book series about a precocious and pampered girl living at The Plaza, the Eloise boutique at the famed hotel offers a variety of high-end experiences. There are Rawther Fancy Teas complete with pink lemonade and fabulous finger foods, all served in the shop's perfectly pink parlor. Eloise-themed cooking classes are also offered. But if you're really looking to live like her, staying overnight in the Eloise suite is a true indulgence. Enjoy luxurious accommodations in a room designed by Betsey Johnson, where everything is pink and black—even the chandelier boasts rosy bulbs! An afternoon tea for two, an Eloise robe, a copy of the book Eloise at The Plaza, a $100 gift card for the boutique, and other extras are included.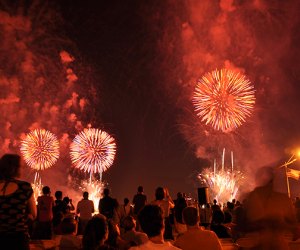 Board the Circle Line July 4th Fireworks Cruise for a patriotic summer treat. Photo courtesy of Circle Line.
Have a Blast on a Fireworks Cruise
Since much of NYC is surrounded by water, there are myriad companies offering scenic boat tours in New York Harbor and beyond. Going on one of these rides is a relaxing way to bond with your family, and also gives you a new perspective on our beloved city. But if you really want to get the most bang for your buck, book a cruise on a night when there are pyrotechnics in the sky, too. Circle Line offers special fireworks cruises on the Fourth of July, which are kid-friendly. In addition to seeing all the usual sights, like the Statue of Liberty and the downtown Manhattan skyline, you have a gloriously unobstructed view of the sparklers as they explode above the water. This experience is best for school-age kids who don't mind loud noises or suffer from motion sickness. It's a holiday celebration they'll never forget.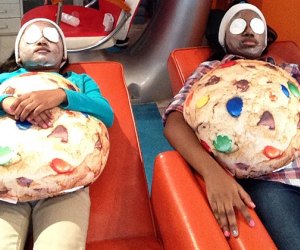 Your little diva will enjoy a day of R&R at the kid-focused Milk & Cookies spa. Photo courtesy of the store.
Enjoy a Spa Day for the Whole Family (Even the Boys)
There are lots of kid-centric spas in NYC providing all-ages pampering, from mani-pedis to hairdos to makeovers. But Milk & Cookies Spa and Salon on the Upper East Side is the only one that offers a booger-themed pedicure. As much as we all fight against binary gender norms, there are kids out there who see spa days as too "girly." That's why the clever owners of this family salon entice the reluctant with the title treats (cookies cross gender lines!) and special services for "cool dudes" (or gals, of course) like a Slimy Booger Invasion Treatment and a Cookie Monster Attack Treatment. Bonus: There are also grown-up offerings in case parents need some rejuvenation. This spot is one-stop beauty shopping, from ear piercing to nails to haircuts to facials.
RELATED: 100 Things to Do with Kids in NYC
Indulge Your Family Foodies
No NYC splurge activity list is complete without an option for foodies. But while there's certainly lots of haute cuisine in this town, many of those restaurants aren't kid-friendly—in fact, some don't allow children at all. Of course, there are lots of family eateries, too, but which ones make for a truly satiating experience? We have three recommendations. If you're looking for a meal with The View, then the Marriott Marquis' rotating rooftop restaurant is a great bet. Yes, you spin slowly as you eat admittedly so-so food. Tourists love the amazing 360-degree views of the city, but that doesn't mean natives won't appreciate them, too. For an immersive meal, book a table at Ninja New York in Tribeca, a Japanese restaurant where all the waiters are "trained ninjas" and perform magic tricks and interact with you (and sometimes jump out and scare you!) throughout the evening. It's a gimmick to be sure, but a unique one that's great fun for kids. If over-the-top sweets is what you're after, Serendipity 3 may sound cliche, but it lives up to its reputation. The quaint setting, with Tiffany lamps and cozy tables, is as delectable as the treats, like the spot's signature Frrrozen Hot Chocolate. Its other over-the-top drinks and desserts include the $1,000 Golden Opulence Sundae—talk about a splurge! The menu also features kid-friendly staples like hot dogs, chicken, fish, pasta, salads, and burgers, if anyone cares.
Spend a Day Out With Your Doll
Yes, there are other American Girl stores in the world, but there's only one on Fifth Avenue. A pre-fixe meal in its swanky restaurant feels super special, and is actually well priced with tasty food—my daughter and I have been twice! A place is set for everyone in your party, including your child's doll (if you don't have one there are loaners), and you leave with full bellies and a toy cup and saucer to take home. If you want to make a day of it, come early to hit the Doll Hair Salon (advance reservations not accepted so expect to wait) or drop into the Truly Me™ Signature Studio to design a doll outfit or backpack that will be printed out so you can take it that same day.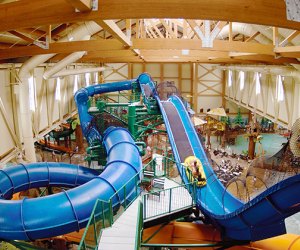 The Hydro Plunge at Great Wolf Lodge in the Pocono Mountains makes for a great wintertime treat. Photo courtesy of the resort.
Splurge Day Trip: Take a Dip Year-Round at an Indoor Water Park
NYC has it all...almost. One thing we're lacking is an indoor water park, but happily there are several nearby that make for a great weekend or day trip. Visiting one of these wet and wild spots is an immediate mood booster, especially in the dead cold of winter when the heated indoor pools offer a taste of summer fun. New Jersey's Sahara Sam's is one of our favorites due to its proximity to the city (just two hours by car) and the fact that it also boasts a seasonal outdoor beach club in case you want to swim under the sun. If you really want to go all out, book a weekend at the Great Wolf Lodge resort in the Poconos, featuring all kinds of family fun including a massive four-story indoor water park! Note that you must stay overnight in order to enjoy that attraction.
Top image: Enjoy a sleepover at the American Museum of Natural History where kids can hunt for fossils at night and sleep among the great beasts. Photo by C. Chesek/AMNH.
This post, originally published in March 2016, has since been updated.