The Very Hungry Caterpillar Show
DR2 Theatre

NYC Easter Brunch Cruise 2023
Event Cruises NYC

Easter Fun Cruise with Egg Hunt 2023
Event Cruises NYC
Sign up for our free newsletters.
Get an Inside Look at Yankee Stadium with a Fun Family Tour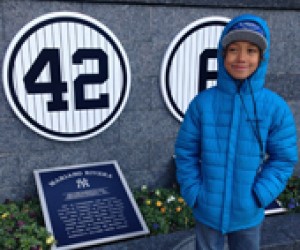 5/11/15
- By
Jody Mercier
In what now seems like a prior lifetime, I had a marginally profitable career as a sports writer and editor. Having kids may have changed my professional priorities, but my love of sports has endured and is something I share with my 9-year-old. So of course, when offered the chance to introduce him to my old world during a tour of Yankee Stadium, I jumped at it. The fact that he's an even bigger baseball and Yankees fan than I am was just icing on the cake (or maybe whipped cream on the sundae, in this case).
While spring is a wonderful time to go, tours of Yankee Stadium are offered year-round, even on game days. Depending on when you go, the tours give you access to different behind-the-scenes areas of the Bronx Bombers' home. No matter the date, expect to see Monument Park and the New York Yankees Museum. If you go during the off-season, as we did, you'll get a trip to the press box, as well as a peek inside the MasterCard Batter's Eye Cafe. During the season, you'll see an additional site, too, based on availability. I've been on one other tour, and we got to go to the dugout and into the Yankees Clubhouse. (I wish I had photos to share, but those are strictly no-camera zones during these visits.)

The tour guides have a wealth of baseball and Yankees knowledge. My son had a great time talking with our guide and asked a million questions—each one welcomed and answered with a smile. Inside the Yankees Museum, the attendants were eager to help him locate all the baseballs autographed by his favorite players and the biggest names in Yankees history. We were told this wall of baseballs—sculpted to show the trajectory of the final pitch Don Larsen threw to Yogi Berra, completing the only no-hitter in World Series history—holds autographs of 85 percent of all the players who have ever worn pinstripes. The vast majority of those missing are current big-league ballplayers.

Tours accommodate 35 people max, and pricing varies depending on the number of folks in your group. For individual tours, tickets are $20 per person when purchased online. Buying tickets on-site or at any Yankees Clubhouse Store will run you $25 for adults, $23 for children ages 4 to 14. If you want to bring a group of 15 or more, prices drop to $18 for adults, $16 for children, and free for up to two children under age 4.

If you want to make a day of it, the Hard Rock Cafe (yes, there's one on-site!) offers a deal that allows you to add a meal voucher to your tour. So you spend either $39 or $46 total for the tour and lunch, complete with drink and dessert. As you can see from the pictures above, the ice cream sundae alone was worth the additional fee!

Got a baseball-crazed kid? The Yankees, Hard Rock Cafe and Party City have teamed up to offer special birthday tours, too. Every kid goes home with a Yankees cap and a goodie bag, while the birthday child gets a group photo to commemorate the event.

Check out all of our posts on fun ways to enjoy sports in New York City.