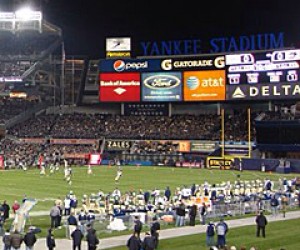 Catching the Pinstripe Bowl & Other College Football Fun for NYC Kids Over the Holidays
To say my family loves college football is an understatement. I originally met my husband at a game, and our firstborn's birth announcement was a replica of a Sports Illustrated cover with our son proudly wearing my alma mater's colors. Given our obsession, for us, the holiday season isn't just about seeing Santa, Christmas trees and department store windows, it's about watching college football. There are plenty of big college football events around this time of year, including the presentation of the Heisman Trophy and the annual Pinstripe Bowl, both of which take place right here in NYC.

Read on for all the details plus other ways your family can root for your favorite teams (be they near or far) right here in New York City.
See College Football Stars Outside the Heisman Trophy Presentation

College football's biggest stars will be in town for the Heisman Trophy presentation this Saturday, December 13. Since 1935, the Heisman has been awarded annually to the top player in college football. This year's finalists include Oregon quarterback Marcus Mariota (the clear favorite), Alabama receiver Amari Cooper and Wisconsin running back Melvin Gordon.

While the awards ceremony itself isn't open to the public, fans can gather outside the Best Buy Theater in Shubert Alley (44th to 45th Streets between Seventh and Eighth Avenues) to see former winners and current finalists walk the red carpet en route to the event. Former winners enter around 5:30pm, while the night's honorees should arrive between 6:30 and 6:45pm. After snapping a couple pics or slapping a few high fives, head home and watch the live ESPN broadcast of the ceremony to see who will lift the stiff-armed statue. The new winner will be crowned just before 9pm.

Take Me Out to the Old (Foot)Ball Game at Yankee Stadium

Although college football's regular season has been put to bed, the postseason kicks into high gear with bowl games almost daily from Saturday, December 20 to Sunday, January 4, 2015. If you want to see some action in person, head to Yankee Stadium for the annual Pinstripe Bowl on Saturday, December 27 at 4:30pm.

For the fifth consecutive year, the baseball field will be transformed to accommodate a football game. Boston College and Penn State will take center stage (or is it center field?) in a battle between the ACC and Big Ten conferences. The proximity of the two schools to Yankee Stadium (241 miles from Penn State, 200 from Boston College) should make for an authentic college-football experience, with plenty of fans representing both sides.

Even if you're not a fan of either team, it's pretty cool watching a football game in a baseball stadium. It gives you a different perspective on the action. My family and I went to last year's Pinstripe Bowl and saw Notre Dame take down Rutgers 29-16. The football field stretches roughly from home plate to center field diagonally, with the right- and left-field lines falling out of bounds. Game tickets start at $75.

Catch the Action from a Kid-friendly Sports Bar on New Year's Day

Growing up, New Year's Day in my house consisted of my dad bringing three TVs into the living room so we could keep an eye on all the major bowl games going on simultaneously. In my current cramped NYC apartment, we're lucky we can fit one television in our living room, so in order to catch all the games, we have to go to a sports bar with multiple screens. Many college alumni associations have a strong presence in the city, and consequently there are designated bars for different teams. While none of these watering holes promote themselves as kid-friendly, in my experience, families can be accommodated with a table away from the bar area and still have a good view of the action for daytime or early evening games. That said, be sure to call the bar you plan to hit before you head out to find out about its official kid policy.

If you're looking for something more interactive, arcade/eatery Dave & Buster's in Times Square opens at 11am on New Year's Day and will be showing all the major games, including the two semifinals: Oregon vs. Florida State (Rose Bowl at 5pm) and Alabama vs. Ohio State (Sugar Bowl at 8:30pm). Its usual Thursday specials will be in effect, including an hour of game play for $10 between 4:30-7pm.

Wait 'Til Next Year

If your team's fortunes are anything like mine—Go Buffs!—you might have to wait until 2015 to catch the players in action. MetLife Stadium generally hosts a few college games each fall and Columbia University plays its home games at the Baker Athletics Complex on 218th Street in Manhattan.
Got a football-crazed kid? Find more ways to enjoy the sport in NYC.