MLK Weekend 2022 in NYC: Best Things To Do With Kids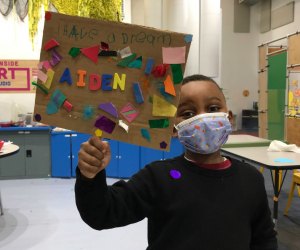 Looking for the best things to do in New York City this weekend? Here are some family-friendly events and activities to add to your list for this long MLK weekend.
The Martin Luther King Jr. holiday weekend in New York City offers plenty of opportunities to honor the man and his mission, both in-person and virtually. Kids can check out the FREE BAM-hosted tribute to the civil rights leader in Fort Greene, head to the Brooklyn Children's Museum for puppet performances and a volunteer project, salute the Freedom Quilters of Gee's Bend, and create a community mural at CMOM. Be sure to check our calendar for Monday, January 17, for a complete list of MLK activities.
What about the rest of the weekend? You can Zoom into the 10th Annual Black Comic Book Festival in Harlem, hop aboard ice bumper cars during their bang-up return to Bryant Park, or see the Thunderbird American Indian Dance Concert at the Theater for the New City.
Our top picks for the long weekend are below. Looking for more ideas? Our Museum, Gallery and Exhibits Guide offers lots of hidden treasures, and you can find even more seasonal fun in our NYC Winter Activities Guide. And, of course, our Family Activity Calendar continues to expand daily!
Be sure to check with each venue for its COVID guidelines and requirements before heading out to any event, and read more about local public safety protocols here; some events are getting canceled or postponed at the last minute due to the latest COVID surge, so always confirm details before departing.
More Things To Do in New York City This Week With Kids