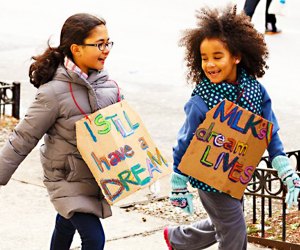 MLK Jr. Weekend Things to Do in NYC: Celebrate Civil Rights, Black Comic Books, and More
The Martin Luther King Jr. holiday weekend in New York City offers tons of opportunities to honor the man and his mission. Kids can volunteer with Repair the World at the Brooklyn Children's Museum, catch a performance of Turning 15 on the Road to Freedom, check out the free BAM-hosted tribute to the civil rights leader in Fort Greene, and parade in the 32nd Annual MLK Jr Commemorative March. Be sure to check our calendar for Monday, January 20, for a huge list of MLK activities.
To fill the rest of the weekend consider the Seventh Annual Black Comic Book Festival in Harlem, which is sure to include some fun costume sightings. Bumper Cars are making a bang-up return to Bryant Park. A bounce house has literally popped up in the West Village, and the Lunar New Year is already starting to exert its tidal pull, luring New Yorkers to paper cutting, puppet making, and storytelling fun.
Our top picks for the long weekend are below. Looking for more ideas? Our Museum, Gallery and Exhibits Guide offers lots of hidden treasures, and you can find even more seasonal fun in our NYC Winter Activities Guide, as well as our January GoList. And, of course, the Event Calendar grows daily!