Best New York City Views: 11 Spots to See and Photograph NYC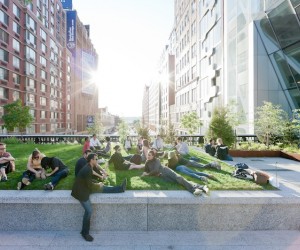 Visitors come to New York City from the world over to eat our pizza, feel our energy and marvel at our spectacular views. But even for us locals, NYC is an awe-inspiring sight (we just need to remember to slow down and take it in every once in a while).

While tourists routinely flock to the Empire State Building or the Top of the Rock to literally look down on the city, there are less well known vantage points that also offer incredible views of NYC, including parks, promenades, museums and a tram. So grab your camera and get ready to fall in love with New York City for the first time—or all over again.
Fort Tryon Park and Fort Washington Park
Riverside Drive to Broadway, 192nd Street to Dyckman Street; Riverside Drive to the Hudson River between 155 and 179th Streets
FREE
These large flower-filled parks in Upper Manhattan overlook the Hudson River. You get great views of NYC landmarks like the George Washington Bridge and the Little Red Lighthouse (in Fort Washington Park), as well as the New Jersey Palisades (in both). The best vantage point is Linden Terrace in Fort Tryon Park, which features trees and shady benches, and is located right above one of our favorite outdoor restaurants, the upscale New Leaf Restaurant and Bar. For more stunning sights, visit the Cloisters, the Metropolitan Museum of Art's medieval outpost and garden in Fort Tryon Park (suggested admission $25 for adults, free for children under 12), which is located in the park.

The Roof of the Metropolitan Museum of Art
1000 Fifth Avenue at 82nd Street
Free with suggested admission: $25 for adults, free for children under 12
While the Met's Roof Garden Café and Martini Bar may sounds like an adults-only affair, it's actually pretty casual and children are totally welcome. The roof is open from May through late fall, and there's always an art installation on display. The museum is situated on the eastern edge of Central Park so the green vistas are breathtaking—since you're not too high up you feel as if you're living in the treetops—and beyond you can see the stately buildings of Central Park West, including 55 Central Park West, a.k.a. the Ghostbusters Building.

The High Line
Gansevoort Street to 30th Street between Tenth and Eleventh Avenues
FREE
New York City's signature elevated park was built on top of a former railway track. Less for playing than strolling, the High Line offers awesome bird's-eye views of the Meatpacking District, Chelsea and Hudson Yards, including Frank Gehry's funky IAC Building and the Hudson River. Don't miss the 26th Street Viewing Spur complete with stadium-style seating or the 23rd Street Lawn. There's even a low-lying water feature for kids that includes benches for tired adults.

Roosevelt Island Tram
59th Street and Second Avenue
$4 round-trip
Head across the East River to Roosevelt Island high above NYC on the tram. At its peak, you'll be 250 feet in the air, with sweeping views of midtown Manhattan and the Queensboro Bridge. Once on the isle, climb aboard the red bus and embark on a tour for only .25 cents. Or stroll along the Western Promenade for some prime boat-gazing, and then head to Lighthouse Park for views of the Upper East Side. Read our post about other things to do on Roosevelt Island.

Brooklyn Heights Promenade
Above the Brooklyn-Queens Expressway between Orange and Remsen Streets
FREE
Enjoy commanding views of the Brooklyn Bridge, downtown Manhattan, South Street Seaport, the East River and the Statue of Liberty from this gorgeous elevated walkway. I always bring out-of-towners here for their very first view of the city just to see the look of awe on their faces. You also get a great view of some of the most expensive real estate in Brooklyn while strolling along this promenade, which is dotted with benches and playgrounds.

Brooklyn Bridge Park
Jay Street to Atlantic Avenue along the Brooklyn waterfront
FREE
An incredible waterfront park that runs from Dumbo to Brooklyn Heights, Brooklyn Bridge Park includes an up-close look at the Manhattan and Brooklyn Bridges, as well as gorgeous views of downtown Manhattan. It's also a great spot to watch boats on the busy East River. And since there are lots of things to do with kids in the park, you can make a day of it by visiting awesome playgrounds, swimming in the pop-up pool, going for a spin on the restored Jane's Carousel and grabbing a scoop at the iconic Brooklyn Ice Cream Factory.

Hoboken, New Jersey
$4 round-trip via PATH
What's the only thing you can't get in Manhattan? A view of Manhattan. So hop aboard the PATH train to New Jersey waterfront town Hoboken for incredible views of NYC from an extensive park promenade, part of the Hudson River Waterfront Walkway. Take in the entire Manhattan skyline, from the George Washington Bridge to the Verrazano-Narrows Bridge. The newly-constructed Pier C Park and Maxwell Place Park feature innovative playgrounds, and a bunch of family-friendly restaurants are nearby.

The Panorama at the Queens Museum
New York City Building, Flushing Meadows Corona Park in Queens
Free with suggested admission: $8 for adults, $4 for children ages 5-12
This is the only place in the city where you can see all of the boroughs at once. There are nearly 1 million building replicas in this permanent exhibit at the Queens Museum of Art—the Empire State Building is only 15 inches tall! Children and adults alike will be fascinated by this scaled-down model of New York City that encapsulates the entirety of the famous skyline and every green space.

Empire State Building
350 Fifth Avenue at 34th Street
Prices start at $25 for adults, $19 for children ages 6-12 to visit the Main Observation Deck.
We can't write about the best views in NYC without mentioning this landmark (which admittedly happens to be pricey and overcrowded). Visitors can gaze at the city from the 86th floor observatory or pay extra to reach the 102nd. Expensive express tickets allow you to skip to the front of the perpetual lines at the numerous security checks and elevators. Once you're up there, enjoy iconic sights like the Chrysler Building and a panoramic view of Central Park. Add a little bit of history to your visit by checking out the Dare to Dream exhibit on the 80th floor, which chronicles the construction of the beautiful building, and be sure to snap a family photo in the stunning Art Deco lobby.

Top of the Rock at Rockefeller Center
30 Rockefeller Plaza, enter on 50th Street between Fifth and Sixth Avenues
Prices start at $27 for adults, $17 for children ages 6-12
A visit to the Top of the Rock is generally less claustrophobic and frenzied than a trip to the Empire State Building. City views are still jaw-dropping from the 70th floor, as is the sparkling Swarovski Joie Chandelier you pass as you climb the dramatic spiral staircase to the mezzanine. The elevator or Sky Shuttle is a colorful ride in itself—I won't spoil the surprise, just remember to look up. More fun awaits on the main deck with another Swarovski installation, the Radiance Wall, and the Breezeway, where colored lights follow your every footstep.

One World Observatory
285 Fulton Street, enter at West and Vesey Streets
Prices start at $32 for adults and $26 for children
The newly-opened One World Observatory offers a different look at the city than its Midtown bretheren. Here you'll find breathtaking views of the waterfront, including Lady Liberty, Governors Island, New Jersey, Brooklyn and Queens. If it's Manhattan you want, then Manhattan you shall have. On a clear day you can see all the way uptown. Aside from the views, expect some cool technology to entertain you. Among our favorites were the Sky Pod Elevators (which take you to the top floor in less than a minute!) and City Pulse stations.

Find out about other off-the-beaten-path spots for tourists and natives alike in our NYC Visitors Guide.